Promote Inclusive Growth And Productivity By Fostering Innovation In The Private Sector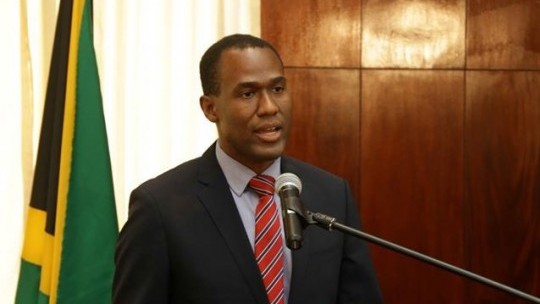 "The main objective is to promote inclusive growth and productivity by fostering innovation in the private sector. The purpose is to jump-start economic growth by building an ecosystem that supports dynamic entrepreneurship and innovation in MSMEs. We are promoting innovation and productivity among established MSMEs with high growth potential; promote sustainable and inclusive growth in scalable start-ups; and creating a sustainable pipeline of entrepreneurs and high-growth potential start-ups. Entrepreneurship and innovation activities that tackle gender and climate issues will be targeted and implemented."
Finance Minister Nigel Clarke
Jamaica Records Estimated 2.9 Per Cent Six-Month Calendar Year Growth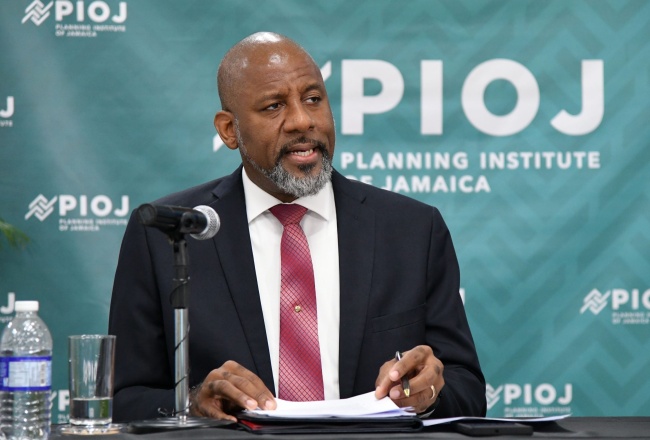 Jamaica is estimated to have recorded gross domestic product (GDP) growth of 2.9 per cent for the first six months of 2023, between January and June.
Director General, Planning Institute of Jamaica (PIOJ), Dr. Wayne Henry, made the disclosure during the agency's digital press conference on Thursday (August 17).
He informed that the Services Industry grew by 3.5 per cent, while the Goods Producing Industry expanded by one per cent.
"The industries which were estimated to have recorded the largest increases during the first half of the year were Mining and Quarrying, up 137.7 per cent; Hotels and Restaurants, up 18.5 per cent; Other Services, up 11.4 per cent; and Transport, Storage and Communication, up 6.1 per cent," Dr. Henry said.
He noted that the short-term prospects for the overall economy are positive, based on expected improved performances in the Mining and Quarrying, Hotels and Restaurants, Other Services, and Transport and Storage industries.
Dr. Henry informed that there is also anticipated strengthening in business confidence.
This, he explained, is based on firms' perception that future business conditions will improve, adding that "this is expected to drive domestic demand".
The short-term prospects are also based on continued recovery of the global economy, which augurs well for external demand.
This is supported by recent projections from the International Monetary Fund (IMF) indicating a strengthening in global growth for 2023.
Dr. Henry noted, however, that this positive outlook could be significantly impacted by adverse weather conditions, including drought and heavy rainfall; plant downtime, due to relatively aged equipment in major industries, particularly in the manufacturing industry; and slower than expected growth in the economies of Jamaica's main trading partners.
"Against this background, for July-September 2023, growth in output is anticipated to fall within the range of one per cent to two per cent. This projection is based on expected growth in most industries led by the Services sector, in particular Mining and Quarrying; Hotels and Restaurants; Other Services; and Transport, Storage and Communication," Dr. Henry said.
He stated that early indicators are positive, as reflected in Hotels and Restaurants – with an increase in preliminary airport arrivals, up 14.7 per cent to 273,376 persons for July 2023, and Electricity and Water Supply – reflecting increased consumption.
"Electricity consumption for the month of July 2023 increased by 10.6 per cent," Dr. Henry informed.
He noted that the Mining and Quarrying subsector is reflecting increased capacity utilisation relative to the corresponding quarter of 2022, when the JAMALCO refinery operated at reduced capacity as production gradually resumed following the 10-month closure.
For July 2023, alumina production increased by 321.2 per cent, while crude bauxite production declined by 18 per cent.
Meanwhile, for fiscal year 2023/24, projections are that Jamaica will record higher levels of output relative to the performance in 2022/23.
"Consequently, the PIOJ's projection is for growth in output within the range of one per cent to two per cent for the fiscal year. This projection is based on the expectation that the recovery in industries such as Mining and Quarrying, and the growth momentum for industries such as Hotels and Restaurants and Other Services, will continue," Dr. Henry said.
Additionally, the current drag on growth from industries such as Agriculture and Construction is expected to dissipate, as these sectors return to positive performances by the end of the fiscal year.
By: LATONYA LINTON, JIS