Tourism Entities Urged To Develop New Ideas To Drive Growth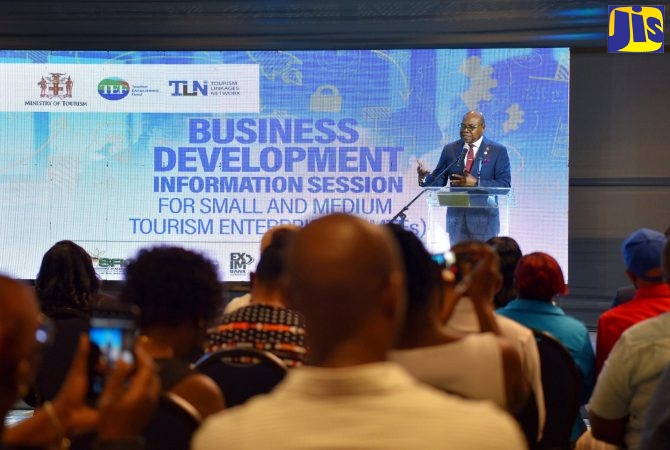 Tourism entities, particularly small and medium-sized enterprises (SMEs), are being encouraged to pivot and pursue ideas and innovations that can fuel value-added outputs and spur further growth in the sector.
Portfolio Minister, Hon. Edmund Bartlett, in making the call, said that this is crucial in the collective quest to drive the industry's continued recovery from the fallout caused by the coronavirus (COVID-19) pandemic.
"When I travel, the first question people ask me is 'what's new… what's different… what's fresh [about Jamaica]; when I come to Jamaica, what will I see that I [won't] see anywhere else?' The only way we can secure that [interest] is by building on ideas," Mr. Bartlett said.
"It is ideas that [are] now going to give you that power to add value to the processes that distinguish yourselves from everything and everyone else," the Minister added.
He was addressing a business development information session for small and medium-sized tourism enterprises (SMTEs), at The Jamaica Pegasus hotel in New Kingston on Wednesday (June 8).
Mr. Bartlett said that the "age of knowledge" spurred by heightened infusion and utilisation of digital processes, consequent on the pandemic, is forcing SMEs to "manufacture ideas".
He noted that the post-pandemic era is going to continue to be "heavily influenced" by the digital revolution.
"While we speak about how this technology is going to change the world, I want you to recognise that in every one of you is that power to drive the change… and the power is called ideas".
He highlighted opportunities through the innovation incubator that has been established to nurture new and start-up tourism enterprises.
"We have $31 million for this year's budget to go and mine ideas, to find young people all across Jamaica with ideas, because tourism is driven by ideas," the Minister pointed out.
"We want to invest more and more in ideas… because Jamaica's future is not about the tried and proven, it's about the value-added, it's about the new and the different," he added.
The business development session, which was hosted by the TEF, was aimed at encouraging information sharing among SMTEs.
The objective is to raise awareness about business development resources available to these entities through the Government and other stakeholders.
The event's outcomes are also expected to support continuous SMTE growth and expansion, thereby improving their ability to supply the tourism industry.
Among the participating stakeholders were the Development Bank of Jamaica (DBJ), National Export-Import (Ex-Im) Bank of Jamaica, Bureau of Standards Jamaica (BSJ), Scientific Research Council (SRC), Companies Office of Jamaica (COJ), JN Bank Small Business Loans, and the UNESCO Creative Caribbean Grant Project.
Jamaican Entrepreneurs Head to Guyana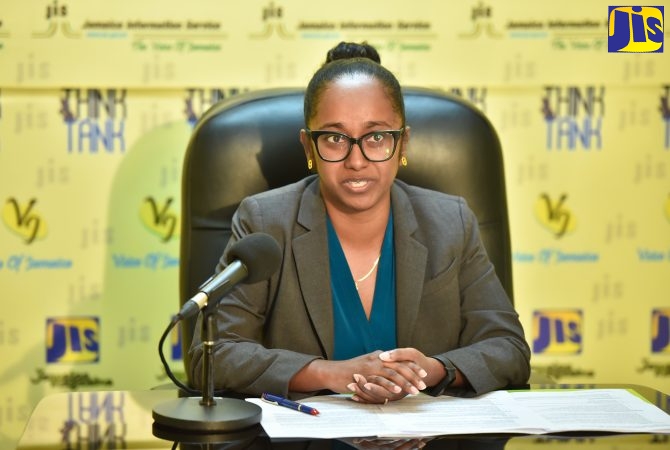 Local businesses across various sectors will be exposed to new buyers in the Guyanese market as part of the second ministerial trade mission to the country.
The mission, which will be led by the Minister of Industry, Investment and Commerce, Senator the Hon. Aubyn Hill, is scheduled to take place from January 23 to 28.
"With export being a primary focus for JAMPRO, one of the important inroads that we want to make in Guyana is to expose our exporters, both on the manufacturing and agricultural side, to new buyers and new distributors in the Guyanese market," said President (Acting) of the Jamaica Promotions Corporation (JAMPRO), Shullette Cox.
She was addressing a Think Tank held recently at the Jamaica Information Service (JIS) head office in Kingston.
Ms. Cox said that technology companies, including those involved in the Global Digital Services Sector, will be participating in the weeklong mission.
She noted that Senator Hill got Cabinet approval last year for the implementation of a new national strategy to develop the sector, which will open up new markets to technology-based companies and will provide a blueprint for the expansion of the industry.
It will also support the development and diversification of outsourcing in Jamaica, she noted.
Ms. Cox told JIS News that focus is also being placed on exposing local construction companies to the Guyanese market.
"As you can imagine, with the economic boom that is coming to Guyana, there is going to be heavy demand for construction, not only for services but also supplies, and so we have a couple of companies from the sector that will be making the trip with us," Ms. Cox said.
Other companies that will form the 60-member delegation include those involved in education, banking and finance.
The Acting President informed that members of the Jamaica Manufacturers and Exporters Association will be in attendance to represent and pinpoint areas of opportunities for those companies that are unable to participate in the mission.
Reflecting on the first trade mission to Guyana, which took place in October 2022, Ms. Cox said that "there are companies that…are busily making inroads with their partners in Guyana, having made several trips to the country since then".
She hinted that "a few of those companies have some announcements to make in the coming months".
For this second trade mission, JAMPRO hopes to establish more business relationships between the two countries as well as to secure export contracts in both goods and services.
"As a Government entity, we also reinforice the relationship between the Governments of Jamaica and Guyana, and we are looking forward to achieving and coming back to report on all of the successes coming out of those discussions," Ms. Cox shared.