Electric Vehicle Policy To Come Into Effect End Of June – Minister Vaz
PHOTO: MICHAEL SLOLEY
Minister of Science, Energy and Technology, Hon. Daryl Vaz (right), is in conversation with Jeremy  Barnes Chief Executive Officer of Future Energy Source Company (FESCO), at the launch of Road Safety Month at the FESCO Service Station on Beechwood Avenue, St. Andrew, on Wednesday (June 8).
The Electric Mobility Policy will come into effect by the end of June paving the way for persons to import vehicles into the island.
Minister of Science, Energy and Technology, Hon. Daryl Vaz, said that Cabinet recently signed off on the policy.
He said that requisite infrastructure to accommodate the vehicles is in place, as the private sector has established charging stations in several sections of the island.
"What was important, was to give incentives for persons to purchase electric vehicles, which are much more expensive than regular vehicles, and we will have a concession rate of 10 per cent," the Minister informed.
He said that vehicles no older that three years old will be allowed into the island, to prevent Jamaica from becoming a dumping ground for older vehicles.
Minister Vaz was delivering the keynote address at the launch of Road Safety Month at the Future Energy Source Company (FESCO) Service Station on Beechwood Avenue, St. Andrew, on Wednesday (June 8).
The event was organised by the Jamaica Gasolene Retailers Association (JGRA) under the theme 'Safe Roads Together with Safe Vehicles Help to Keep Our Children Safe'.
Minister Vaz said that indiscipline on the roads must be treated as a national emergency, noting that "no society can prosper" with drivers operating without due regard for the traffic rules and the lives of others.
"The Government is doing what it can, legislatively, to facilitate safer use of our roads," the Minister said, adding that the necessary equipment and technologies will be procured as part of measures to address the problem.
Jamaican Entrepreneurs Head to Guyana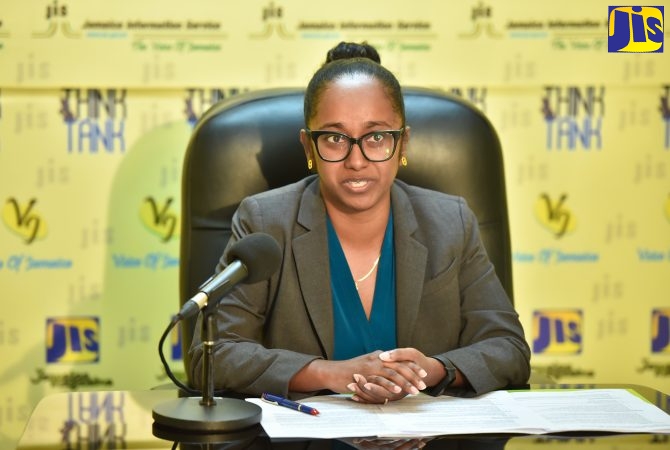 Local businesses across various sectors will be exposed to new buyers in the Guyanese market as part of the second ministerial trade mission to the country.
The mission, which will be led by the Minister of Industry, Investment and Commerce, Senator the Hon. Aubyn Hill, is scheduled to take place from January 23 to 28.
"With export being a primary focus for JAMPRO, one of the important inroads that we want to make in Guyana is to expose our exporters, both on the manufacturing and agricultural side, to new buyers and new distributors in the Guyanese market," said President (Acting) of the Jamaica Promotions Corporation (JAMPRO), Shullette Cox.
She was addressing a Think Tank held recently at the Jamaica Information Service (JIS) head office in Kingston.
Ms. Cox said that technology companies, including those involved in the Global Digital Services Sector, will be participating in the weeklong mission.
She noted that Senator Hill got Cabinet approval last year for the implementation of a new national strategy to develop the sector, which will open up new markets to technology-based companies and will provide a blueprint for the expansion of the industry.
It will also support the development and diversification of outsourcing in Jamaica, she noted.
Ms. Cox told JIS News that focus is also being placed on exposing local construction companies to the Guyanese market.
"As you can imagine, with the economic boom that is coming to Guyana, there is going to be heavy demand for construction, not only for services but also supplies, and so we have a couple of companies from the sector that will be making the trip with us," Ms. Cox said.
Other companies that will form the 60-member delegation include those involved in education, banking and finance.
The Acting President informed that members of the Jamaica Manufacturers and Exporters Association will be in attendance to represent and pinpoint areas of opportunities for those companies that are unable to participate in the mission.
Reflecting on the first trade mission to Guyana, which took place in October 2022, Ms. Cox said that "there are companies that…are busily making inroads with their partners in Guyana, having made several trips to the country since then".
She hinted that "a few of those companies have some announcements to make in the coming months".
For this second trade mission, JAMPRO hopes to establish more business relationships between the two countries as well as to secure export contracts in both goods and services.
"As a Government entity, we also reinforice the relationship between the Governments of Jamaica and Guyana, and we are looking forward to achieving and coming back to report on all of the successes coming out of those discussions," Ms. Cox shared.