Transactions Made Easier With Digital Payment Wallet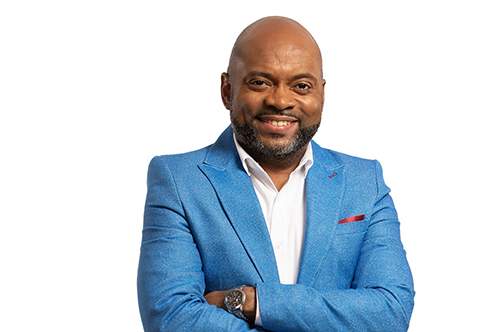 Access to, and use of financial services will be made easier with the use of the digital payment wallet, Lynk.
Digital payment wallets are the platforms used to facilitate transactions of the Bank of Jamaica's Central Bank Digital Currency (CBDC).
The CBDC is a digital form of central bank-issued currency and is legal tender that can be exchanged dollar for dollar with physical cash. Jamaica's CBDC is called Jam-Dex, which stands for Jamaica Digital Exchange.
Lynk is currently the only approved wallet provider of the BOJ's CBDC and is available through the National Commercial Bank (NCB).
Chief Executive Officer of TFOB (2021) Limited, a subsidiary of NCB Financial Group Limited, Vernon James, said Lynk is just like using regular cash, except it is in a digital form.
"Lynk will be everywhere, it's easy to use, you'll be able to use it in all the ways you use money now, except you don't need to go to get it. You don't have to go and get cash; you can just use it. It's contactless, phone mostly…" Mr. James said. He noted that the company has done its due diligence to ensure that the platform is safe.
"Lynk is as safe as any other electronic platform, but in particular, the very best. What you would expect from an NCB platform in terms of safety and security, you will get that with Lynk. We built the platform to be simple, easy to use. I'm going to go a little further, it's going to be a joy for you to use; we want you to enjoy the process of doing your transfers and making your payments," Mr. James added.
He pointed out that Lynk is built on three platforms, safety and security, ease of use and a simple onboarding process. Onboarding refers to the process of familiarising a new customer or client with the products or services of an organisation.
"Lynk is easy to onboard. It's a digital onboarding process, you don't need a bank account; it takes five minutes to onboard and create an account with Lynk. We use QR codes primarily, so you'll be able to make your transfers instantly using your QR code. It's as easy as sending a text message. No need for cash, no need to join lines, just transfer electronically and that is the future of business," Mr. James said.
To use Lynk, persons will need to download the Lynk app to their smart phone. The next step is to verify your identity with a Government-issued identification card. This is then followed by the last two steps, which is to connect your bank and deposit your money into your Lynk account.
Then you can send and receive money with Lynk.
During the recent Budget Debate, Finance Minister, Dr. the Hon. Nigel Clarke, demonstrated in Parliament how he could pay his barber using Jam-Dex on the Lynk platform.
Mr. James noted that Lynk will partner with merchants across Jamaica so that persons can pay for services.
"Regardless of which merchants, you should be able to go and use your CBDC. Now that's a big benefit. Because instead of using cash, you can transfer your CBDC payments to these merchants seamlessly," he added.
Mr. James said that another added benefit of Lynk, is that persons will be able to move from Jam-Dex to cash.
"Although we want to move away from cash, you'll be able to go from CBDC to cash easily at any of our ATMs, and from cash to CBDC easily. But if you do need cash, you can easily cash in and out at any one of our ATMs," Mr. James told JIS News.
A key milestone to be accomplished by Bank of Jamaica and the Government during the first quarter of the financial year is to bring legislation to Parliament to facilitate Bank of Jamaica being the sole issuer of Jam-Dex and for it to be recognised as legal tender.
The BOJ expects to add four more wallet providers by June.
New Transportation App DoGetGo Launched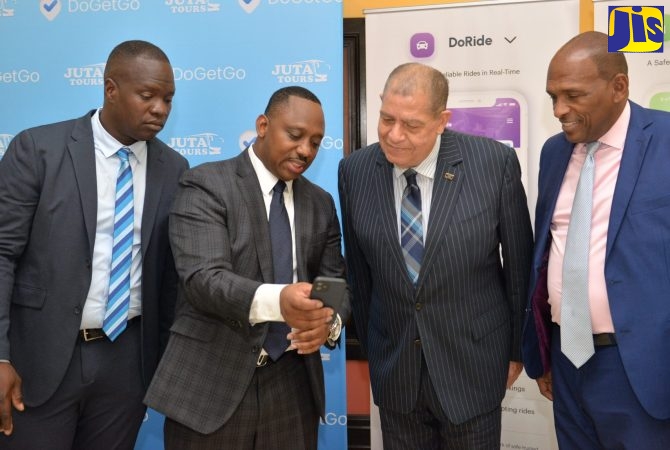 PHOTO: YHOMO HUTCHINSON
Minister of Transport and Mining, Hon. Audley Shaw (second right), observes as founder of technology company, Rydeum Caribbean, Mark Hannah (second left) uses the new mobile app, DoGetGo on his phone, following the launch of the app, at the Half Moon Resort in Rose Hall, St. James on September 22. Sharing in the moment (from left) are, President of the Jamaica Union of Travellers Association (JUTA) Montego Bay Chapter, Simon Lawrence, and Chief Executive Officer (CEO), Rydeum Caribbean, Mark Vanterpool.
Jamaicans and visitors to the island are now able to secure ground transportation services in real time using the ride-hailing mobile application (app) DoGetGo.
The service is being provided through a partnership between technology company Rydeum Caribbean and the Jamaica Union of Travellers Association (JUTA) Montego Bay Chapter.
The DoGetGo app, which is available on android and IOS platforms was officially launched on September 22, at the Half Moon Resort in Rose Hall, St. James.
In his remarks, Minister of Transport and Mining, Hon. Audley Shaw said that the app marks another step towards a more technologically inclusive and efficient transportation sector in Jamaica.
Minister Shaw lauded Rydeum Caribbean for the innovation, touting it as a paradigm shift towards sustainable transport.
"I support the introduction of innovative technologies and new business ventures to support the transportation sector. This super app being launched … has been developed in response to moving transport in a smarter way. It promises to enable Jamaicans to work together in a single ecosystem and inspire change," he stated.
He further noted that the app has come at a time when commuters demand timeliness, flexibility, and convenience in the sector.
"The hope is that with this super app, there will be greater freedom and power to transform the transportation industry while simultaneously empowering all Jamaican businesses to access technology for the delivery of their products and services at the same level experienced globally," Mr. Shaw said.
In an interview with JIS News Rydeum Caribbean's founder, Mark Hannah, said DoRide, the first of nine experiences to go live on the newly launched DoGetGo app works similarly to Uber and Lyft, allowing users to hail ride remotely from any location using a smart phone.
He said the company intends to expand the app to offer eight additional services such as food and grocery delivery, sending and receiving of monetary payments, booking tours, and making medical appointments.
"It's [the app] ran by JUTA drivers. Now eventually we'll have more people in JUTA on it but right now … we're starting out with JUTA drivers. So, what will happen is people will be able to actually get on their phone and it don't matter where they are, they will be able to book a ride," Mr. Hannah explained.
"They'll be able to get the rate, get the fee, see the drivers' ratings, and they'll be able to travel anywhere in the country. This is the first step for launching to DoGetGo," he continued.
President of JUTA Montego Bay, Simon Lawrence, said the new digital space will bring ease to its consumers in Western Jamaica.