New Transportation App DoGetGo Launched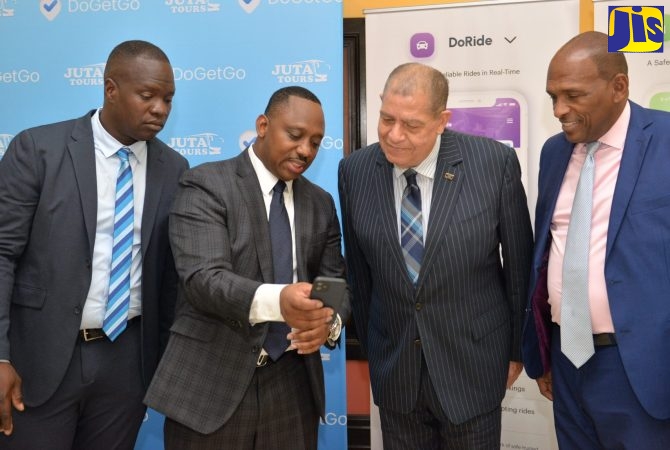 PHOTO: YHOMO HUTCHINSON
Minister of Transport and Mining, Hon. Audley Shaw (second right), observes as founder of technology company, Rydeum Caribbean, Mark Hannah (second left) uses the new mobile app, DoGetGo on his phone, following the launch of the app, at the Half Moon Resort in Rose Hall, St. James on September 22. Sharing in the moment (from left) are, President of the Jamaica Union of Travellers Association (JUTA) Montego Bay Chapter, Simon Lawrence, and Chief Executive Officer (CEO), Rydeum Caribbean, Mark Vanterpool.
Jamaicans and visitors to the island are now able to secure ground transportation services in real time using the ride-hailing mobile application (app) DoGetGo.
The service is being provided through a partnership between technology company Rydeum Caribbean and the Jamaica Union of Travellers Association (JUTA) Montego Bay Chapter.
The DoGetGo app, which is available on android and IOS platforms was officially launched on September 22, at the Half Moon Resort in Rose Hall, St. James.
In his remarks, Minister of Transport and Mining, Hon. Audley Shaw said that the app marks another step towards a more technologically inclusive and efficient transportation sector in Jamaica.
Minister Shaw lauded Rydeum Caribbean for the innovation, touting it as a paradigm shift towards sustainable transport.
"I support the introduction of innovative technologies and new business ventures to support the transportation sector. This super app being launched … has been developed in response to moving transport in a smarter way. It promises to enable Jamaicans to work together in a single ecosystem and inspire change," he stated.
He further noted that the app has come at a time when commuters demand timeliness, flexibility, and convenience in the sector.
"The hope is that with this super app, there will be greater freedom and power to transform the transportation industry while simultaneously empowering all Jamaican businesses to access technology for the delivery of their products and services at the same level experienced globally," Mr. Shaw said.
In an interview with JIS News Rydeum Caribbean's founder, Mark Hannah, said DoRide, the first of nine experiences to go live on the newly launched DoGetGo app works similarly to Uber and Lyft, allowing users to hail ride remotely from any location using a smart phone.
He said the company intends to expand the app to offer eight additional services such as food and grocery delivery, sending and receiving of monetary payments, booking tours, and making medical appointments.
"It's [the app] ran by JUTA drivers. Now eventually we'll have more people in JUTA on it but right now … we're starting out with JUTA drivers. So, what will happen is people will be able to actually get on their phone and it don't matter where they are, they will be able to book a ride," Mr. Hannah explained.
"They'll be able to get the rate, get the fee, see the drivers' ratings, and they'll be able to travel anywhere in the country. This is the first step for launching to DoGetGo," he continued.
President of JUTA Montego Bay, Simon Lawrence, said the new digital space will bring ease to its consumers in Western Jamaica.
We Want To Transform Public Transport In Jamaica…Andrew Holness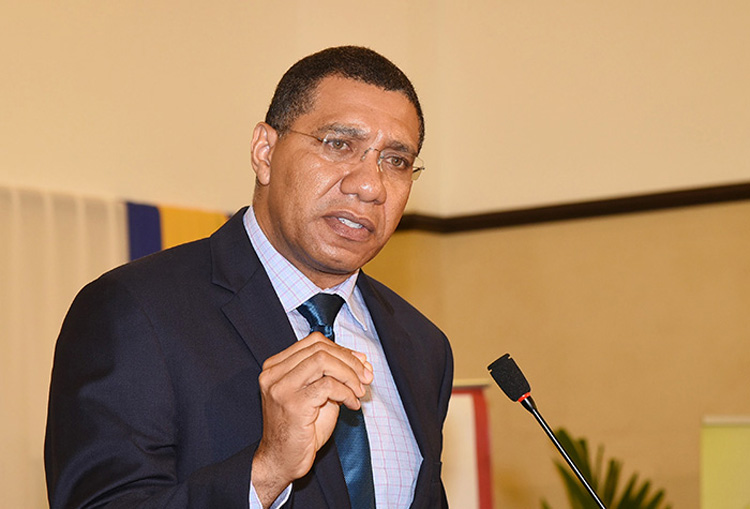 Public Transportation
Madam Speaker, I could not speak about roads without emphasizing that an efficient and orderly public transportation sector is not only critical for the development of any well-run society but is also essential for the daily lives of Jamaican citizens. Our vision is to have a professional transportation sector that is operated with pride, where the investors and operators are the strongest advocate for order and high quality service from their industry. I know there are a significant number of transport operators who view public passenger transport as a formal business. However, too many operators see it as a hustle. We want to assist our transport operators to create a real industry out of public transportation. I have heard the voices of our public transportation operators and I am convinced that there is a critical mass that share this vision to develop a first-world public transportation sector.
"Our vision is to have a professional transportation sector that is operated with pride, where the investors and operators are the strongest advocate for order and high quality service from their industry."
Madam Speaker, the transport sector is multi-faceted and made up of a number of stakeholders, including drivers, owners/investors, and owners who are also drivers. Their concerns are varied and include the rising expenses that they are faced with, the need to access affordable financing to retool, and issues relating to appropriate places to stop, disembark and take on passengers.
Some have expressed to me that they have no special facility for health insurance or pensions.
While the transport sector is largely a private operation, there is a significant public service they provide and this government is willing to work with our transport operators in meaningful ways to address their issues and improve their conditions. In the coming weeks, I will be arranging consultations with the various taxi groups to further explore their concerns.
Madam Speaker, to support the public transportation sector, the Government will be implementing the following:
1. Cutting of renewal fees for Route Taxi, Hackney Carriage, Rural Stage Carriage, and Contract Carriers of public passenger vehicles by 30% for a period of one year. This incentive is given to allow operators to regularize themselves and avoid tickets. During this period the Ministry of Transport and Mining has been directed to establish an updated database of all operators. While over 9,000 operators were able to benefit from the CARE programme to the tune of approximately $300 million, too many operators were not able to access the programme for a variety of reasons including lack of registration or incomplete registration with the relevant authority at the relevant date.
2. We must improve the quality of service, behaviour and awareness of our drivers. We will be introducing a short course for all Public Passenger Vehicle drivers to be administered by the Island Traffic Authority in collaboration with the Heart Trust NSTA. Drivers will be invited to register for the course focused on the new RTA, defensive and courteous driving techniques, maintenance and sanitation procedures for vehicles, assistance with establishing bank accounts and digital wallets, and the use of digital payment technologies. All drivers who register and complete the course will be formally certified and receive a $25,000 grant from the Government. Specifically for motorcycle riders, we will be making 10,000 helmets available free of cost for who go through a short course.
3. Last year the government announced a special loan window for transport operators to refleet or upgrade their vehicles. We are currently recrafting the existing DBJ loan facility to facilitate access on preferential terms for persons who would like to change their current vehicle or motorcycle to an electric vehicle or motorcycle. Our preliminary analysis shows that electric vehicles could be very efficient for certain types of taxi operations.
4. The NWA has been directed to collaborate with the Ministry of Transport to assess the adequacy of parking, loading bays and approved stops in all urban areas and townships and along all approved routes. Where these facilities overlap with roads on the SPARK programme they will be addressed as the roads are improved.
The NWA will however prepare a specific budget for high use and critical loading areas and parking area to be funded in the next budget.
Madam Speaker, we want to transform public transport in Jamaica, the above measures along with the 100 electric buses announced last week is a significant seed in that transformation.
Nuturing S.E.E.D.S for Peace, Opportunity and Prosperity. PRIME MINISTER OF JAMAICA The Most Hon. Andrew Holness, ON, PC, MP Extracted from 2023 Budget Presentation