New Ideas Expected Through Tourism Innovation Incubator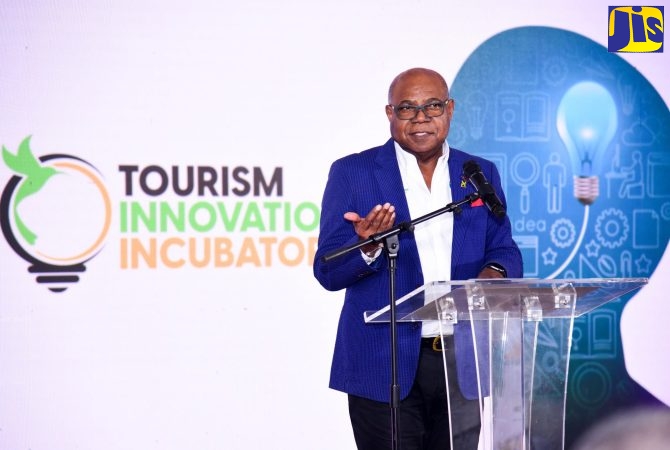 Several new and innovative ideas are expected to be generated within tourism, through the recently launched Tourism Innovation Incubator.
Speaking at the launch, held during Tourism Awareness Week on September 30, Portfolio Minister, Hon. Edmund Bartlett, said that tourism is about ideas and creating experiences.
"The idea of this Incubator is to create a framework to mine, hone, convert and monetise ideas," Minister Bartlett said.
"The more ideas that we can generate within tourism is the more experiences we can develop, and the more experiences we develop is the more attractive we are to visitors," he added, noting that visitors travel to a destination to consume and develop their passions.
The Minister outlined that the Incubator will offer numerous services, including executing workshops with participants in the refining of their ideas; providing research support; training in pitch delivery; providing opportunities for mentorship and networking; teaching participants about key topics, such as intellectual property and the importance of being formalised through informational sessions, and sourcing potential partners or investors to help participants in prototype and product development.
The initiative, which is being led by the Tourism Enhancement Fund (TEF), is guided by the Blue Ocean Strategy, which calls for the creation of business models that depart from traditional ones, based on competition and standardisation.
Selection of ideas for the Incubator will be done by a committee of members from TEF and the Development Bank of Jamaica (DBJ). In addition to being tourism products or representing technology in tourism, each idea must be an innovation or invention that will add value.
Each participant will be required to outline how their idea will add value to the tourism landscape and provide indicators for measuring the same, such as tourism spend, visitor satisfaction, and contribution to the tourism workforce. The idea must also have a significant effect on the tourism industry.
Persons interested in participating in the Incubator must be 18 years or older by the October 14 submission deadline.
Additional submission criteria for the Tourism Innovation Incubator can be found on TEF's website at https://tef.gov.jm/tourism-incubator/.
Digital Society Transformation Process Begins In Jamaica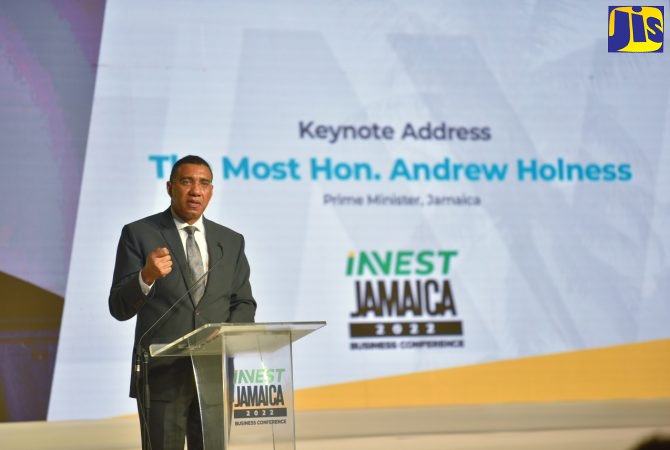 Prime Minister, the Most Hon Andrew Holness, speaks at the Invest Jamaica 2022 Business Conference, at the Montego Bay Convention Centre in St. James, on Tuesday (November 29). The two-day conference, being held November 29 and 30, is hosted by the Ministry of Industry, Investment and Commerce, in collaboration with the Inter-American Development Bank (IDB). PHOTO: YHOMO HUTCHINSON
Prime Minister, the Most Hon Andrew Holness, says the Government has commenced the process of transforming the country into a digital society.
Speaking on day one of the two-day Invest Jamaica 2022 Business Conference at the Montego Bay Convention Centre in St. James on November 29, Mr. Holness said this will reduce public bureaucratic procedures, which will improve the nation's attractiveness as a viable investment destination.
"We want to make Jamaica an efficient place to do business, and a large part of that efficiency is to improve the public bureaucracy and to gain that improvement we have adopted, internalised and mainstreamed in government – the notion of Jamaica becoming a digital society," he said.
"We're taking that very seriously, because seamlessness is just as important as stability and sustainability in business. We are trying to become the most advanced country in the region, in terms of our digital platforms, interconnectivity, and information technology," the Prime Minister continued.
Against that background, Mr. Holness indicated that the Government has embarked on a National Broadband Initiative, which aims to have every household and every community connected to the Internet by 2025.
"We have put together a plan to build out our broadband infrastructure in Jamaica. We call this the national broadband initiative, and the objective is to ensure that everyone in Jamaica has access to reliable, fast and consistent broadband, but more importantly, that all our businesses have access to broadband connectivity," he said.
Meanwhile, the Prime Minister told investors at the conference that Jamaica is on a mission to attain top-10 ranking for places to invest in the world.
Mr. Holness argued that Jamaica's strong fiscal management and fiscal policies over the last decade have placed the country on track to achieving that goal.
"The Jamaican story of economic recovery started over a decade ago when the country came together as one. We made a decision that we will be, regardless of Administration, a fiscally responsible Government and we went about putting in the institutions to ensure that Jamaica was a fiscally responsible State," the Prime Minister said.
"So, if you are considering investing in Jamaica, you can rest assured that across Administrations, regardless of changes in Government, the political economy of Jamaica has changed its DNA to a state that believes in strong fiscal management of our economic affairs," he added.
Mr. Holness said that Jamaica's "remarkable economic rebound" from the COVID-19 pandemic should also serve as another key indicator that "this is a good and exiting time to invest in Jamaica".
He identified tourism, agriculture/agro-business and logistics as areas of great investment opportunities in the island.
The conference is being hosted by the Ministry of Industry, Investment and Commerce, in partnership with the Inter-American Development Bank (IDB) and aims to position Jamaica as the next global investment destination of choice.
More than fifty countries with over 600 registrants attend the conference, which is being held under the theme 'Jamaica the Nearshore Delivery Hub of the Caribbean'.