Jamaica Producers Group Delivers Strong First Quarter Performance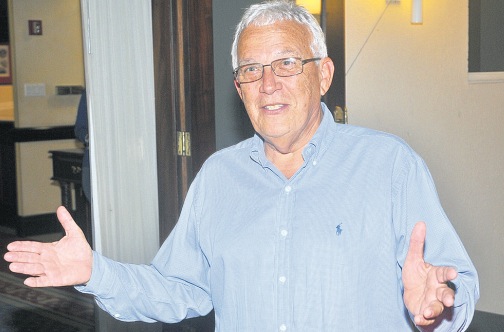 C.J. Johnston Chairman of Jamaica Producers Group Limited ("JP") has released the following report on the company's first quarter ended April 2, 2022
The First Quarter delivered a strong performance, which say JP earning consolidated net profits of $811 million from revenues of $6.9 billion. JP increased revenues by 26% over the prior year, with sales growth in both our business segments – Logistics & Infrastructure ("L&I") and Food &Drink ("F&D").
Net profit attributable to shareholders was $406 million, an increase of 58% over the prior year.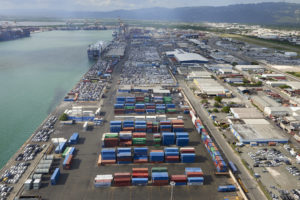 JP Logistics & Infrastructure
The L&I Division accounts for the major share of the Group's net assets and, in turn, its profits. In addition to Kingston Wharves Limited, the Group's largest subsidiary (which operates a multipurpose port and logistics hub), the L&I Division also includes JP Shipping Services Limited (which operates logistics and shipping services between Caribbean ports and the United Kingdom) and, since the acquisition in April 2021, our Geest Line Limited ("Geest") joint venture.
Geest has been in business for over 60 years and operates a fleet of ships that move refrigerated cargo as well as industrial and consumer goods and vehicles between the Caribbean, South America and Europe. As of January 2022, the L&I Division also includes Miami Freight & Shipping Company which consolidates cargo in South Florida for shipment to the Caribbean.
The L&I Division generated First Quarter profit before finance cost and taxation of $1.0 billion, a 43% increase over the prior year. Divisional revenues of $2.8 billion were up 30% over the same period in the prior year.
The Division continues to benefit from a series of initiatives to develop Kingston Wharves as a leading regional multipurpose and multi-user terminal, and Newport West as a warehousing and logistics hub. During the quarter, Kingston Wharves benefited from growing volumes of containerised cargo and automotive shipments to Jamaica and the region.
The quarterly improvements also reflect our strategy to build a diversified Caribbean logistics platform, through business development initiatives and through acquisitions.
Our UK-based freight forwarding and logistics business and our recently acquired shipping line and Miami based logistics business all contributed to the improved profitability of the Division.
JP Food & Drink
JP's F&D Division is the largest contributor to the revenues of the Group. The Division earned First Quarter profits before finance cost and taxation of $80 million on revenues of $4.1 billion. This represents an increase of 24% compared to revenues of $3.3 billion in the same period last year. The F&D Division now comprises our portfolio of subsidiaries that are engaged in farming, food processing, distribution and retailing of food and drink. The Division has production facilities in Europe and the Caribbean (Jamaica and the Dominican Republic) and operates a distribution centre in the United States.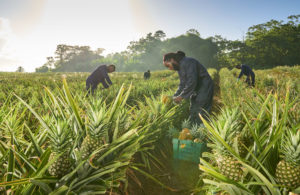 Our JP Farms business continues to lead in banana and pineapple production in Jamaica. Our range of specialty food and drink products includes fresh juices, tropical snacks, frozen foods, fresh fruit and Caribbean rum-based baked goods.
A.L. Hoogesteger Fresh Specialist B.V. ("Hoogesteger") is the largest contributor to the revenues and profits of the Division. This business is a market leader in fresh juice in Northern Europe and serves as a co-packer of juice for major supermarket and food service entities in the Netherlands, Belgium, Scandinavia and Switzerland. The Division also includes our joint
venture manufacturing and bottling businesses in Spain (fresh juice) and the Dominican Republic (water and ice).
During the First Quarter, the Division experienced material increases in costs associated with raw material commodities and logistics. These cost increases will need to be recovered through an increase in selling prices over the course of the year.
The initiative to adjust prices to align with market conditions is now well underway but during the First Quarter we did face some margin compression where we delayed price increases to balance any uncertainty in demand arising from restrictions on economic activity due to COVID.
Our markets are continuing to normalise at a steady pace, and with the overall strong recovery in employment, we are optimistic about the prospects for the F&D Division once consumer routines around work, school and leisure are re-established.
Outlook
Jamaica Producers Group Limited has been organised to generate revenues from a diverse range of business lines and, importantly, a diverse range of markets. Our food and drink business includes premium and travel retail products, as well as everyday snacks and basic food items. These businesses are aligned to general consumer trends such as the focus on health, convenience and provenance, and they serve markets as diverse as the Caribbean and Caribbean diaspora, Northern Europe, North America and Caribbean travel retail and hospitality.
Our logistics businesses, also operating in Europe, the USA and the Caribbean, handle a wide range of commodities and service a large number of origin and destination markets. Services provided range from shipping and freight forwarding to stevedoring, terminal operations, cold storage and logistics.
We view the diversity of our business as a strength. We are of the view, however, that inflation, supply chain shocks, disruptions to business confidence and trading arising out of the war in Ukraine, and some economic uncertainty related to the COVID-19 pandemic will all present general business challenges in the short term.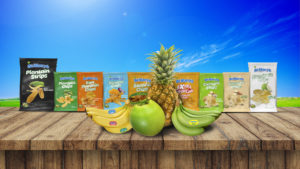 We have seriously considered the current trading conditions and have positively decided to maintain an aggressive investment programme. Our strategy is to build on our core business capabilities in food and drink and logistics and infrastructure with selective capital investment projects and acquisitions.
Core capital investments in our terminal, cranes and warehousing at Kingston Wharves are designed to expand capacity, gain market share and drive efficiency in our logistics businesses.
Investment in food grade packaging lines, information technology systems, efficiency and hygiene, and health and safety are all expected to bolster the F&D Division in the months ahead.
Our acquisition strategy will continue to see us identifying other logistics services that support trade with the Caribbean, as well as food and drink businesses in markets that present new growth opportunities for the Group.
With shareholders' equity of $18.3 billion (an increase of 12% relative to the prior year) and cash and investments of $11.5 billion, we believe that the JP Group has the balance sheet strength to support its strategy.
C.J. Johnston Chairman of Jamaica Producers Group Limited
More information CLICK HERE
Jamaican Tea's Group Experienced Mixed Fortunes In Third Quarter To June 2022
John Mahfood – Chief Executive Officer and Director Jamaican Teas Limited has released the following statement on the company's Third Quarter Results to June 2022
Export Manufacturing sales rose a strong 40 percent in the quarter as the division overcame the shortage of raw materials required to fulfil orders of finished products experienced earlier in the year. Local sales improved by 10 percent in the quarter over 2021.
The Retail Division put in a solid performance with a 28 percent sales increase in the quarter reflecting in part the absence of the COVID restrictions seen in 2021 and the return to our regular operating hours.
QWI 's investment share portfolio outperformed its overseas benchmarks but was still adversely affected by the strong retracement of share prices in the USA as well as in many main market stocks in Jamaica.
The third quarter and year to date attributable profits were lower than the prior year periods mainly as a result of the reversals at QWI.
Manufacturing Division – The highlight for the quarter was the strong gain in our export sales which rose 40%. Local sales improved by 10 percent in the quarter to bring total manufacturing sales for the nine months to $1,363 million, an increase of 12 percent over 2021 that delivered sales of $1,215 million.
Retail Division – For the third quarter revenues amounted to $161 million versus $126 million a year ago. The store has returned to its former hours of operation and has continued to see improved sales, customer count and profits following the quarter end.
Real Estate Division – This division booked several studio sales during the year ago quarter. That project is now completely sold. The Division's latest project at Belvedere in Kingston is proceeding apace with physical completion anticipated later in calendar 2022.Sales activity for Belvedere has already commenced with the displaying of model units that have been well received by potential purchasers.
During the quarter there was a poor performance of stocks on the Jamaican and USA Stock Exchanges with significant share price retracements overseas but a stronger performance mainly in Jamaica's Junior Market.
Investment Division – During the quarter there was a poor performance of stocks on the Jamaican and USA Stock Exchanges with significant share price retracements overseas but a stronger performance mainly in Jamaica's Junior Market. This resulted in unrealised investment losses for QWI of $132 million in the quarter versus gains of $162 million in the year ago quarter.
Group Revenues – Total revenues for the quarter increased by 22 percent from $530.7 million to $649 million despite the absence of any real estate sales this quarter versus 2021 which included real estate sales from Manor Park. For the year-to-date sales increased 4 per cent.
The decrease in Investment Income this quarter mainly reflects the impact of unrealized fair value losses in QWI's investment portfolio in the quarter.
Expenses – While revenues have been increasing, increases in our Cost of Sales for both the quarter and the year to date have outstripped the revenue growth resulting in the loss of two percentage points of gross profit margin. This adverse trend resulted from sharp increases in ocean freight costs as well as increases in raw materials costs not yet fully reflected in prices to our customers.
Price increases were effected in all our markets in January 2022 and again on July 1 2022.
Administrative costs rose and mainly reflects increased insurance and investment management expenses at QWI in the period as well as salary and wage increases at the Manufacturing division.
The increase in interest expense resulted from higher borrowings at QWI and the Manufacturing division, the latter due to the need to fund higher levels of inventory.
Net Profit– Profit before tax moved from $278 million a year ago to a loss of $70 million this quarter mainly resulting from the reversals in QWI's investment portfolio referred to earlier. For the year to date, profit before tax moved from $661 million to $231 million.
Taxation moved from a charge of $68 million last year to a credit this quarter of $23 million Net profit for the quarter attributable to the members of Jamaican Teas was $24 million compared with $115 million in the previous year quarter. For the year to date, attributable net profit moved from $313 million to $186 million.
Basic attributable comprehensive income per share was 1 cent (2020/21– earnings of 5.0 cents) for the quarter and 9 cents (2020/21 – 15.0 cents) for the year to date.
Significant Balance Sheet Movements – The increases in inventory since Sept 2021 reflect the build-up of raw materials to offset ongoing delays in the delivery of some items imported from overseas.
The increase in Housing under Construction since September 2021 is a result of the build out of Belvedere while the increase in receivables resulted, in part from the growth in revenues reported above.
Much of this investment in inventories was funded by means of short-term borrowings which have increased by $128 million since September 2021.
Outlook – Our manufacturing business faced challenges earlier in the year but freight charges have begun to fall while the raw material shortages experienced have been overcome and sales order fulfilment has improved.
We are optimistic that our investment arm, QWI is well positioned to benefit from the ongoing recovery in tourism in Jamaica, increasing employment and the positive profit results at several listed companies on the stock market. The rising interest rates here and overseas will however prove to be a significant hindrance to the prices of all financial assets and this will temper the immediate prospects for future investment gains.
More information CLICK HERE