itelbpo Expanding Its Operation in Kingston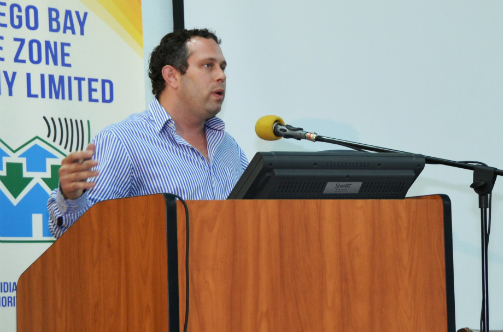 Locally owned contact center and business process outsourcing (BPO) company, itelbpo, is adding 20,000 square feet of space to its Kingston-based operations by the end of May in its drive to create 1,000 new jobs in 2019.
"The discussions to expand our Kingston site started in the fourth quarter of 2018 and buildout began on April 1st," founder and Executive Chairman Yoni Epstein said, adding: "We are renting the building beside our current facility."
Currently located at the corner of Pawsey Road and Trafford Place in New Kingston, itelbpo Kingston will begin occupying the adjacent premises at 2-6 Trafford Place on May 1.
Epstein pointed out that it was necessary to expand itelbpo's presence in Kingston due to the addition of new clients to the company's portfolio, as well as new business from existing clients.
"itelbpo is expanding in Kingston for three reasons," he explained."One, given the larger talent pool found in Kingston, our clients are specifically requesting that more agents be placed there. Two, more agents in Kingston will mean improved backup support for our larger clients, which is a part of our model; and three, because Kingston has a much larger population, it is an integral part of our growth in Jamaica."
As a past president of the Business Process Industry Association of Jamaica, Epstein knows well the importance of the capital city to Jamaica's burgeoning BPO and contact center industry. At the 2018 Nexus Illuminate Awards, hosted by research and analytics company Nearshore Americas in San Francisco, United States, Kingston was named Nearshore City of 2017 for its rapid growth of the BPO industry within the Caribbean region.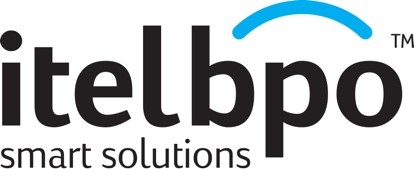 During that year, over 5,000 new jobs were created in the industry and more than US$22 million was invested in new construction and refurbishing of existing properties to meet the growing demand for office space. Moreover, not only does Kingston have the largest population, but with several tertiary institutions based in that city, it has a large educated workforce from which to hire staff.
The expansion of itelbpo's Kingston operation will therefore allow the company to tap into the city's talent pool and increase its staff complement by 400 new agents. And, according to Epstein, this should significantly assist the BPO reach its target of hiring an additional 1,000 staff members by the end of 2019.
"As we grow, we need to be mindful of our structure in order to ensure that we are meeting the same standards, no matter our size. This has worked for us thus far and we are starting to reap the benefits of this decision," Epstein stated.
With a strong pipeline of new clients and the growth of current clients, itelbpo is expecting to hire approximately 1,000 new agents during the current year to service clients in industries such as telecommunications, transport and travel, home service and energy, online retail, and security.
itelbpo has been in an accelerated growth mode since its acquisition of Granada Corporation in March 2016 and Carrental8.com in December 2017. Since then it has increased its work at home network by 35 per cent while improving its bilingual service offering.
Just last year, Epstein revealed that the company had begun adding 56,000 square feet to its headquarters at Freeport House in Montego Bay. The project was expected to more than double the size of the location and was scheduled to be completed by October 2018.
He also disclosed that the company would grow its Freeport, Bahamas-based operation by 100 per cent through a new client acquisition from the United States' utility industry.
According to a report from global consultancy firm Frost & Sullivan "…when comparing 2017 to 2016, itelbpo grew by over 40 per cent while the rest of Central America and the Caribbean only grew 11.7 per cent."
"Whereas revenue for the BPO industry in Central America and the Caribbean grew by 45 per cent from 2014 to 2017, itelbpo's revenue increased by 160 per cent over the same period," the report also stated.
Black Castor Oil – Liquid Gold Untapped In Jamaica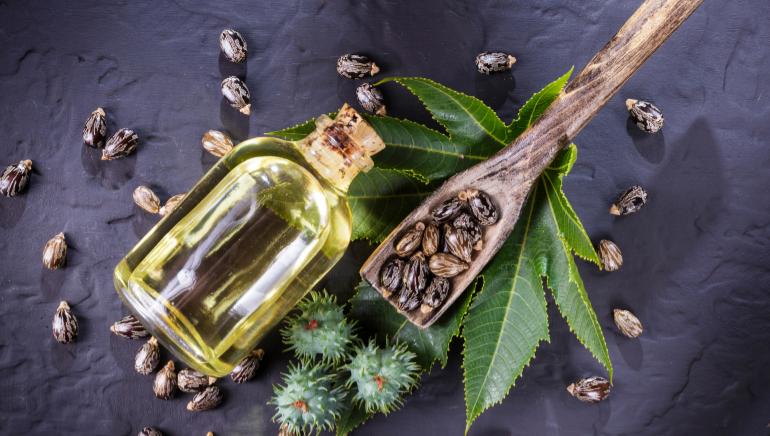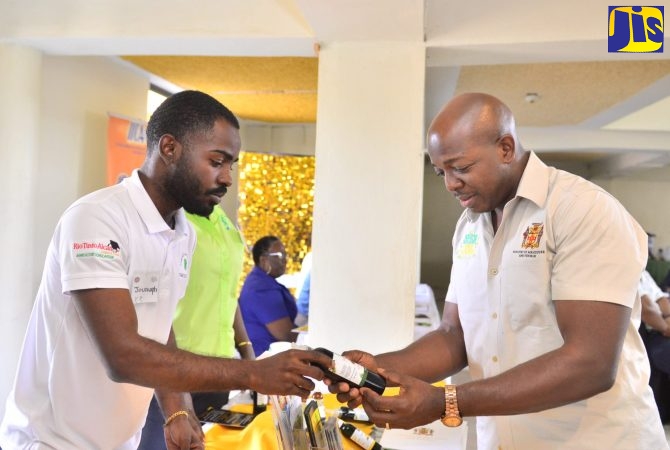 PHOTO: YHOMO HUTCHINSON
Minister of Agriculture and Fisheries, Hon. Pearnel Charles Jr. (right), is shown a bottle of black castor oil by Jovaughn Bailey of the Jamaica 4-H Clubs, during the Jamaica Bauxite Institute's (JBI) Castor Industry Forum, dubbed 'Black Castor Oil – Liquid Gold Untapped', at the Golf View Hotel in Mandeville, Manchester, on March 15.
Farmers and other stakeholders are being encouraged to collaborate to explore the full potential of the local castor bean.
Minister of State in the Ministry of Transport and Mining, Hon. J.C. Hutchinson, who made the call, said there is an opportunity to tap into the high demand for Jamaican Black Castor Oil, noting that the global market for the product is valued at up to US$100 million.
"This is a truly Jamaican product that must carry brand Jamaica in every way; and I suggest that a committee be established, comprising the Jamaica Bauxite Institute (JBI), Jamaica 4-H Clubs, the Scientific Research Council (SRC), the processors, farmers, JAMALCO, Jamaica Baptist Union (JBU), and the Inter-American Institute for Cooperation on Agriculture (IICA), under the chairmanship of the Rural Agricultural Development Authority (RADA)," Mr. Hutchinson said.
He was speaking at the JBI's Castor Industry Forum, dubbed: 'Black Castor Oil – Liquid Gold Untapped', at the Golf View Hotel in Mandeville, Manchester, on March 15.
Mr. Hutchinson said, to realise the potential of the local castor bean, Jamaica needs to have a structured programme which ensures that processors have consistency of supply.
Currently, the product, which has gained popularity worldwide, is not a major farm crop in the island.
"This is too much of an important [product] for it to be faltering by the wayside. I feel strongly about it; so, let us, together, make it work," Mr. Hutchinson said.
Minister of Agriculture and Fisheries, Hon. Pearnel Charles Jr., in his remarks, cited the need for training, organisation and planning to maximise opportunities in the industry.
"Across the world, you are looking at US$75 million to US$100 million [worth] of opportunity in this liquid gold; so, we have a massive global opportunity. There is more than enough reason to move to develop the local castor industry," he said.
"Now, more than ever, when we push for 'Grow Smart, Eat Smart', we are saying to Jamaica, it is essential to understand the sector and to utilise every inch of land, refine the processing and utilise the research and development to maintain our standards," the Minister added.
Mr. Charles urged farmers to ensure they understand and look closely at the science, the different types of seeds, and how they will fare in different parts of the island, before planting.
Currently, a study is being done on the Jamaica black castor bean at the University of the West Indies (UWI) Mona, under the leadership of Director of the Mona Institute of Applied Science, Dr. Howard Reid.
This is being undertaken through a grant facilitated by the JBU and the Inter-American Development Bank (IDB).
Upon conclusion, the findings will guide the process of securing the intellectual property rights of the Jamaica Black Castor Oil for the country.
For many years, several companies globally have been producing their own oil, but falsely labelling it 'Jamaican'.
President of the Jamaica Castor Industry Association (JCIA), Courtney Haughton, said most of the products being marketed as Jamaican Black Castor Oil are fake.
"The only way we can claw back what is ours is if we secure our intellectual property rights. The process includes [the] research now underway at the Mona Institute of Applied Science," he noted.
Other engagements include standardisation of the product with assistance from the Bureau of Standards Jamaica (BSJ), and producers' compliance in meeting product standard acceptance in the global market.
Registration at the Jamaica Intellectual Property Office (JIPO) will be the next step, and initial dialogue has begun.
"Our next objective is to protect market integrity, because we will need strategic alliances with people who have the capacity to seek out those in violation of our rights and protect us through legal action," Mr. Haughton said.
The association has also forged partnerships with the National Council on Technical Vocational Education and Training (NCTVET) and the JBU, to develop a curriculum for training and certification of industry participants.
Already, there is a Level One Module for planting, reaping and storage of castor beans, which has been ratified by the NCTVET Board.