itel Celebrates Grand Opening of its New Site in Kingston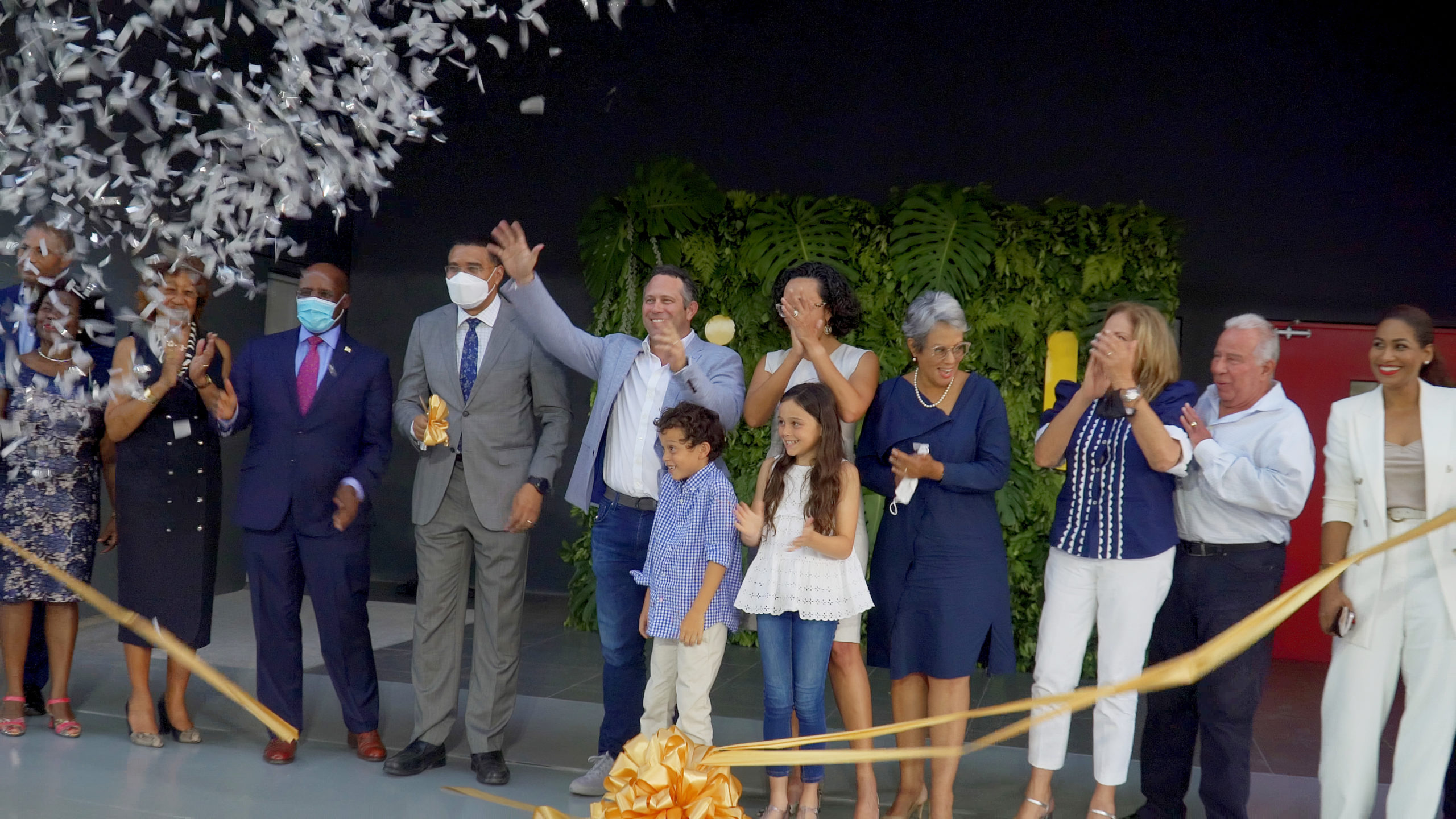 Photo Caption
Yesterday itel celebrated the Grand Opening of its new site in Kingston, Jamaica. The state-of-the-art 90,000 square foot facility located on Chalmers Ave. had guests, including the Prime Minister of Jamaica, oohing and aahing. Here, Founding Chairman and CEO, Yoni Epstein, is flanked on his left by the Prime Minister, Andrew Holness, and his wife and children on his right. Also sharing in the moment (from left) are Marlene Malahoo-Forte, Member of Parliament for St. James West Central; Mikael Phillips, MP of Manchester North Western; Gloria Henry, Vice President of the Port Authority of Jamaica; Diane Edwards, President of Jamaica Promotions Corporation (JAMPRO); Senator Aubyn Hill, Sharon Lake, Phillipa Epstein, Robert Epstein, Lisa Hanna and her son Alex.
itel, an award-winning customer experience provider founded in Jamaica, celebrated the grand opening of its newest site located on Chalmers Avenue in Kingston with an event held on May 25. Next month itel celebrates its 10-year anniversary and this is its second location in the capital city. The Most Hon. Andrew Holness, ON, PC, MP, Prime Minister, gave the keynote speech to commemorate the evening.
Inspired by the modern sleekness of Silicon Valley and the breathtaking landscapes of the Caribbean, Chalmers is a 90,000 sq. ft facility with ergonomic workspaces and stunning environmental design and aesthetics that seek to elevate the senses and inspire all who enter its doors.
itel Founding Chairman and CEO, Yoni Epstein explains, "We are proud to say we have built a world-class state-of-the-art facility that marries beautiful artistic design with functionality, security, and employee experience at the fore. We have unveiled the finest contact center, and perhaps the finest corporate building, in Jamaica, and one that can rival any facility in the world."
Construction of the space commenced in 2020, and despite supply-chain challenges posed by the COVID pandemic, itel stayed the course and operations began in March of 2022. The building currently houses 825 employees and provides 1,140 seats, for a total employee capacity of 1,400. At maximum capacity, the site will annually contribute U$60 million to the local economy. This year, Chalmers Commercial (The landlords) will begin construction on a second building for itel on the adjacent lot, which will launch in 2023.
The Prime Minister, Andrew Holness, noted the significant contribution that entrepreneurs, like Epstein, make in the local economy and country as whole. He highlighted itel's importance as a job creator. "Yoni who has made the investment to put in the computer systems, to train the people, to offer the services of the global service industry and the knowledge service industry. The people who are employed here will earn a wage. They will earn a salary and that's all private, but Jamaica has benefitted so significantly."
itel celebrates its 10-year anniversary next month.
About itel
itel is an award-winning international customer experience partner with on-premise and work-at-home operations across the Caribbean, Latin America, U.S., and Canada. itel's geo-diverse delivery platform and customized solutions provide the flexibility and responsiveness clients need to manage CX effectively in the new economy. We are true partners who invest in our people and empower our team to co-innovate – helping clients to solve problems and seize opportunities. Our bilingual end-to-end Inbound & Outbound, Voice and Non-voice customer experience management solutions are carefully crafted to meet industry- and business-specific needs. Using technology-enabled human touch across the customer journey, every interaction is a fresh beginning. To learn more about itel, visit www.itelinternational.com
Jamaican Entrepreneurs Head to Guyana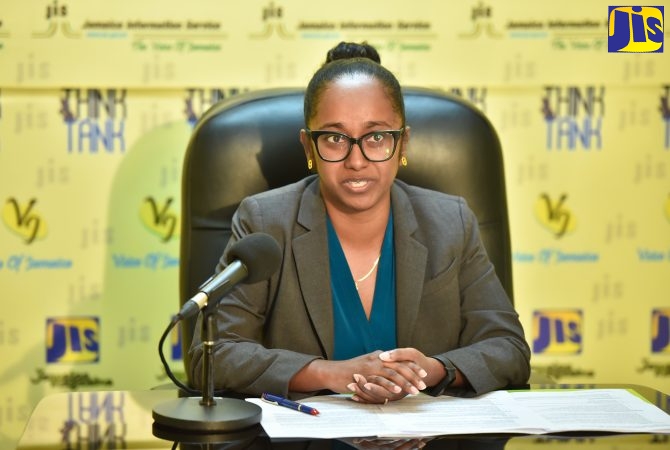 Local businesses across various sectors will be exposed to new buyers in the Guyanese market as part of the second ministerial trade mission to the country.
The mission, which will be led by the Minister of Industry, Investment and Commerce, Senator the Hon. Aubyn Hill, is scheduled to take place from January 23 to 28.
"With export being a primary focus for JAMPRO, one of the important inroads that we want to make in Guyana is to expose our exporters, both on the manufacturing and agricultural side, to new buyers and new distributors in the Guyanese market," said President (Acting) of the Jamaica Promotions Corporation (JAMPRO), Shullette Cox.
She was addressing a Think Tank held recently at the Jamaica Information Service (JIS) head office in Kingston.
Ms. Cox said that technology companies, including those involved in the Global Digital Services Sector, will be participating in the weeklong mission.
She noted that Senator Hill got Cabinet approval last year for the implementation of a new national strategy to develop the sector, which will open up new markets to technology-based companies and will provide a blueprint for the expansion of the industry.
It will also support the development and diversification of outsourcing in Jamaica, she noted.
Ms. Cox told JIS News that focus is also being placed on exposing local construction companies to the Guyanese market.
"As you can imagine, with the economic boom that is coming to Guyana, there is going to be heavy demand for construction, not only for services but also supplies, and so we have a couple of companies from the sector that will be making the trip with us," Ms. Cox said.
Other companies that will form the 60-member delegation include those involved in education, banking and finance.
The Acting President informed that members of the Jamaica Manufacturers and Exporters Association will be in attendance to represent and pinpoint areas of opportunities for those companies that are unable to participate in the mission.
Reflecting on the first trade mission to Guyana, which took place in October 2022, Ms. Cox said that "there are companies that…are busily making inroads with their partners in Guyana, having made several trips to the country since then".
She hinted that "a few of those companies have some announcements to make in the coming months".
For this second trade mission, JAMPRO hopes to establish more business relationships between the two countries as well as to secure export contracts in both goods and services.
"As a Government entity, we also reinforice the relationship between the Governments of Jamaica and Guyana, and we are looking forward to achieving and coming back to report on all of the successes coming out of those discussions," Ms. Cox shared.