itelbpo Harnesses Gamification and Artificial Intelligence Technologies to Transform its Training and Development Across the Organization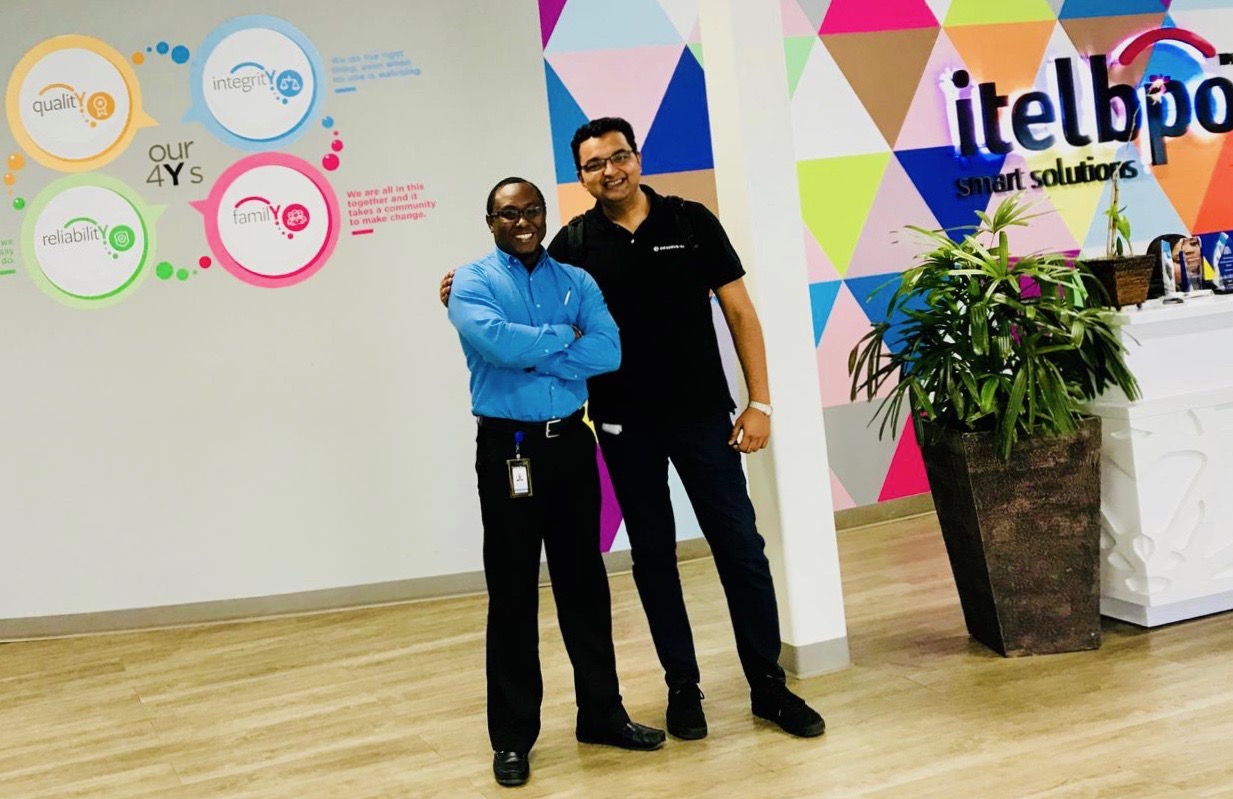 Photo Caption: Partnering for the Future: itelbpo Head of Training and Development, Shurland Buchanan (left) hosts Co-Founder and CRO at Observe AI, Sharath Keshava Narayana, back in September during a visit at itelbpo's headquarters in Freeport, Montego Bay.
"Creating Super Agents with Career Longevity"
(Montego Bay, Jamaica; October 16, 2019) Jamaican homegrown BPO, itelbpo, nears completion of its implementation of specialized Artificial Intelligence (AI) platform, Observe AI, to transform learning and development across the global organization. The cloud-based platform, which is being launched in a phased approach, will integrate with the organization's adaptive learning platform to create targeted and individualized training for its team, as well as increase efficiency in training delivery.
In itelbpo's push to achieve a focused growth plan aimed at creating 5,000 new jobs in 5 years, the Company is investing in technologies like Observe AI to enhance efficiency and keep the organization nimble. The multifaceted platform will deliver greater impact at key operational points, including quality assurance and compliance, agent coaching and training, operational improvements, data mining and sales conversions. It will touch all levels of staff, but most especially those on the frontline responsible for providing daily customer and sales experiences for itelbpo's portfolio of brands.
As a specialized voice analysis and assessment tool, Observe AI offers seamless system integration with other cutting-edge platforms already being employed by itelbpo. With Observe AI, the call center can now undertake Quality Assurance audits on 100% of its calls and use the speech analytics to provide real-time prompts to their micro-learning platform that then creates targeted action and development plans using adaptive technologies and gamification.
Taking things one step further, Observe AI will connect with the company's workforce solution to schedule the individualized training sessions, as well as link with a business intelligence tool to transform data into actionable business intelligence.
"Average speech analytics tools fall short in integration and workforce performance," said itelbpo Founding Chairman & CEO, Yoni Epstein. "Observe AI is much more than just a speech analytics tool. It is intelligent and adaptable. It has the ability to integrate with other platforms and offers heightened data mining accuracy," he added.
The technology will enhance transparency and efficiency across all levels of the organization. The end result – empowering agents, support staff and managers with critical business intelligence and performance data so they can make better decisions. It is continuous learning at its best aimed at advancing the workforce in a sophisticated delivery of customer service solutions. It will change the scope of roles and advance their team's skills so as to prepare them for the future of a more value-added BPO industry.
"We are investing in technology that empowers and educates our team because we want people to stay with us and make their careers with us. We want them to be their best selves, and in turn, provide the best customer experiences possible," said itelbpo's Head of Training and Development, Shurland Buchanan. "Our Training and development unit is naturally tied to Quality Assurance assessment. Now, instead of spending large amounts of time screening calls, our training and development team can focus on engaging staff and delivering targeted and continuous coaching."
Observe AI was developed by Former Twitter and Google employee, Swapnil Jain, and his team of top data scientists based in Silicon Valley.
About itelbpo
Founded in 2012 in Montego Bay, Jamaica, itelbpo is now a global business, and the region's largest home-grown BPO. With 8facilities in 4 onshore and ultra-nearshore locations and a robust network of U.S.-based work-from-home experts, we have an optimized workforce to deliver customized contact center solutions.
Black Castor Oil – Liquid Gold Untapped In Jamaica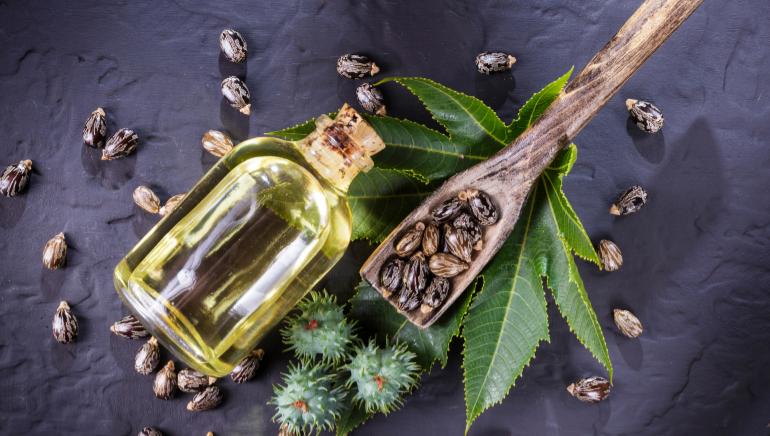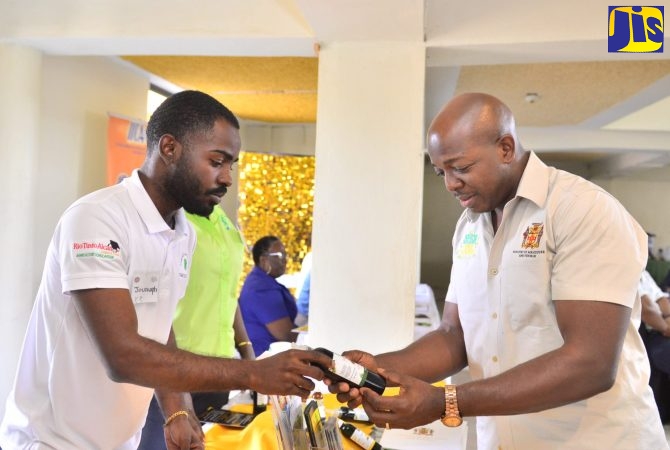 PHOTO: YHOMO HUTCHINSON
Minister of Agriculture and Fisheries, Hon. Pearnel Charles Jr. (right), is shown a bottle of black castor oil by Jovaughn Bailey of the Jamaica 4-H Clubs, during the Jamaica Bauxite Institute's (JBI) Castor Industry Forum, dubbed 'Black Castor Oil – Liquid Gold Untapped', at the Golf View Hotel in Mandeville, Manchester, on March 15.
Farmers and other stakeholders are being encouraged to collaborate to explore the full potential of the local castor bean.
Minister of State in the Ministry of Transport and Mining, Hon. J.C. Hutchinson, who made the call, said there is an opportunity to tap into the high demand for Jamaican Black Castor Oil, noting that the global market for the product is valued at up to US$100 million.
"This is a truly Jamaican product that must carry brand Jamaica in every way; and I suggest that a committee be established, comprising the Jamaica Bauxite Institute (JBI), Jamaica 4-H Clubs, the Scientific Research Council (SRC), the processors, farmers, JAMALCO, Jamaica Baptist Union (JBU), and the Inter-American Institute for Cooperation on Agriculture (IICA), under the chairmanship of the Rural Agricultural Development Authority (RADA)," Mr. Hutchinson said.
He was speaking at the JBI's Castor Industry Forum, dubbed: 'Black Castor Oil – Liquid Gold Untapped', at the Golf View Hotel in Mandeville, Manchester, on March 15.
Mr. Hutchinson said, to realise the potential of the local castor bean, Jamaica needs to have a structured programme which ensures that processors have consistency of supply.
Currently, the product, which has gained popularity worldwide, is not a major farm crop in the island.
"This is too much of an important [product] for it to be faltering by the wayside. I feel strongly about it; so, let us, together, make it work," Mr. Hutchinson said.
Minister of Agriculture and Fisheries, Hon. Pearnel Charles Jr., in his remarks, cited the need for training, organisation and planning to maximise opportunities in the industry.
"Across the world, you are looking at US$75 million to US$100 million [worth] of opportunity in this liquid gold; so, we have a massive global opportunity. There is more than enough reason to move to develop the local castor industry," he said.
"Now, more than ever, when we push for 'Grow Smart, Eat Smart', we are saying to Jamaica, it is essential to understand the sector and to utilise every inch of land, refine the processing and utilise the research and development to maintain our standards," the Minister added.
Mr. Charles urged farmers to ensure they understand and look closely at the science, the different types of seeds, and how they will fare in different parts of the island, before planting.
Currently, a study is being done on the Jamaica black castor bean at the University of the West Indies (UWI) Mona, under the leadership of Director of the Mona Institute of Applied Science, Dr. Howard Reid.
This is being undertaken through a grant facilitated by the JBU and the Inter-American Development Bank (IDB).
Upon conclusion, the findings will guide the process of securing the intellectual property rights of the Jamaica Black Castor Oil for the country.
For many years, several companies globally have been producing their own oil, but falsely labelling it 'Jamaican'.
President of the Jamaica Castor Industry Association (JCIA), Courtney Haughton, said most of the products being marketed as Jamaican Black Castor Oil are fake.
"The only way we can claw back what is ours is if we secure our intellectual property rights. The process includes [the] research now underway at the Mona Institute of Applied Science," he noted.
Other engagements include standardisation of the product with assistance from the Bureau of Standards Jamaica (BSJ), and producers' compliance in meeting product standard acceptance in the global market.
Registration at the Jamaica Intellectual Property Office (JIPO) will be the next step, and initial dialogue has begun.
"Our next objective is to protect market integrity, because we will need strategic alliances with people who have the capacity to seek out those in violation of our rights and protect us through legal action," Mr. Haughton said.
The association has also forged partnerships with the National Council on Technical Vocational Education and Training (NCTVET) and the JBU, to develop a curriculum for training and certification of industry participants.
Already, there is a Level One Module for planting, reaping and storage of castor beans, which has been ratified by the NCTVET Board.