Government Of Jamaica Invests $200 Million in Irish Potato and Onion Production Project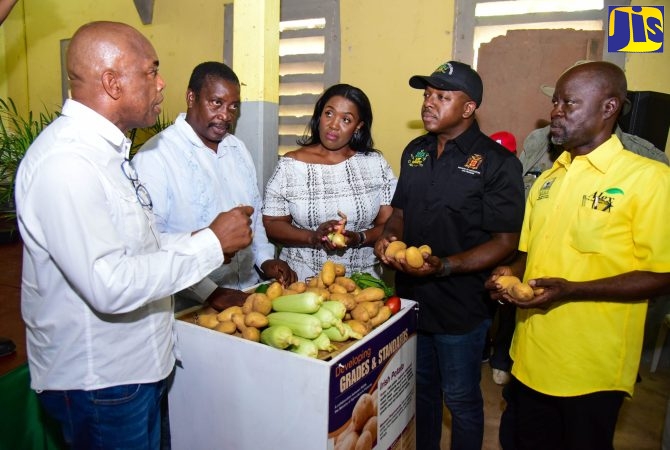 PHOTO: ADRIAN WALKER
The Government is investing $200 million in the national Irish potato and onion programme, to increase the hectares under production and to improve yields of these crops.
The sum of $150 million has been allocated for the Irish potato programme, while $50 million will be invested in onion production.
Agriculture and Fisheries Minister, Hon. Pearnel Charles Jr., said for the upcoming planting season, the intention is to target expansion of the programme in the traditional growing areas of Clarendon, St. Catherine, St. Elizabeth, Trelawny and St. Thomas.
"Our goal is to see if we can get 50 per cent more production in onion. We doubled our target last year and we want to get 50 per cent more this year, and for potato we are on our way to exceeding the 70 per cent that we achieved last year," he noted.
The Minister was addressing farmers and other stakeholders at the launch of the 2022 National Irish Potato and Onion Programme in Guy's Hill, St. Catherine, on August 31.
Seeds will be made available to the farmers by mid-October for the planting season.
"We are targeting 1,500 acres of land which is going to be a 20 per cent increase over the last year's planting season," Minister Charles Jr. informed.
He urged farmers to contact the RADA offices to have their first acre of land prepared free of cost under the 'Grow Smart, Eat Smart' production programme.
Additionally, in keeping with the promised support to assist new farmers with land preparation through a special incentive programme valued at $63 million, the first tranche of $20 million has been issued by the Ministry to RADA. Other support provided includes backhoes and fertiliser, among other things.
Coordinator of the National Irish Potato and Onion Programme, Locksley Waites, said the target for this year is a minimum of 24,000 tonnes.
"We will have to put more land into production. We are vigorously trying to find new acreage in the Guy's Hill, Mavis Bank, Darliston, and Manchester belts," he told JIS News.
The national Irish potato and onion programme has created approximately 40,000 employment opportunities within the sector.
The Irish potato programme, which commenced in 2008, is aimed at satisfying 100 per cent of the estimated demand of 17,000 tonnes annually.
For the 2021 to 2022 period, 70 per cent of national demand was achieved, eliminating the need for importation of the food staple since November 2021.
Jamaican Entrepreneurs Head to Guyana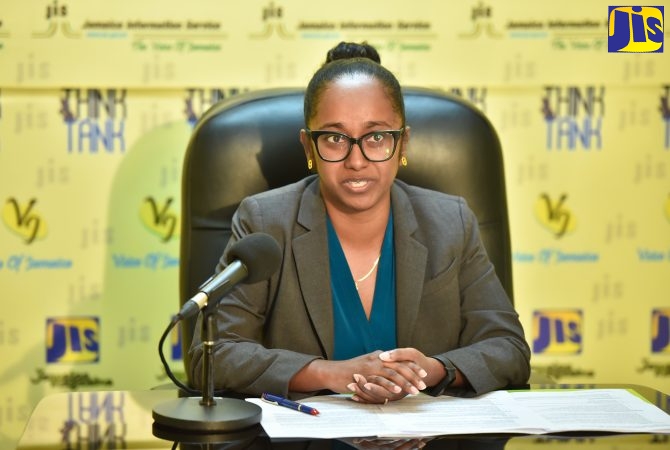 Local businesses across various sectors will be exposed to new buyers in the Guyanese market as part of the second ministerial trade mission to the country.
The mission, which will be led by the Minister of Industry, Investment and Commerce, Senator the Hon. Aubyn Hill, is scheduled to take place from January 23 to 28.
"With export being a primary focus for JAMPRO, one of the important inroads that we want to make in Guyana is to expose our exporters, both on the manufacturing and agricultural side, to new buyers and new distributors in the Guyanese market," said President (Acting) of the Jamaica Promotions Corporation (JAMPRO), Shullette Cox.
She was addressing a Think Tank held recently at the Jamaica Information Service (JIS) head office in Kingston.
Ms. Cox said that technology companies, including those involved in the Global Digital Services Sector, will be participating in the weeklong mission.
She noted that Senator Hill got Cabinet approval last year for the implementation of a new national strategy to develop the sector, which will open up new markets to technology-based companies and will provide a blueprint for the expansion of the industry.
It will also support the development and diversification of outsourcing in Jamaica, she noted.
Ms. Cox told JIS News that focus is also being placed on exposing local construction companies to the Guyanese market.
"As you can imagine, with the economic boom that is coming to Guyana, there is going to be heavy demand for construction, not only for services but also supplies, and so we have a couple of companies from the sector that will be making the trip with us," Ms. Cox said.
Other companies that will form the 60-member delegation include those involved in education, banking and finance.
The Acting President informed that members of the Jamaica Manufacturers and Exporters Association will be in attendance to represent and pinpoint areas of opportunities for those companies that are unable to participate in the mission.
Reflecting on the first trade mission to Guyana, which took place in October 2022, Ms. Cox said that "there are companies that…are busily making inroads with their partners in Guyana, having made several trips to the country since then".
She hinted that "a few of those companies have some announcements to make in the coming months".
For this second trade mission, JAMPRO hopes to establish more business relationships between the two countries as well as to secure export contracts in both goods and services.
"As a Government entity, we also reinforice the relationship between the Governments of Jamaica and Guyana, and we are looking forward to achieving and coming back to report on all of the successes coming out of those discussions," Ms. Cox shared.