Digital Society Transformation Process Begins In Jamaica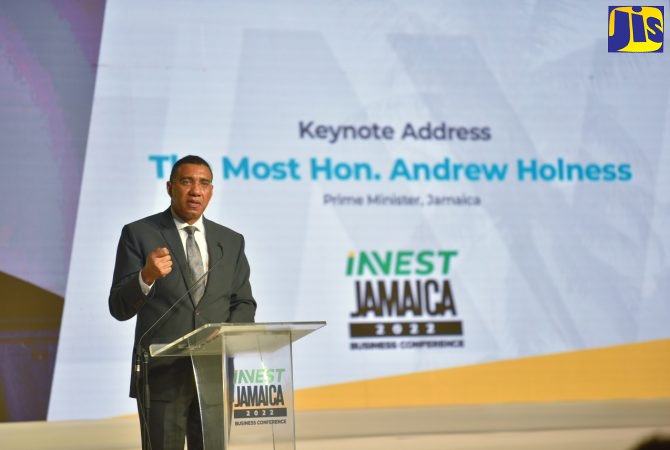 Prime Minister, the Most Hon Andrew Holness, speaks at the Invest Jamaica 2022 Business Conference, at the Montego Bay Convention Centre in St. James, on Tuesday (November 29). The two-day conference, being held November 29 and 30, is hosted by the Ministry of Industry, Investment and Commerce, in collaboration with the Inter-American Development Bank (IDB). PHOTO: YHOMO HUTCHINSON
Prime Minister, the Most Hon Andrew Holness, says the Government has commenced the process of transforming the country into a digital society.
Speaking on day one of the two-day Invest Jamaica 2022 Business Conference at the Montego Bay Convention Centre in St. James on November 29, Mr. Holness said this will reduce public bureaucratic procedures, which will improve the nation's attractiveness as a viable investment destination.
"We want to make Jamaica an efficient place to do business, and a large part of that efficiency is to improve the public bureaucracy and to gain that improvement we have adopted, internalised and mainstreamed in government – the notion of Jamaica becoming a digital society," he said.
"We're taking that very seriously, because seamlessness is just as important as stability and sustainability in business. We are trying to become the most advanced country in the region, in terms of our digital platforms, interconnectivity, and information technology," the Prime Minister continued.
Against that background, Mr. Holness indicated that the Government has embarked on a National Broadband Initiative, which aims to have every household and every community connected to the Internet by 2025.
"We have put together a plan to build out our broadband infrastructure in Jamaica. We call this the national broadband initiative, and the objective is to ensure that everyone in Jamaica has access to reliable, fast and consistent broadband, but more importantly, that all our businesses have access to broadband connectivity," he said.
Meanwhile, the Prime Minister told investors at the conference that Jamaica is on a mission to attain top-10 ranking for places to invest in the world.
Mr. Holness argued that Jamaica's strong fiscal management and fiscal policies over the last decade have placed the country on track to achieving that goal.
"The Jamaican story of economic recovery started over a decade ago when the country came together as one. We made a decision that we will be, regardless of Administration, a fiscally responsible Government and we went about putting in the institutions to ensure that Jamaica was a fiscally responsible State," the Prime Minister said.
"So, if you are considering investing in Jamaica, you can rest assured that across Administrations, regardless of changes in Government, the political economy of Jamaica has changed its DNA to a state that believes in strong fiscal management of our economic affairs," he added.
Mr. Holness said that Jamaica's "remarkable economic rebound" from the COVID-19 pandemic should also serve as another key indicator that "this is a good and exiting time to invest in Jamaica".
He identified tourism, agriculture/agro-business and logistics as areas of great investment opportunities in the island.
The conference is being hosted by the Ministry of Industry, Investment and Commerce, in partnership with the Inter-American Development Bank (IDB) and aims to position Jamaica as the next global investment destination of choice.
More than fifty countries with over 600 registrants attend the conference, which is being held under the theme 'Jamaica the Nearshore Delivery Hub of the Caribbean'.
Sam Altman OpenAI's co-founder Ousted By His Board Of Directors, Silicon Valley Upended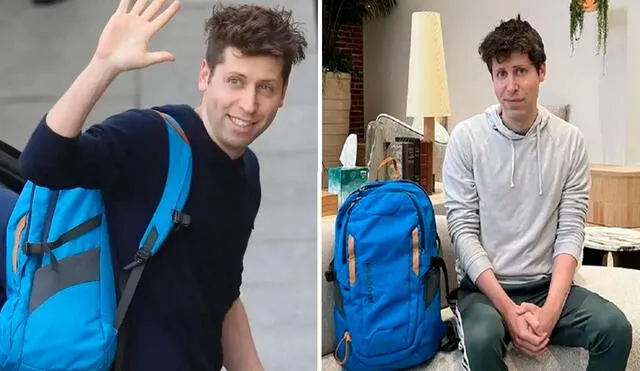 OpenAI's Sam Altman, co-founder of the hottest startup on Earth and its most prominent spokesperson for the promises and perils of artificial intelligence, has been ousted by his board of directors.
Altman's firing followed an intensifying dispute with his fellow co-founder, OpenAI chief scientist Ilya Sutskever, over the speed and safety of the startup's product rollouts, according to people close to the company, who asked not to be identified discussing private information. The pair and their respective allies on the board also disagreed over Altman's campaign to raise funds for a separate company to make AI chips to compete with Nvidia Corp., and another project to produce AI-related hardware in partnership with former Apple chief designer Jony Ive.
Sutskever and his friends on the OpenAI board may have also been put off by Altman using OpenAI's name to raise capital, and by the proposed new companies not sharing the same capped-profit governance model as OpenAI, according to one of the people.
In a statement on Friday night, former OpenAI President Greg Brockman, who also resigned amid yesterday's imbroglio, said he and Altman were surprised by the company's decision. "Sam and I are shocked and saddened by what the board did today," Brockman wrote in a post on X, formerly Twitter. "We too are still trying to figure out exactly what happened."
Brockman ended by writing, "Greater things coming soon," suggesting the pair might soon launch another company to compete with OpenAI. If so, it could further scramble the balance of power in Silicon Valley.
Microsoft Corp. has invested $13 billion in OpenAI since 2019, and has devoted significant computing and engineering capacity to the startup. (Microsoft said in a statement that it's committed to OpenAI.)
Of course, companies firing their founders is part of the recurring foundational lore of Silicon Valley. Apple fired Steve Jobs in 1985; Twitter dismissed its co-founder Jack Dorsey in 2008. Both executives famously returned to their firms years later. But Altman's exit could have a larger impact on the industry and the futuristic technology he came to represent.
For much of the last year, Altman has been on a world tour rivaling Taylor Swift's. In a given week, he might meet with a head of state, testify before Congress and sit for a magazine interview. In appearance after appearance, he touted the promise of AI with a strange blend of optimism and pessimism, maddening his critics. This week, Altman was a prominent figure at the Asia-Pacific Economic Cooperation meeting in San Francisco.
But it all ground to a halt on Friday, days shy of the one-year anniversary of the release of ChatGPT, which introduced generative AI to the masses. In a blog post disclosing the news of Altman's firing, OpenAI said its board had lost confidence in the CEO's leadership after conducting a review that showed that he "was not consistently candid in his communications with the board."
"If I start going off, the OpenAI board should go after me for the full value of my shares," Altman posted late Friday night. But Altman famously has no equity in the company he once led.
In other words, he was being sarcastic. Sam Altman is unlikely to go quietly. —Brad Stone and Julia Love
Source Bloomberg