Nationwide Implementation Of Fully Digitised Traffic Ticket Management System (TTMS) In Jamaica.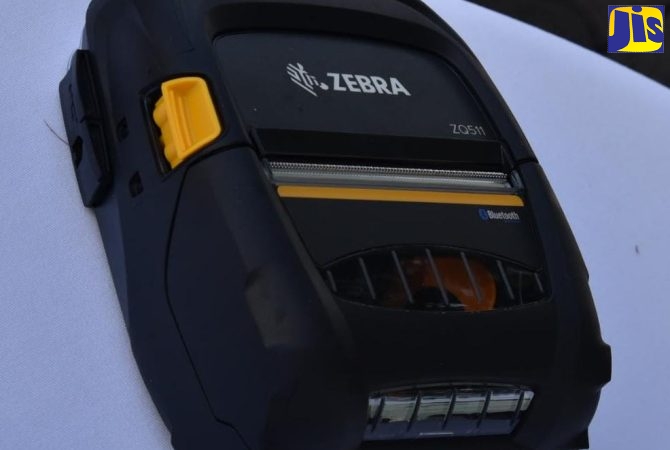 The Ministry of National Security has handed over 750 Traffic Ticket Management System (TTMS) handsets and 750 mobile handheld printers to the Jamaica Constabulary Force (JCF).
This is the first instalment of devices towards nationwide implementation of the fully digitised ticketing system.
The ceremony was held today (January 19), at the Office of the Commissioner of Police in St. Andrew.
Smart android devices and portable printers are to be used to facilitate the electronic issuance of traffic tickets and allow for electronic recording of tickets.
This will enable police officers to reference driver and vehicle information, including ticket history, outstanding tickets, and warrants.
In his address, National Security Minister, Hon. Dr. Horace Chang, said the TTMS replaces the yellow ticket book, which was inefficient and prone to errors.
"The system itself was riddled with challenges. The technology identified 21 points of failure in our ticketing system," he said, noting that these include poor penmanship, which affected the legibility of tickets, data entry errors, late submission of tickets, among other things.
The initiative was piloted in Kingston and St. Andrew between January 1 and March 31, 2022 with 70 devices and yielded a 90 per cent error reduction.
"This sends the signal that the pilot worked and worked well. We are now going to execute… . We are going to give enough police officers to take it islandwide, and we will continue to take it islandwide," Dr. Chang informed.
The TTMS is a centralised, web-based platform designed to improve traffic-ticket management from the point of issuance to either payment of the fines at tax offices or adjudication in court.
All traffic tickets issued with the devices will instantly be uploaded to a centralised database, which is accessible to the JCF, the traffic courts, and all other government agencies.
The Minister noted that the Smart Check E-Ticketing System will be used along with the TTMS. The Smart Check system provides officers with the ability to issue a printed ticket on the spot with information of the offence, fine, court date, and other information.
The system also allows for officers to instantly check motorists if they are persons of interest or wanted, as well as information pertaining to fitness, registration, insurance, and other personal data.
Commissioner of Police, Major General Antony Anderson, said the initiative forms part of efforts to digitise policing activities, as well as to improve public order and traffic management.
"We are equipping our officers and modernising how we do business, not just in this area but in a number of other areas. The significant number of devices being added and with a lot of information at the fingertips of our officers [we will be able to] better keep people safe and keep all road users safe from harm," he said.
Jamaica Lauded for Business Digital Platform

Jamaica has one of the best digital platforms in the region, says Managing Director of LPA Corporate Solutions (Caribbean) Limited, Elena Henckel DaCosta.
The platform, dubbed the 'Jamaica Business Gateway', is designed to streamline business to government interactions. It was recently launched at the AC Hotel by Marriott Kingston.
Speaking at the event, Mrs. DaCosta said the new platform is one of the best government portals in the region and Western hemisphere.
"I have analysed scores of government portals from Singapore in the east to Puerto Rico in the west, and if I may humbly say, the Jamaica Business Gateway (JBG) is world-class," she said.
Mrs. DaCosta pointed out that with the platform's launch, "many governments in the region will soon be knocking at your doorstep, asking for a peek into your progress as https://jamaicabusinessgateway.com/ will become a flag bearer for digital transformation."
Prior to the launch, there was no central platform where businesses, citizens and investors could go to submit applications digitally for several government services, apply for permits, licences, authorisations and/or approvals, as these were, and some still are, performed with paper-based or other manual processes.
Mrs. DaCosta recounted that when the project started 15 months ago, "it was merely an idea with some powerful concepts surrounding judicially transforming the way government interacts with the private sector, citizens and international investors in the process of executing e-government services."
The development saw various supervising agencies, beneficiary groups, Ministries, Departments and Agencies working tirelessly to design the JBG – a solution which encompasses and envisions all stakeholder benefits and expectations.
Recognising the hard work of the supporting agencies, including the Planning Institute of Jamaica (PIOJ) and Jamaica Promotions Corporation (JAMPRO), Mrs. DaCosta said she has worked in information technology for the past 25 years, and "I'm totally inspired by Jamaica's exemplary approach to project development and oversight."
"Nowhere else have I worked, witnessed and experienced the level of responsibility, accountability and transparency adhered to and absorbed by these agencies, in their supervising capacity throughout the life of the project," the Managing Director added.