SUPERPLUS FOOD STORES What does Michael Lee Chin have to do with the future of the Supermarket Chain controlled by this brother Wayne Chen?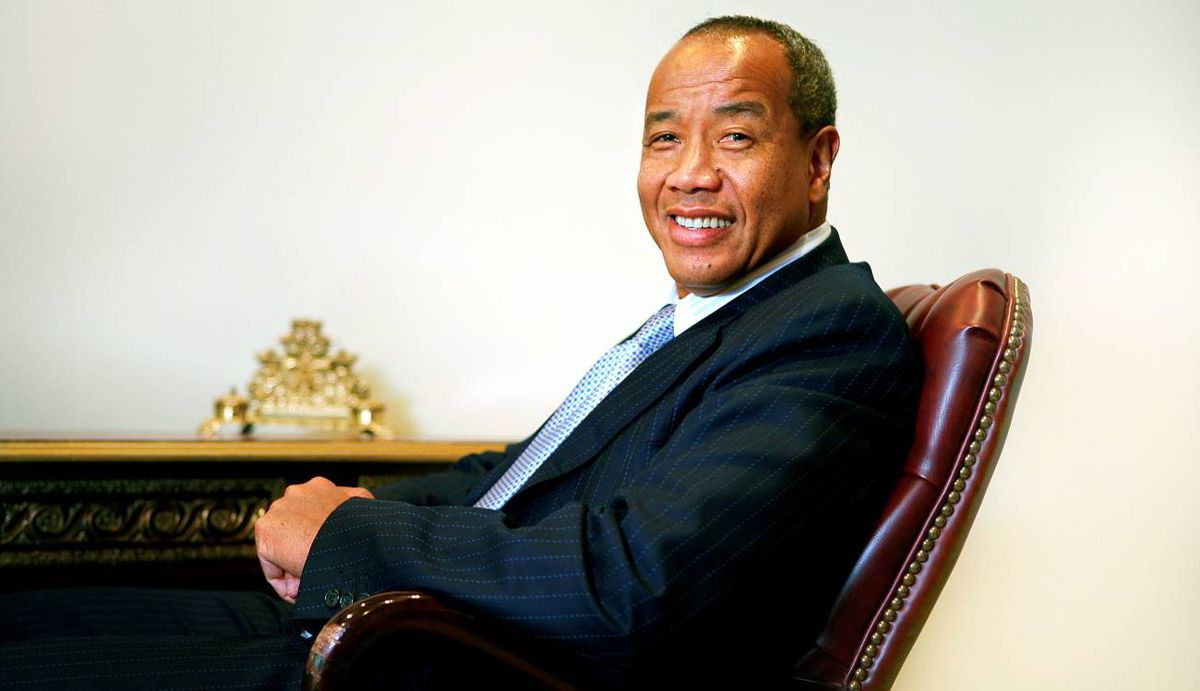 "Are you closing down or what, how the shelves dem so empty?" remarked an irate shopper in the Superplus Liguanea branch, confronting one of the store attendants walking through the supermarket. "Is the same way the one down half way tree look" remarked another shopper passing by. A casual stroll through the Kingston located Superplus stores by this writer, revealed much truth in the comments and observations by the two shoppers.
According to one industry watcher, there are unconfirmed reports that the privately held and controlled Wayne Chen led Superplus chain is having problems making payments to suppliers who have now apparently cut off supplies hence the scanty shelves. But how this could be, with reported annual sales of over JA$11B Superplus should be awash in cash. "That how it appears on the surface, the supermarket business is a very thin margin business, ranging from 2-3% and so they may be generating a lot of cash, but very little profit" was how one financial analyst summed up the situation.
This begged the question. Is the supermarket business a good business to be in at this time or quite frankly at anytime? Which led us to ask a very obvious question? Would Michael Lee-Chin invest in the supermarket business?
Given his publicly stated investment views and posture the answer would and should be a resounding NO.
Michael Lee-Chin established investment philosophy is "buying few excellent businesses in long-term growth sectors and holding these businesses for the long term in order to help investors prosper by preserving and growing their capital and minimizing taxes."
Lee Chins Investment Philosophy
• Use other people's money
• Find a role model
• Invest in a few businesses you understand
• Stay committed to your investment philosophy
Given this posture would he have advised his siblings to invest in the supermarket business.
More questions. To what extent if he is, is Michael advising his brother Wayne on the merits of investing in the supermarket business? Is he telling Wayne to cut and run or hold for the long term?
Or better still does Lee Chin view the supermarket business as a good investment and is putting his money where his mouth is.
If you were a billionaire and a savvy successful investor with brothers and other family members in the supermarket business and they were having a hard time making money would you bail them out, would you put your own money in, but then you don't use your own money, you use other people's money. What would you do?
There are cynics who would suggest that Michael and companies under his control are already major investors or backers of the supermarket group. But would Michael really throw good money after bad or is it that he sees it as a good investment.
These are all relevant questions, as the answer will give a clearer picture on the way forward for Wayne Chen and the SuperPlus Chain of supermarkets.
If you don't already know Wayne Chen is the younger brother of billionaire Michael Lee-Chen and while heading and running the Super Plus chain, overseas a number of his bigger brother business. He is the Chairman of NCB Insurance Company Limited, West Indies Trust Company Limited and CVM Communications Group, a Director of National Commercial Bank Jamaica, NCB (Cayman) Limited, AIC (Barbados) Limited and the Christiana Town Centre Limited.
Chen stripping the group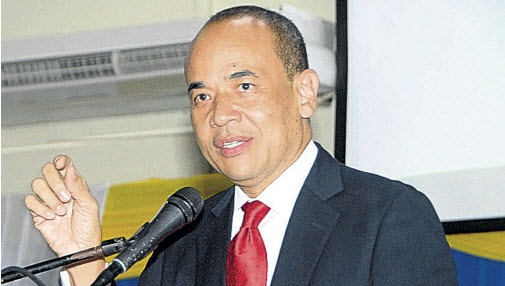 Wayne Chen announced in October last year that He was contracting the supermarket chain and would close a fifth store in Montego Bay but would expand others. Chen has been stripping the group of its loss-making stores indicating that the business was attempting to grow revenues by concentrating more on services like its cambio operations. Chen said that grocery had become the "loss leader" for the supermarket chain, but gave no specifics on the other business segments that were underperforming. Five stores have been culled from the group, and of the remaining 25, the majority, 22, are controlled by brothers Wayne and Richard Chen, while the others are held by other family members.
More than a decade ago, supermarket owners, hurting from market fragmentation and weak consumer spending, began a process of conglomeration with the hope of restoring profitability to their operations.
Progressive Grocers leads the charge
Back in 2003 there was a merging and acquisition frenzy going on in the supermarket sector with the consortium, Progressive Grocers acquiring four supermarkets in rural Jamaica, bringing to 18 the number in the chain, and helping to reinforce the oligopolistic market that has been developing within this industry.
The five-member grouping acquired a number of Jamaica's independent supermarkets to become the second largest chain after SuperPlus Foods Stores, which operated at the time 27 outlets. GraceKennedy's Hi-Lo had 15 shops. Together the three groupings controlled the lion's share of the Jamaican market.
The acquisitions would give the Progressive Grocers even greater critical mass in procurement, to go up against SuperPlus, the industry's behemoth that had also been on an expansion binge. The concept of the Progressive Grocers is to create an alliance that could jointly purchase goods to spread administrative cost in the management of this process, as well as marketing, and to create bargaining clout in procurement. Sources say, for example, that the group was also seeking to set up a central warehouse, a move that would allow it to further spread overhead cost.
At the time Hi-Lo had acquired six groceries and wholesales to control a total of 15 stores with plans to open another five stores later that year – one in Mandeville and Spanish Town, with the other three were supposed to be under construction. John Mahfood, former GraceKennedy chief operating officer in charge of retailing and projects at the time said that Hi-Lo would be adding between 5 and 6 stores per year over the next five years, bringing the total number to about 40. This has not materialised.
Not to be undone, Super Plus, with 27 stores at the time, also announced plans to open three more in Kingston.
Come 2006 Supermarket operators were crying out "We're not making any money". The tide had turned and the future looked dim.
So what went wrong?

Operating within an oligopolistic market – dominated by four major groups – Jamaica's supermarkets were now bleeding red ink. This, the owners said, was the result of skyrocketing utility and other operating costs, interest burden on the debt associated with expansion, weak demand, and their inability to pass on costs to the increasingly price-sensitive consumer.
"Right now it is murder," was how Wayne Chen characterised the business environment. "We are making a small profit, but we now have to be looking at liquidating non-core assets to cut our finance charges."
In 2005/06 SuperPlus is reported to have recorded gross sales of $11 billion – making the group by far Jamaica's largest retailer. Such critical mass was part of the business plan – to better spread overhead, give the group procurement clout, and improve its gross profit margin – all of which have been achieved. However, according to Chen, the steep increases in fixed and semi-fixed costs over the last two years have eaten away at the group's net profit.
For example, there has been about a seventy per cent increase in the cost of electricity across the group over the past year. "Light bill at our Trafalgar Road location has moved from 800,000 to $1.4 million per month," Chen told the Business Observer. In a business where red ink is all around, SuperPlus with its very small profit was, relatively speaking, holding its own.
GraceKennedy's supermarket subsidiary, Hi-Lo, was reported to have lost $80 million that year. Hi-Lo's electricity bill soared to $10 million per month, a 66 per cent increase on the $6 million previously. Security costs jumped by 20 per cent to $60 million. "Increase in costs, lower level in disposable income, compounded with a more competitive market make it challenging for companies," noted Mahfood.
Hi-Lo by this time closed down two of its Kingston supermarkets – its branch at Tropical Plaza in 2004, and its Hagley Park Road store in 2005 reducing the Kingston branches to four, and the total number of stores islandwide to 13.
Ken Loshusan, operator of John R Wong Supermarket in New Kingston and Loshusan Supermarket Barbican Circle in Kingston, said his supermarkets were also not making any money. "How can you make money when light bill, rent etc. are all over a million dollars? We're barely breaking even right now. We're just creating employment, that's it," said Loshusan.
According to published reports, on average, the pre-taxation margin of supermarkets in the Progressive Group was about 20 per cent. However, increasing operational costs had eaten away at their margins, thus forcing most of the members into at best, break-even performance. "By the time we pay expenses, pay taxes we are left with nothing," he complains. "If we raise (margins) half per cent, people will raise hell. All the expenses have skyrocketed. By the time we pay (expenses) we are left with nothing."
In 2007 Progressive Grocers 28-member consortium comprised the second largest grouping of local supermarkets,
Chen commenting on the situation said that given the constraints faced by the industry in passing on costs to customers, there will be fallout within the industry."We are gonna see some shakeout in the industry," he declared.
"Sooner or later, some companies will have to drop out. By the end of the year, I expect some players to drop out." Commented one operator.
Gassan Azan, the operator of MegaMart store and supermarket, said he too was experiencing sluggishness in the supermarket business, but that other non-supermarket items sold by his chain were helping to counter the fallout.
Like the other supermarkets, a major challenge at MegaMart was coping with the high electricity costs. For example, at MegaMart's Waterloo Road, Kingston location, electricity cost had jumped from $1.1 million per month last year, to $1.7 million per month that year. At the other MegaMart store in Portmore, St Catherine, electricity cost had moved from $1.1 million per month to $1.8 million.
"Do you know how much more goods you have to sell to pay for the increase in light bill?" asked Azan. The two MegaMart stores had combined sales of $3.5 billion, but so far that year, sales have been flat, said Azan.
Moreover, according to Azan, the profit was generated mainly from the non-supermarket items which earned a much higher gross margin, and primarily at the Kingston store. "As a strategy, to achieve profitability what we have been doing is to push our non-food items," he explained.
Chen cited several factors which he said accounted for the sluggishness in consumer spend at the island's supermarkets. Among them: the tens of billions being spent each year on cellular phone usage. "The source of the money is not finite and it has to come from somewhere," he said.
He also cited the increase in consumer electricity and fuel costs which divert consumer spending away from supermarket items, the slow-down in construction and its impact on purchasing power among working class Jamaicans. Chen also noted that the anti-crime measure 'Operation King Fish' had also curtailed criminal activities and their ability to fund consumption in the way they once did.
The SuperPlus boss says his stores have felt the impact of these factors."Most stores in the chain are flat in Jamaican dollar terms, and some stores are down," he told the Business Observer. "Some of the new ones continue to grow but at the expense at the older stores."
But according to Chen, SuperPlus has been taking steps to improve its cash flow and financial position in light of the soft market.
"In some instances we are cutting back on wholesaling because of the margins," he said. "We are looking at all of our resources that are not being utilized with a view to liquidating them to cut our bank finance cost. We are seeking to share the cost of running the business over a wider revenue base."
A victim of its own success
Wayne Chen is obviously doing everything he can to diversify income streams and squeeze more margins out of the operation; these include building more money transfer facilities, ATMs, cambios, and pharmacies in its stores of which it now had five.
"The main push is to look at fixed cost. We have no control over rent so we need to offer more within the stores to defray them."
It's clear that the aggressive investment in new locations has not produced the desired results. SuperPlus' success at growing into the largest retailer in Jamaica – in 2003, surpassing furniture retailer Courts – less than 10 years after the chain, which was started by Gloria Chen in the 1960s, and had been anchored in southern Jamaica, morphed into the well-organised corporate structure is today a victim of its own success.
Wayne Chen had declared his intention to aggressively grow the firm's store count and roll out up to 400 additional items under the SuperPlus brand – moving the range to about 700 and, importantly, giving SuperPlus greater control over stocks and the ability to squeeze more profit in a business famous for its thin margins.
In recently published press reports Wayne Chen said he would not refuse a good offer for the islandwide family-owned supermarket chain, but says he has not put the company up for sale. Asked outright whether that meant SuperPlus was hunting a buyer, Chen dismissed it, but did not discount it as a future possibility. "Not at all," he told the Financial Gleaner. "Not in the short term. We are right-sizing the company now," he added.
Rumours however persist that Wayne is actively looking for a buyer for the reportedly money losing supermarket chain. But denials are in order until the ink has dried on the contract and the cheque handed over. Plans for an IPO must now be off the table given the current state of affairs and from all indications 2009 is going to be a very challenging one. Margins will be put under far more pressure and more red ink will flow throughout the sector.
And so we are back to Michael Lee Chin. Why? Well if we know for certain Michael's views and investments in SuperPlus then we will know where it's going.
Additional sources: Jamaica Observer
https://businessuiteonline.com/index.php/2018/10/09/the-walkbout-homestay-experience-coming-january-2019/
Dawgen Global and NeedStreet Web Technologies Join Forces to Transform Healthcare in the Caribbean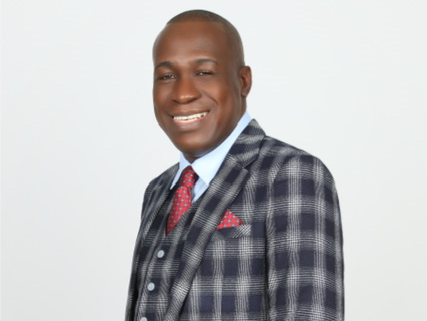 Dawgen Global, a renowned multidisciplinary professional service firm specializing in innovative business solutions, is proud to announce its partnership with
NeedStreet Web Technologies Pvt Ltd. as the authorized reseller of ContinuousCareTM, an innovative telemedicine and telehealth software platform, across numerous Caribbean nations.
The collaboration between Dawgen Global and NeedStreet marks a significant milestone in healthcare provision for the Caribbean region. ContinuousCare's groundbreaking capabilities are set to revolutionize healthcare delivery, ensuring communities have uninterrupted access to vital healthcare services. By connecting medical practitioners, governments, and other stakeholders, this software is poised to transform healthcare accessibility throughout the Caribbean.

Dr. Dawkins Brown, the Executive Chairman of Dawgen Global, expressed his enthusiasm for the partnership, stating, "Our collaboration with NeedStreet represents a transformative leap in health care provision for the Caribbean. We are truly excited to bring ContinuousCare's capabilities to medical practitioners, governments, and other stakeholders. This software will revolutionize healthcare delivery, ensuring our communities have constant, reliable access to vital healthcare services."
ContinuousCareTM, developed by NeedStreet Web Technologies, is a comprehensive telemedicine and telehealth software solution that empowers healthcare providers to connect with their patients and efficiently manage their practices online. This robust platform encompasses various essential features, including practice marketing, reputation management, patient engagement, telehealth services, and practice management tools.
The software's  feature set includes a marketing-ready website integrated with online appointments for both in-person and telehealth visits, online payment processing, and telehealth features such as video calls, asynchronous telehealth consultations, and remote patient monitoring. The integrated patient portal enables patients to access and update their health data and engage in telehealth sessions with their healthcare providers. Additionally, providers benefit from a comprehensive admin console that streamlines practice management and automates patient engagement through various channels, including SMS, email, WhatsApp, and push notifications. To ensure seamless connectivity on the go, both patients and providers can access mobile apps, and the platform seamlessly
integrates with a range of Bluetooth and server-based health devices, allowing patients to automatically send their health data to their providers.
ContinuousCareTM is also set to incorporate cutting-edge generative AI technologies from OpenAI, the company behind ChatGPT, which will introduce a range of AI-based features to further enhance the platform's capabilities.
Ms. Chenju Venugopal, Director of Customer Development at NeedStreet Web Technologies, expressed her excitement about the partnership, stating, "This collaboration signifies a shared commitment to improving patient care through technological innovation. We are thrilled to work alongside Dawgen Global to empower healthcare providers with the tools they need to manage and monitor their patients remotely."
By securely connecting healthcare providers and patients, ContinuousCareTM enhances the understanding of personalized healthcare needs and facilitates the interpretation of health data.
This powerful software platform offers health practitioners in the Caribbean region an effective, convenient, and responsive solution to support chronic patients.
With the expansion of ContinuousCareTM across numerous Caribbean nations, including the Bahamas, Jamaica, Barbados, Bermuda, St. Kitts and Nevis, St. Lucia, Antigua, Turks and Caicos, British Virgin Islands, US Virgin Islands, Guyana, Puerto Rico, Cayman Islands, Trinidad & Tobago, Dominica, Belize, Bahamas, and St. Vincent and the Grenadines, Dawgen Global and NeedStreet Web Technologies are driving a transformative shift in healthcare accessibility throughout the region.
About Dawgen Global
Dawgen Global is a multidisciplinary professional service firm that provides innovative business solutions to a diverse clientele. With a commitment to excellence, Dawgen Global specializes in delivering cutting-edge services across various industries, ranging from finance and technology to healthcare and beyond
About NeedStreet Web Technologies Pvt Ltd
Founded in 2011, NeedStreet is an Indian corporation dedicated to providing innovative technology solutions in various domains. Their ContinuousCareTM platform is designed to enhance the healthcare delivery system, promoting better accessibility, and patient engagement.