Jamaica's Tourism Earnings Expected To Exceed US$4 Billion This Year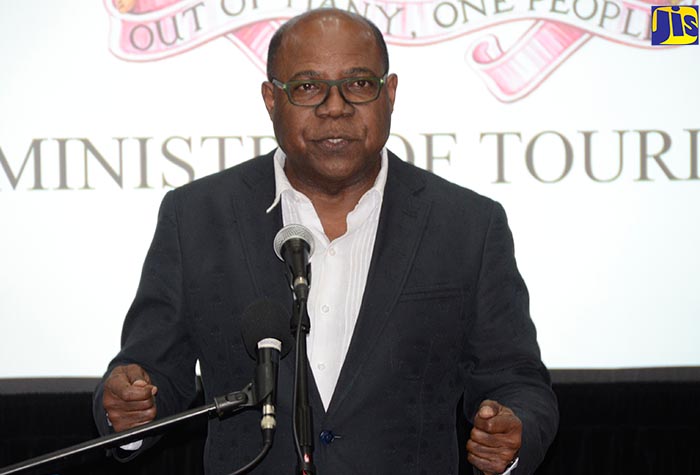 Jamaica's tourism earnings are expected to be "significantly higher" this year, exceeding pre-COVID-19 levels, says Tourism Minister, Hon. Edmund Bartlett.
"We are looking now at earning in excess of US$4 billion this year, which would exceed 2019 figures by US$500 million to US$600 million," he noted.
He said that visitor arrivals, including from cruise, are projected to be above three million, which is similar to 2019 figures.
"So, all in all, tourism is looking good," the Minster said.
"We are making sure that the industry is [playing] its key growth role in the wider Gross Domestic Product (GDP) growth arrangement," he said, noting that priority is also being placed on ensuring that the sector is more inclusive, and provides for the well-being of Jamaica as a whole.
The Minister was speaking at a recent Think Tank at the Jamaica Information Service (JIS) head office in Kingston.
Director of Tourism, Donovan White, who also addressed the session, noted that visitors are staying longer in the destination, being more immersive and are spending more.
"In 2019, our average length of stay would have been somewhere around 6.9 nights. In 2022, we are just over eight nights per visitor," said Mr. White, adding that the average daily rate in 2019 was approximately US $168 per person, per day while in 2022, the rate is US $180 per person, per day.
He noted that during the extended stay, visitors are going to more restaurants, bars, parties, events and are buying more craft and taking more tours.
Meanwhile, the Ministry of Tourism will observe Tourism Awareness Week from September 25 to October 1, under the theme: 'Rethinking Tourism'.
A series of activities have been organised to include a church service and the virtual Edmund Bartlett lecture series on Sunday, September 25; the 'Style Jamaica' runway show on Monday, September 26; a tourism opportunities visionary symposium on Tuesday, September 27; a youth forum on Wednesday, September 28; a special virtual knowledge forum on Thursday, September 29; the official launch of the innovation-based tourism incubator on Friday, September 30; school speaking engagements from Monday, September 26 to Friday, September 30; a tourism stakeholder engagement activity and a youth poster competition.
Minister Bartlett Endorses Spatial AI Technology for Advancing Tourism Stakeholder Development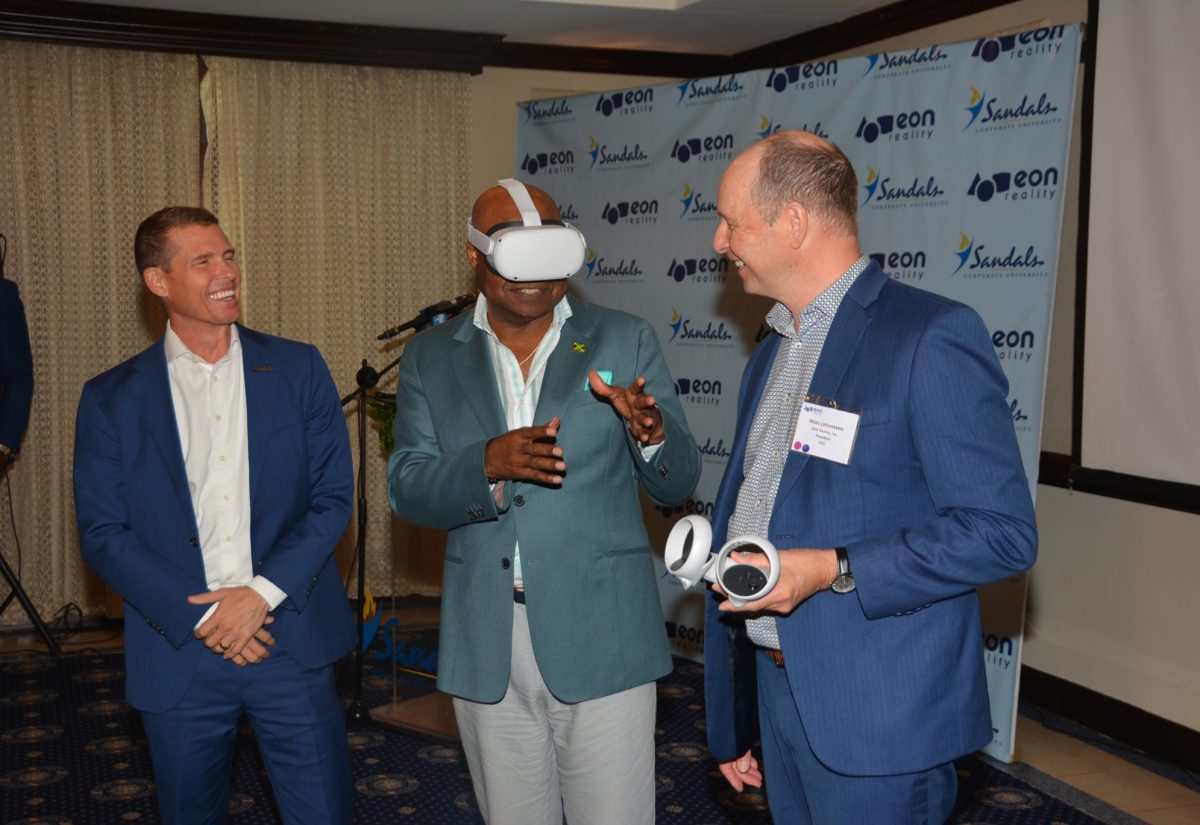 Spatial Artificial Intelligence (AI) technology is poised to revolutionise training in Jamaica's tourism industry through virtual and augmented reality platforms for enhancing the education and professional development of staff and stakeholders in the sector.
Tourism Minister, Hon. Edmund Bartlett, endorsed the transformative potential of the technology while addressing the launch of the EON Reality and Sandals Corporate University (SCU) training and development partnership at Sandals Royal Plantation in Ocho Rios, St. Ann, on Thursday (October 5).
"We gather to celebrate the launch of the SCU and the EON Reality XR platform as a milestone innovation that has the potential to dramatically reshape the education and training landscape in the tourism sector and other industries," Mr. Bartlett stated.
"This is because it focuses on the use of virtual augmented mixed and extended reality, and this will help to fundamentally transform the methods by which we acquire knowledge and exchange training," he added.
The collaboration promises to impact Jamaica and the Caribbean on a wide scale, with the potential to target over 10,000 employees for upskilling according to the Minister.
Additionally, he said the interactive and immersive approach contributes to securing the future of tourism by equipping the workforce with the skills and knowledge needed to excel in an ever-evolving industry.
"In the current era, characterised by rapid technological changes, endeavours such as the SCU and EON partnership will guarantee Jamaica's sustained position in tourism as a global leader in education and training," Mr. Bartlett outlined.
"What we are doing in Jamaica is truly creating the space for leadership. The goal is not to merely establish a platform but, more importantly, it is to herald the advent of a new paradigm in education transformation," he added.
SCU, as part of the Sandals Resorts International brand, holds an esteemed place in the hospitality sector.
Through the unique adult education programme offered by SCU, team members have access to comprehensive hospitality-specific training and academic qualifications.
The use of EON Reality's innovative solutions across these diverse programmes demonstrates the versatility of the EON AI Assistant in facilitating learning and teaching across various subject areas.
Executive Chairman of Sandals Resorts International, Adam Stewart, pointed out that learning has always been and will continue to be at the heart of what defines Sandals and its subsidiaries.
He said the brand is built on human interaction, noting that amidst all the changes, the core of their service remains "person to person, smile to smile".
"So, my job has been to follow through on what started many, many years ago, to assemble the most extraordinary team of visionaries and find most extraordinary platforms to be able to execute on that dream," Mr. Stewart explained.
"This [partnership] is going to help so many Caribbean nationals, hopefully starting here, but expanding right through the wider Caribbean and far beyond Sandals Resorts International, so [that] we can train our people and uplift them," he added.