GSI SKN Inc and US-based NABCEP launch Caribbean hub for solar energy training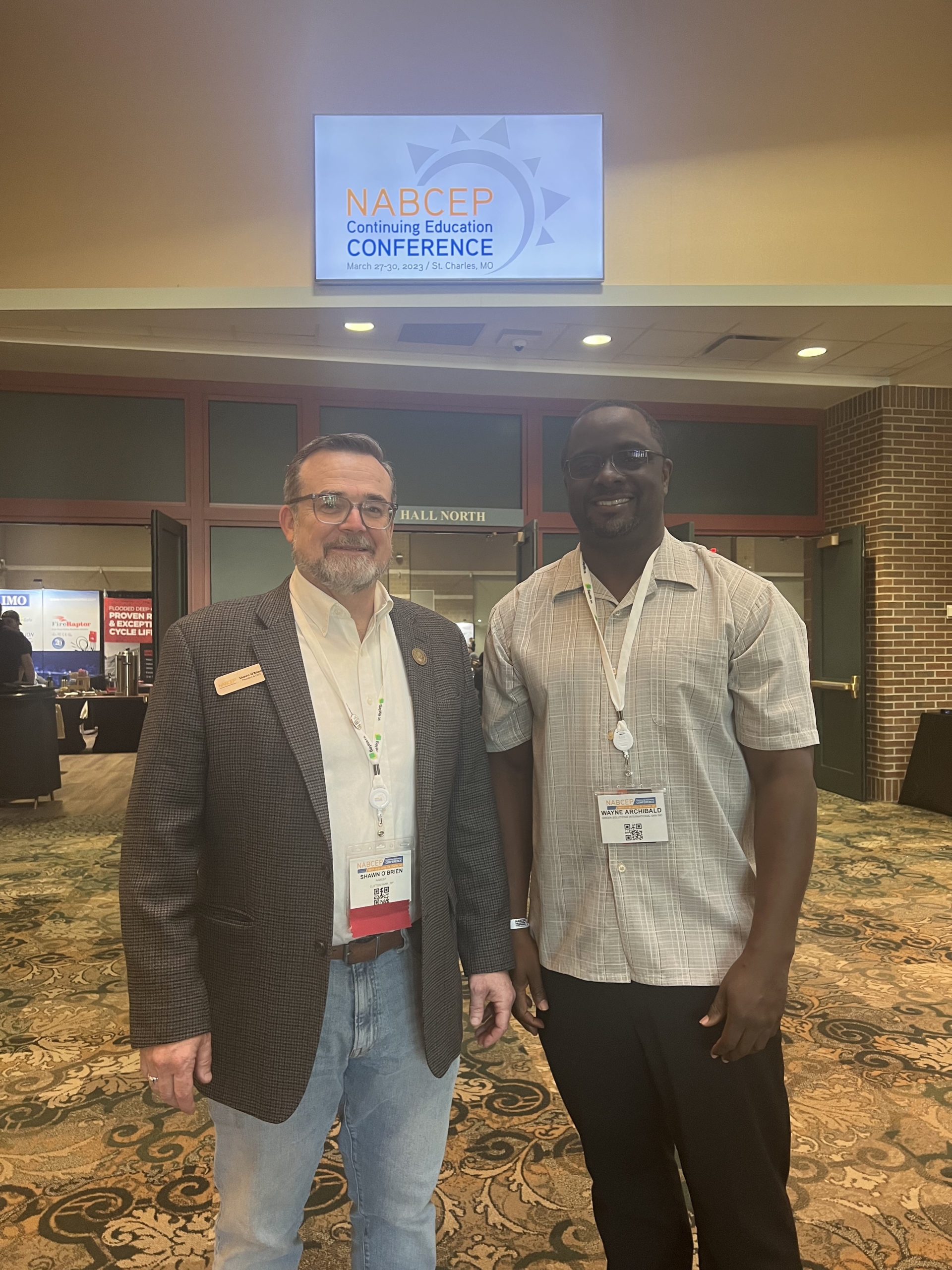 Photo caption: From left, Shawn O'Brien, President and CEO, NABCEP and Dr. Wayne E. Archibald, Executive Director, Green Solutions International SKN Incorporated (GSI) at the recent signing
On 27th March this year Dr. Wayne E. Archibald, Executive Director, Green Solutions International SKN Incorporated (GSI), signed an exclusive international partnership agreement with Shawn O'Brien, President and CEO of the North American Board of Certified Energy Practitioners® (NABCEP®) to establish NABCEP Caribbean, the first regional hub for solar energy training and development throughout the Caribbean region as well as the US Virgin Islands.
NABCEP credentials are a voluntary certification that provides a set of national standards by which photovoltaic (PV) professionals with skills and experience can distinguish themselves from the competition. Certification gives a measure of protection to the consumer by furnishing them with a credential against which they can assess the competency of PV practitioners.
GSI will serve as NABCEP's regional partner for the solar energy industry in the Caribbean. Increased access to NABCEP's PV training programmes and certification will enhance PV human resource capacities and build consumer confidence, leading to greater investment in the industry. NABCEP's PV Installation Professional (PVIP®) Certification is accredited to the internationally recognised ISO/IEC 17024 by the American National Standards Institute (ANSI).
At the signing, Dr. Archibald stated, "I am pleased to sign this new agreement with our valued partner, NABCEP, to strengthen our capacity-building and workforce development programmes in the region.
This agreement represents a significant milestone that will raise the standard for solar installations and maintenance, and increase employability opportunities for talented, qualified Caribbean nationals in one of the fastest growing industries, regionally and worldwide."
NABCEP Board certifications can positively impact PV technicians' careers through improved marketability, validation of knowledge, and enhanced reputation and credibility. GSI will work closely with the private and public sectors to establish partnerships with Caribbean colleges, universities, and government institutions to integrate the NABCEP concept into regional renewable energy programmes.
Recently, GSI was contracted by the Caribbean Development Bank to spearhead the "OECS Photovoltaic
Training and Certification Programme" in PV installation and inspection for 250 persons from Antigua and Barbuda, the Commonwealth of Dominica, Grenada, Saint Kitts and Nevis, Saint Lucia, and Saint Vincent and the Grenadines. This was the most significant PV training and certification programme held in the Caribbean to date.
In 2021, UNDP Guyana also contracted GSI to deliver the NABCEP Solar Photovoltaic Training and Certification for the Solar PV Associate Course and the System Inspector Certification Course for 25 persons. GSI was tasked with developing a curriculum for Solar PV Installation, Maintenance and Repairs using the Power Generation Stand-by Level 1 and/or Power Line Construction and Maintenance Distribution Level 1 standards under the "Mainstreaming Low Emission Energy Technologies to Build Guyana's Green Economy" project.
Last year, GSI, in partnership with the Cadmus Group LLC, a global climate and energy consulting firm in the USA, and The University of the West Indies, Mona Campus, Jamaica, coordinated the Workforce Development and Training programme for "Strengthening Energy Sector Resilience in Jamaica." This is a US$4 million, three-year project led by USAID/Jamaica and the Jamaica Energy Resilience Alliance (JERA).
Building on these successes and now with more than 750 persons trained across the region, the establishment of NABCEP Caribbean will further increase demand for internationally certified solar energy qualifications. "We are excited to partner with GSI in supporting renewable energy education in the Caribbean," said Shawn O'Brien, NABCEP's President and CEO. "With year-round sunshine, motivated learners and quality training, the Caribbean has all the right ingredients to produce the energised workforce needed in the region. The NABCEP Caribbean Program solidifies our combined commitment to the industry and the ongoing and mutually beneficial relationships that will lead us into the next generation of solar empowerment."
Adding her support to the launch of this initiative, Judith Ephraim, Programme Director – Sustainable Energy, Organisation of Eastern Caribbean States (OECS) Commission, commented, "We're seeing a trend towards low or zero-carbon sources of energy, as well as distributed generation and autonomy in energy production in the Caribbean. Organisations like GSI are paving the way in supporting a cadre of homegrown energy professionals that will take the region forward in meeting its energy and sustainable development goals."
GSI is a non-governmental organisation and a premier provider of green energy solutions across the Caribbean. Its mission is to help the region become 100% sustainable through innovation, education, workforce training, and clean energy development. Its highly experienced team serves as an intellectual hub for learning, networking, and innovation across the region in all areas of green technology.
To sign up for NABCEP programmes in the Caribbean, visit www.greensolutionsskn.com; email training@greensolutionsskn.com; or call (+1 876) 559 2515.
Dawgen Global and NeedStreet Web Technologies Join Forces to Transform Healthcare in the Caribbean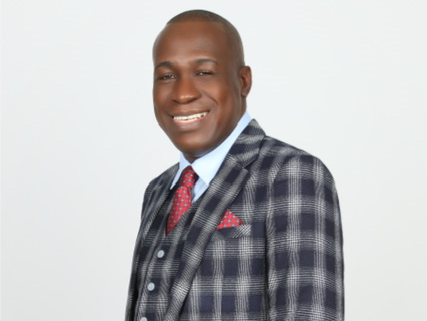 Dawgen Global, a renowned multidisciplinary professional service firm specializing in innovative business solutions, is proud to announce its partnership with
NeedStreet Web Technologies Pvt Ltd. as the authorized reseller of ContinuousCareTM, an innovative telemedicine and telehealth software platform, across numerous Caribbean nations.
The collaboration between Dawgen Global and NeedStreet marks a significant milestone in healthcare provision for the Caribbean region. ContinuousCare's groundbreaking capabilities are set to revolutionize healthcare delivery, ensuring communities have uninterrupted access to vital healthcare services. By connecting medical practitioners, governments, and other stakeholders, this software is poised to transform healthcare accessibility throughout the Caribbean.

Dr. Dawkins Brown, the Executive Chairman of Dawgen Global, expressed his enthusiasm for the partnership, stating, "Our collaboration with NeedStreet represents a transformative leap in health care provision for the Caribbean. We are truly excited to bring ContinuousCare's capabilities to medical practitioners, governments, and other stakeholders. This software will revolutionize healthcare delivery, ensuring our communities have constant, reliable access to vital healthcare services."
ContinuousCareTM, developed by NeedStreet Web Technologies, is a comprehensive telemedicine and telehealth software solution that empowers healthcare providers to connect with their patients and efficiently manage their practices online. This robust platform encompasses various essential features, including practice marketing, reputation management, patient engagement, telehealth services, and practice management tools.
The software's  feature set includes a marketing-ready website integrated with online appointments for both in-person and telehealth visits, online payment processing, and telehealth features such as video calls, asynchronous telehealth consultations, and remote patient monitoring. The integrated patient portal enables patients to access and update their health data and engage in telehealth sessions with their healthcare providers. Additionally, providers benefit from a comprehensive admin console that streamlines practice management and automates patient engagement through various channels, including SMS, email, WhatsApp, and push notifications. To ensure seamless connectivity on the go, both patients and providers can access mobile apps, and the platform seamlessly
integrates with a range of Bluetooth and server-based health devices, allowing patients to automatically send their health data to their providers.
ContinuousCareTM is also set to incorporate cutting-edge generative AI technologies from OpenAI, the company behind ChatGPT, which will introduce a range of AI-based features to further enhance the platform's capabilities.
Ms. Chenju Venugopal, Director of Customer Development at NeedStreet Web Technologies, expressed her excitement about the partnership, stating, "This collaboration signifies a shared commitment to improving patient care through technological innovation. We are thrilled to work alongside Dawgen Global to empower healthcare providers with the tools they need to manage and monitor their patients remotely."
By securely connecting healthcare providers and patients, ContinuousCareTM enhances the understanding of personalized healthcare needs and facilitates the interpretation of health data.
This powerful software platform offers health practitioners in the Caribbean region an effective, convenient, and responsive solution to support chronic patients.
With the expansion of ContinuousCareTM across numerous Caribbean nations, including the Bahamas, Jamaica, Barbados, Bermuda, St. Kitts and Nevis, St. Lucia, Antigua, Turks and Caicos, British Virgin Islands, US Virgin Islands, Guyana, Puerto Rico, Cayman Islands, Trinidad & Tobago, Dominica, Belize, Bahamas, and St. Vincent and the Grenadines, Dawgen Global and NeedStreet Web Technologies are driving a transformative shift in healthcare accessibility throughout the region.
About Dawgen Global
Dawgen Global is a multidisciplinary professional service firm that provides innovative business solutions to a diverse clientele. With a commitment to excellence, Dawgen Global specializes in delivering cutting-edge services across various industries, ranging from finance and technology to healthcare and beyond
About NeedStreet Web Technologies Pvt Ltd
Founded in 2011, NeedStreet is an Indian corporation dedicated to providing innovative technology solutions in various domains. Their ContinuousCareTM platform is designed to enhance the healthcare delivery system, promoting better accessibility, and patient engagement.