Bermuda Aims To Modernise Public Transportation Through The Implementation Of A Digital Fare Media.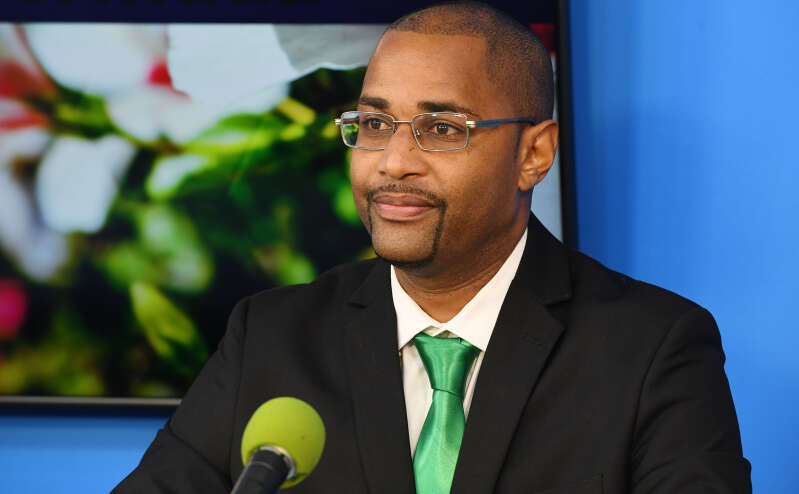 Good Morning.
The mission of the Ministry of Transport is to transport people and goods efficiently and safely. One of our main priorities is;
To transform the transport fare media so that it is frictionless and cashless.
It is with this context that we aim to Modernise Public Transportation through the implementation of a Digital Fare Media.
A Digital Fare Media will provide the option for both residents and visitors alike to use their:
*Phone
*Credit or Debit Card
To pay for rides and track the location of their bus and/or ferry through an app.
Another advantage to the implementation of a digital fare media is that it will provide the Government with the ability to collect real time ridership data, which will allow us the ability to make necessary adjustments to the Public Transportation Schedule.
While we look to transition the bus and ferry service over to a Digital Fare Media, the majority of the Taxi industry has been using similar electronic platforms for years. However, the Ministry is aware that a Harmonisation of sorts is needed amongst Public Service Vehicles. In this Session of the House of Assembly, the Legislature will take under consideration a Bill to harmonise the licence fees for public service vehicles, with the aim to provide consistency within that industry.
The Ministry also believes the Motor Car Act 1951 is too restrictive in an area where growth and change are necessary to keep up with new technology. Therefore, necessary changes will be made to modernise various aspects of the Act.
For example, with an aging population, it is necessary to re-evaluate policies regarding vehicle licencing for seniors. Ensuring that our seniors are able to more easily access the services they require, while making sure all road users are appropriately assessed prior to being granted a vehicle licence, regardless of age.
The Ministry is mindful of the increasing number of vehicles on our roads, and believes that the promotion of a second-hand vehicle market will allow residents an affordable alternative to purchasing a new vehicle. Necessary regulations will be put in place to safeguard the second-hand vehicle marketplace.
Public Garages have become a steadily increasing source of complaints amongst various neighbourhood residents. It has been realized that amendments to the current regulations are needed, that allow the Government to better mitigate and mediate observed and/or consistent breaches, giving the Minister of Transport the authority to suspend and revoke licences.
Last but certainly not least, as the Minister of Transport, I want to re-emphasize the importance of responsible vehicle operation – both on our roads and waters. Going forward, the Bermuda Road Safety Council and the Bermuda Water Safety Council will be utilised to a greater extent to ensure that transportation safety is kept on the forefront in this vital public messaging.
Former Bermuda Minister of Transport Lawrence Scott
https://www.gov.bm/articles/minister-transport-lawrence-scott-throne-speech-initiatives-remarks 16th November 2020
See Also No increase to Bermuda taxi operators in almost 9 years
How The Lyft Business Model Works…LYFT co-founder Logan Green
Our transportation network is comprised of:
• Ridesharing Marketplace. Our core offering connects drivers with riders. The scale of our network enables us to predict demand and proactively incentivize drivers to be available for rides in the right place at the right time. This allows us to optimize earning opportunities for drivers and offer convenient rides for riders, creating sustainable value to both sides of our marketplace. Our ridesharing marketplace connects drivers with riders in cities across the United States and in select cities in Canada. In 2022, we launched Lyft Maps in an effort to optimize routing, improve safety, save riders and drivers time and add to our marketplace efficiency. In addition to our standard rideshare offering, riders can select a variety of other rideshare offerings which include Wait & Save, Lux, Lux Black, Lux Black XL, and have access to Lyft Pink, Lyft's transportationfocused membership.
• Express Drive. Our car rental program for drivers, including those who want to drive using our platform but do not have access to a vehicle that meets our requirements. Through our Express Drive program, drivers can enter into rental agreements with our independently managed subsidiary, Flexdrive, and our rental car partners for vehicles that may be used to provide ridesharing services on the Lyft Platform.
• Lyft Rentals. In 2019, we launched Lyft Rentals to offer a rental car option for users who have long-distance trips. Lyft Rentals is consumer facing and is therefore different from Express Drive, which is driver facing. Lyft Rentals is supported entirely by third-party partnerships.
• Light Vehicles. We have a network of shared bikes and scooters ("Light Vehicles") in a number of cities to address the needs of users who are looking for options that are more active and often more cost-effective and efficient for shorter trips. These modes can also help supplement the first-mile and last-mile of a multimodal trip with public transit.
• Public Transit. Available in select cities, our Transit offering integrates third-party public transit data into the Lyft App to offer users a robust view of transportation options around them and allows them to see transit routes to their destinations at no cost. Providing real-time public transit information is another step toward providing effective, equitable and sustainable transportation to our communities, and creating a more seamless and connected transportation network.
• Lyft Autonomous. Our partnership with Motional has enabled the commercial deployment of a fleet of autonomous vehicles on our platform in Las Vegas. In July 2021, we completed a multi-element transaction with Woven Planet, a subsidiary of Toyota Motor Corporation, for the divestiture of certain assets related to our self-driving vehicle division, Level 5, as well as commercial agreements for the utilization of Lyft rideshare and fleet data to accelerate the safety and commercialization of the automated-driving vehicles that Woven Planet is developing.
Drivers
The drivers on our platform are active members of their communities. They are parents, students, business owners, retirees and everything in between. We work hard to serve the community of drivers on our platform, empowering them to drive on their own flexible terms while providing them the opportunity to focus their time on what matters most. Key benefits to drivers on our platform include:
• Flexibility. We offer drivers the flexibility to generate income on their own schedule, so they can best prioritize what is important in their lives.
• Technology. Our predictive technology around ride volume and demand enables us to share key information with drivers about when and where to drive to maximize their earnings on a real-time basis.
• Transparent and Consistent Pay: We've released multiple features over the years aimed at providing transparency to drivers, including upfront pay, which enables drivers to see ride information and what they'll earn before accepting a ride, and Weekly Pay Statement, which gives drivers a more clear and comprehensive view of earnings details.
• Insurance. We procure insurance that helps protect transportation network company ("TNC") drivers against financial losses related to automobile accidents while on the platform.
• Community Standards. To help us uphold high community standards, we give both drivers and riders the opportunity to rate each other after a ride booked through the Lyft App.
• Support. We offer drivers access to 24/7 support and earnings tools as well as education resources and other support to meet their personal goals.
Riders
Riders are as diverse and dynamic as the communities we serve. They represent all adult age groups and backgrounds and use Lyft to commute to and from work, explore their cities, spend more time at local businesses and stay out longer knowing they can get a reliable ride home. Unless otherwise stated, riders are passengers who request rides from drivers in our ridesharing marketplace and renters of a shared bike, scooter or automobile, or have used services for car owners available in the Lyft App. We work hard to provide riders with a quality experience every time they open the Lyft App, in order to earn the right to have Lyft be their transportation network of choice. Key benefits to riders on our platform include:
• Selection and Convenience. We designed the Lyft App with a focus on simplicity, efficiency and convenience. Our proprietary technology efficiently matches riders with drivers through advanced dispatching algorithms providing faster arrival times, localized pricing and maximum availability. Additional modes, such as Light Vehicles, offer riders more options for shorter trips. The more rides that are taken on our platform, the better we are able to offer riders personalized experiences most suitable to the trip being planned.
• Availability. We strive to ensure that riders can get a ride when they want one. We leverage our proprietary dispatch platform and data to help drivers and riders connect efficiently and reduce wait times.
• Affordability. Our platform empowers riders to choose from a broad set of transportation options to easily optimize for cost, comfort and time.
• Safety. Since day one, we have worked continuously to enhance the safety of our platform and the ridesharing industry by developing innovative products, policies and processes.
Business
Lyft is evolving how businesses large and small take care of their people's transportation needs across sectors including corporate, healthcare, auto, education and government. Our comprehensive set of solutions allows clients to design, manage and pay for ground transportation programs that contribute to productivity and satisfaction while reducing cost and streamlining operations.
Our Technology Infrastructure and Operations
We organize our product teams with a full-stack development model, integrating product management, engineering, analytics, data science and design. We focus on affordability, reliability, efficiency, optimization and cohesion when developing our software. Our offerings are mobile-first and platform agnostic. We seek to continuously improve the Lyft Platform and the Lyft App.
Our offerings are built on a scalable technology platform that enables us to manage peaks in demand.
We have a commercial agreement with Amazon Web Services ("AWS") for cloud services to help deliver and host our platform. As a result of our partnership, we believe we are more resilient to surges in demand on our platform or product changes we may introduce.
We designed our platform with multiple layers of redundancy to guard against data loss and deliver high availability. Both incremental and full backups are performed and redundant copies of content are stored independently in separate geographic regions.
We are also investing in iterating and continuously improving our data privacy and security foundation, and continually review and implement the most relevant policies.
Our Proprietary Data-Driven Technology Platform
Our robust technology platform powers the millions of rides and connections that we facilitate every day and provides insights that drive our platform in real-time. We leverage historical data to continuously improve experiences for drivers and riders on our platform. Our platform analyzes large datasets covering the ride lifecycle, from when drivers go online and riders request rides, to when they match, which route to take and any feedback given after the rides. Utilizing machine learning capabilities to predict future behavior based on many years of historical data and use cases, we employ various levers to balance supply and demand in the marketplace, creating increased driver earnings while maintaining strong service levels for riders. We also leverage our data science and algorithms to inform our product development.
Our Intellectual Property
We believe that our intellectual property rights are valuable and important to our business. We rely on trademarks, patents, copyrights, trade secrets, license agreements, intellectual property assignment agreements, confidentiality procedures, non-disclosure agreements and employee non-disclosure and invention assignment agreements to establish and protect our proprietary rights. Though we rely in part upon these legal and contractual protections, we believe that factors such as the skills and ingenuity of our employees and the functionality and frequent enhancements to our solutions and offerings are larger contributors to our success in the marketplace.
We have invested in a patent program to identify and protect a substantial portion of our strategic intellectual property in ridesharing, autonomous vehicle-related technology, micro-mobility, telecommunications, networking and other technologies relevant to our business. We hold numerous issued and pending patents in the U.S. and foreign jurisdictions and continually review our development efforts to assess the existence and patentability of new intellectual property.
We have an ongoing trademark and service mark registration program pursuant to which we seek to register our brand names and product names, taglines and logos in the United States and other countries to the extent we determine appropriate and costeffective. We also have common law rights in some trademarks. In addition, we have registered domain names for websites that we use in our business, such as www.lyft.com and other variations.
We intend to pursue additional intellectual property protection to the extent we believe it would be beneficial and cost effective. Despite our efforts to protect our intellectual property rights, they may not be respected in the future or may be invalidated, circumvented or challenged. For additional information, see the sections titled "Risk Factors—Risks Related to Regulatory and Legal Factors—Claims by others that we infringed their proprietary technology or other intellectual property rights could harm our business" and "Risk Factors—Risks Related to Regulatory and Legal Factors—Failure to protect or enforce our intellectual property rights could harm our business, financial condition and results of operations."