PriceSmart Introduces A New Generation Of Smart-Shopping Green Clubs.
"The Portmore building, with 4,200 square metres of sales floor on 20,000 square metres of land, was constructed with PriceSmart's Green Club concept in mind.
The Green Club concept is aligned with our beliefs and commitment to be good stewards of the environment, mitigating our impact and being market leaders in building facilities that serve as models for innovation. PriceSmart's initiative to use solar panels has reduced CO2 emissions by 19,784 tonnes. The decrease in this carbon footprint is equivalent to saving 42,850 trees. Additionally, an intelligence system will be employed to control power to lighting and air conditioning equipment that will allow us to remotely monitor the club's energy consumption.
PriceSmart members can be assured that its environmental impact will be monitored closely by the company's environmental, social and governance department, which assures that stores across all markets continuously work to adapt and mitigate the impacts of climate change.
We have introduced a new generation of smart-shopping clubs. The building utilises LED lighting solutions that offer energy savings, higher versatility in installation and a reduction in maintenance and replacement cost due to the extended lifespan. Sensor lighting for our administrative offices also assists with reducing our energy consumption. In fact, PriceSmart has installed solar arrays in 30 more clubs in nine countries. These include Barbados, Nicaragua, Aruba, Dominican Republic, Panama, Costa Rica, Colombia, Guatemala and Red Hills [Road] in Jamaica."
Dhanraj Mahabir, senior vice-president for operations at PriceSmart locations in Jamaica, Trinidad, Barbados, US Virgin Islands and Aruba.
Global South Urged to Support Transition to Cleaner Forms of Energy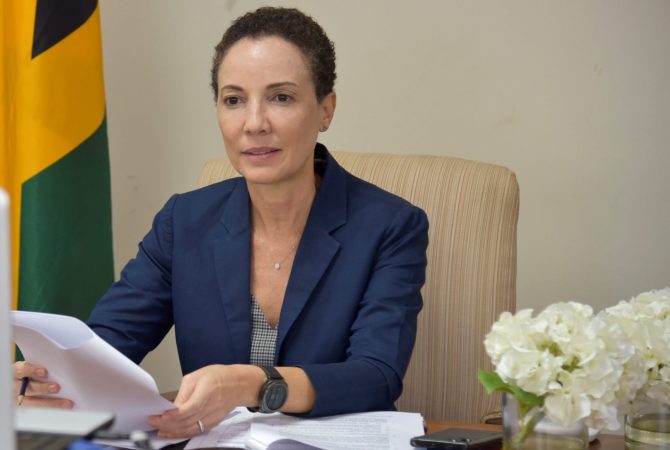 It is important for countries of the Global South to support the scaling up of the transition to cleaner and sustainable forms of energy, says Minister of Foreign Affairs and Foreign Trade, Senator the Hon. Kamina Johnson Smith.
"We encourage elevation on the G-20 agenda of similar pragmatic policies and programmes supportive of energy transition by fiscally constrained developing countries," she said.
The Minister was speaking at a recent special virtual summit, 'Voice of Global South Summit', an initiative of India, under the theme 'Unity of Voice, Unity of Purpose'.
India assumed Presidency of the Group of 20 (G-20), effective December 1. More than 120 countries participated in the two-day Summit, where they shared their perspectives and priorities.
The Minister said that Jamaica has been making strides towards loosening its dependence on imported petroleum fuels, while embracing clean, renewable energies and greater levels of energy efficiency.
"In this light, we have leveraged support derived from our membership of the International Solar Alliance," she added.
The Minister emphasised the importance of food and energy security, the fight against climate change, and recommended the sharing of models across the regions as well as technical cooperation among countries, "to promote increased food production and trade and increased availability of inputs for the Agricultural and Fisheries sectors".
She cited the food insecurity facing the world's most vulnerable and said the situation was worsened by "climate extremes, economic shocks, conflicts and disruptions to global supply chains".
"Solutions lie only in innovative action, partnerships and collaborative work at every level, to strengthen the resilience of food systems in developing countries," Senator Johnson Smith said.
The Minister congratulated the Government of India for assuming Presidency of the G-20.
"Jamaica is confident that India's G-20 Presidency will pave the way for more robust, collective action for sustainable development and stability in this fractured international landscape. We look forward to further productive engagement," she said.
India's High Commissioner to Jamaica, His Excellency Runsung Masakui, told JIS News that as India begins its Presidency, the aim is to amplify the voice of the Global South.
He said that India's ongoing Presidency of the G-20 provides a special and strong opportunity for those countries that are not part of the group to share their ideas and expectations.
The High Commissioner said that India will work to ensure that the inputs generated from partner countries in the Global South Summit deliberations receive due recognition globally.
The priority areas discussed at the Summit were Financing People-Centric Development; Balancing Growth with Environment-Friendly Lifestyle; Priorities of the Global South – Ensuring a conducive Environment, Energy Security and Development; Cooperation to Build Resilient Healthcare Systems; Human Resource Development and Capacity Building; Developing Synergies in the Global South – Trade, Technology, Tourism and Resources; and G-20 Suggestions for India's Presidency.