Large Jamaican Delegation Of Public And Private Sector Entities Head To Georgetown, Guyana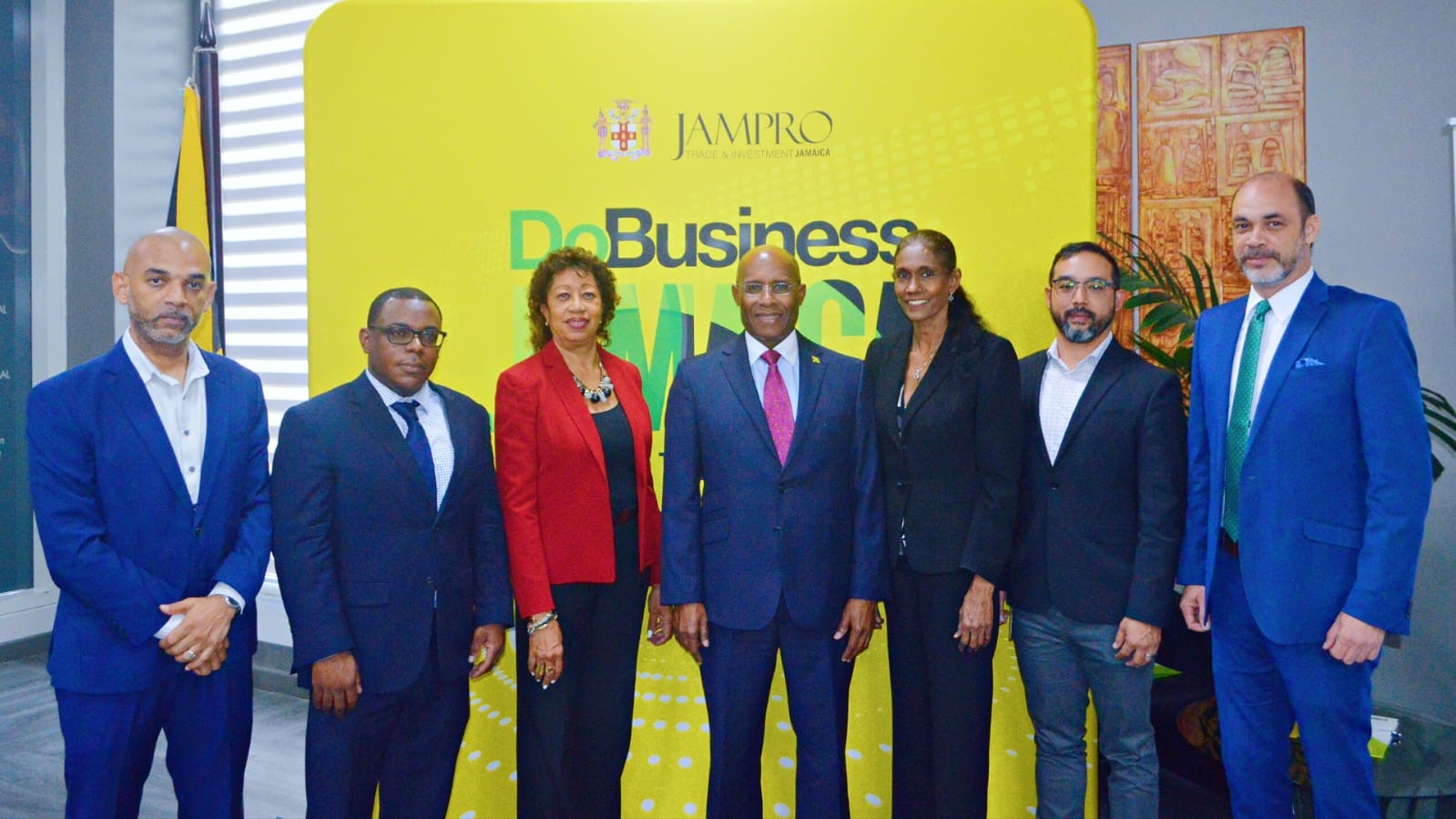 Photo: Senator the Hon. Aubyn Hill, Minister of Industry, Investment & Commerce (centre), poses with the team following a briefing session for delegates on a private/public sector mission to Georgetown, Guyana, from October 2-7, 2022. From left to right are: Gabriel Heron, Vice President of Markets, JAMPRO, Christopher McPherson, Special Advisor to the Minister, Diane Edwards, President of JAMPRO, Marlene Porter, Manager of Agribusiness, JAMPRO, Angus Young, Head of Regional Investment Banking & New Markets – NCB Capital Markets, a sponsor of the mission, and Nicholas Sutherland, Manager, New Market Development, JAMPRO.
A large Jamaican delegation of public and private sector entities will embark on a mission to Georgetown, Guyana, scheduled for October 2 nd – 7 th 2022. The mission will be led by Senator the Honourable Aubyn Hill, Minister of Industry, Investment and Commerce.
The mission to Guyana aligns with the thrust by Minister Hill to significantly improve exports to the Region and beyond and is timely with both Jamaica and Guyana experiencing economic recovery after the fallout from the COVID-19 Pandemic. The International Monetary Fund (IMF) has projected Guyana's overall real GDP growth rate to be 57.8% in 2022. Much of this is underpinned by the development of anascent oil and gas sector, and spin-off developments, however the non-oil economy is also expected to continue registering strong growth, projected at 7.7% in 2022 by the IMF, driven mainly by rebounds in rice growing, gold mining and continued expansion in construction activity wholesale/retail trade and repairs.
Senator the Hon. Aubyn Hill states "Jamaica and Guyana have a shared history of good bilateral relations. With both our nations currently experiencing economic growth, strategically there are many mutual benefits to be explored on this mission to Guyana, where regional collaboration and partnership will be central to the business engagements of the mission. Key areas for collaboration include agribusiness, financial services, infrastructure, manufacturing and professional services. The mission will cement business-to-business partnerships that will drive cross-border transactions in both investments and trade, of mutual benefit to Jamaica and Guyana."
Jamaica Promotions Corporation (JAMPRO), an agency in the Ministry of Industry, Investment and Commerce, is providing support to the Ministry on the mission to Guyana, which includes 22 Jamaican entities and over 30 persons, largely from the private sector along with the Jamaica National Agency for Accreditation (JANAAC) and Jamaica Special Economic Zone Authority (JSEZA), also agencies of the Ministry of Industry, Investment & Commerce. The composition of the delegation complements the main areas of focus for the mission to Guyana, which are fresh produce, Agri-processing, non-food manufacturing (including construction materials), financial services and consulting services (including accreditation/certification).
Jamaica and Guyana have experienced very good bilateral relations over the years. As far back as July 1973 with the signing of the Treaty of Chaguaramas and more recently with the planned reactivation of the Guyana-Jamaica Joint Commission in 2018.
In preparation for the mission, a briefing session, attended by 32 persons, was staged on September 13 th to inform local business entities of the opportunities in Guyana. During the briefing session, Senator the Honourable Aubyn Hill, took the opportunity to emphasize the urgent need for export and regional trade to drive economic growth for Jamaica and Guyana and further charged the participants to continuously look beyond the shores of Jamaica to market goods and services across the globe.
Guyanese support for the briefing session was provided by Rafeek Khan, President of Guyana Manufacturing and Services Association (GMSA) and Richard Rambarran, Executive Director, Georgetown Chamber of Commerce (GCC).
Strong private sector support for the mission is being provided by NCB Capital Markets Limited in the form of sponsorship and Steven Gooden, CEO, NCB Capital Markets Limited shared thoughts on the mission. "This mission to Guyana is indicative of the kind of public-private sector engagements needed to drive nation building and grow the Jamaican economy. Ultimately, the commercial benefits will be widespread. Collaboration with our Guyanese counterparts will also enhance commerce, investments, and trade in the Caribbean.  NCB Capital Markets Limited is delighted to play a part in this undertaking and looks forward to the significant benefits it will yield for both regions."
The mission will entail scheduled meetings with relevant government entities, senior government officials as well as business-to-business (B2B) meeting specifically for the Jamaican delegation to explore opportunities with approximately 45 targeted potential business partners in Guyana.
A member of the delegation, the Jamaica National Agency for Accreditation (JANAAC), is the only internationally recognized accreditation body in the English-speaking Caribbean. On June 14, 2022, the U.S. Food and Drug Administration (FDA) approved JANAAC as a recognized accreditation body under the accredited Third-Party Certification programme. Currently, JANAAC, is present in ten (10) CARICOM countries, including Guyana, where it has accredited four laboratories with the intention to continue collaborating with Guyanese stakeholders to accredit all its labs.
Diane Edwards, President of JAMPRO, said "this mission is outcome oriented, ensuring that focus is given to enable tangible benefits from the mission, through strong business matchmaking activities to seal revenue opportunities for the future. The great regional challenge for 2022 is to consolidate the economic recovery of the region and lay the foundations for more inclusive Inter-Caribbean growth.
Corporate Movements – August 2023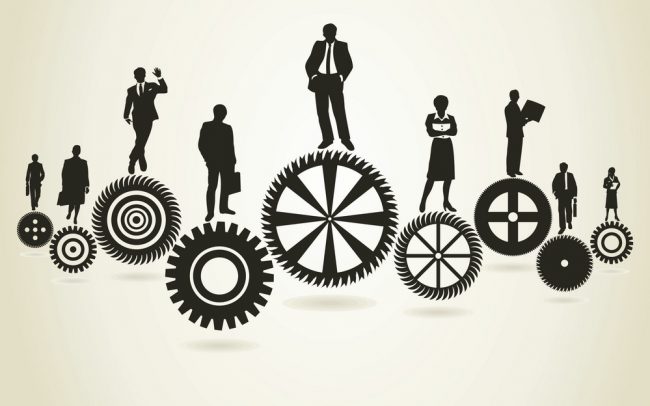 The Board of Agostini's Limited wishes to advise that Mr. Anthony Agostini will retire as Managing Director on January 31, 2024, at the conclusion of the Company's annual general meeting. Mr. Agostini has been on the Board of Agostini's for the past 33 years and has been the Managing Director for the past 18 years. The Board is also pleased to announce that Mr. Barry Davis will be appointed CEO Designate effective September 1, 2023 and will replace Mr. Agostini on February 1, 2024. Mr. Davis is currently the Finance Director of Agostini's, a post he has held for the past three and a half years, and which he will continue to hold until he assumes the CEO position. Prior to this, Mr. Davis was a non-executive director of Agostini's for twelve years, while he was the Financial Controller at Atlantic LNG.
National Flour Mills Limited (NFM) wishes to advise of the following changes to its Board of Directors effective August 18th, 2023:
(i) The reappointment of Ms. Joanne Salazar as a Director; and (ii) The appointment of Mr. Varun Maharaj and Mr. Sanjiv Anant Sookoo as Directors
Prestige Holdings Limited wishes to advise on the following changes to the Executive Team.
• Ryan Deans, currently Operations Manager, KFC, has been appointed Vice President, TGI Fridays designate with an effective date of December 1, 2023.
• Kerri Hosein-Khan, currently Vice President, Starbucks and TGI Fridays will cease responsibility of overseeing TGI Fridays on November 30, 2023 after the transition period ending November 30, 2023.
Business executive Phillip Armstrong has been promoted to second in command of Pan Jamaica Group, which was formed earlier this year from a merger between Jamaica Producers Group and Pan Jam Investments. Armstrong has been appointed chief operating officer (COO), effective September 1, serving under Chief Executive Officer Jeffrey Hall. Prior to his appointment as COO, Armstrong served as the group's chief strategy officer. He is a former deputy CEO and executive director of Sagicor Investments Limited. Armstrong has also held the positions of executive vice-president of strategy and innovation, and chief technology officer of Sagicor Group Jamaica. He is a member of the board of directors of a number of prominent corporate companies in Jamaica, such as Kingston Wharves Limited, Sagicor Group Jamaica, Sagicor Investments, Sagicor Bank Jamaica, Sagicor Investments, Sagicor Life Jamaica and British Caribbean Insurance Company. Armstrong holds a BSc in avionics technology and has completed the Harvard Business School's Advance Management Programme and the Harvard Business Analytics Programme.
iCreate Limited (ICREATE) announces the resignation of Founder Tyrone Wilson as its President & CEO, and a Director. Mr. Wilson notified the company of his resignation and the Board of Directors met and accepted, effective immediately.
Concurrently, the following interim leadership appointments have been made:
– Ivan Carter will serve as Interim Chairman of the Board of Directors.
– Arlene Martin will serve as Interim President & CEO.
The Board of Directors expresses sincere gratitude to Wilson for his visionary leadership and dedicated service as President & CEO, and Director. Going forward, he will be an available resource to the company. iCreate remains committed to its customers, subsidiary companies, employees, strategic partners, and other obligations and responsibilities as a publicly-traded company
The Board of Directors of The Limners and Bards Limited is pleased to announce the appointment of Kareem Tomlinson as Director effective August 15, 2023
The Limners and Bards Limited is pleased to announce that Mrs. Wendy- Ann Smith Anderson has been appointed as the Chief Financial Officer effective August 14 2023 . Mrs. Wendy- Ann Smith Anderson replaces Ms. Kimala Bennett who was the acting CFO."
PJAM has advised that Mr. Allan Ward was appointed to the Board of Directors effective 11 August 2023.
JMMB Group Limited advise that Mr. Dereck Rajack has tendered his resignation as Group Chief Risk Officer, effective October 31, 2023. Dereck has taken the difficult decision to leave his JMMB family to pursue other opportunities.  Dereck assumed the role of Group Chief Risk Officer in April 2019, having initially joined the organisation as the Chief Risk Officer of JMMB Bank (Trinidad & Tobago) in August, 2016. We thank him for his invaluable contribution to the Group, wish him continued success, as he takes this next step in further pursuit of his dreams.
Kingston Wharves Limited (KW) has advised that at a board meeting held on August 10, 2023, its Board of Directors appointed Mr. Philip Armstrong as a Non-Executive Director of Kingston Wharves Limited, effective August 10, 2023.
The Board of Directors of tTech Limited is pleased to announce that at the Board meeting on July 27, 2023, the decision was taken to appoint Norman Chen as the Company's Chief Executive Officer. Norman has served in several management and executive roles at tTech since joining the Company and has deep knowledge of the Company's operations and the industry. He was appointed Acting CEO in December 2022. Since then, he has led a turnaround of the Company, with Year-to-date revenues up 27.5% over 2022 and reversing a Year-to-date loss of $12.1 million to a profit of $12.7 million. The Directors are confident that under Norman's leadership, tTech will move into a new growth phase while continuing to deliver the excellent customer experience that the Company is known for.
Guardian Holdings Limited ("GHL") wishes to advise that at a meeting of the Board of Directors held on 4th August, 2023, Mr. Robert Almeida was appointed Chairman of GHL's Board of Directors effective 4th August, 2023. Mr. Almeida joined the Board in 2019 as an Investor, Business Executive and a Director. As an investor, he is a Founding Partner of Portland Private Equity, a leading manager of private equity funds focused on the Caribbean and Latin American region and a Director, Senior Vice President and Portfolio Manager at Portland Investment Counsel Inc., which is a regulated Investment Fund Manager in Canada. Mr. Almeida succeeds Mr. Patrick Hylton and the Group wishes to take this opportunity to profoundly thank the former Chairman, Mr. Hylton, for his invaluable contribution during his tenure. It is with great pleasure that we welcome Mr. Almeida as the Chairman of Guardian Holdings Limited.