JAMPRO'S Film Commissioner to join International Women's Forum Global Leaders Fellows Program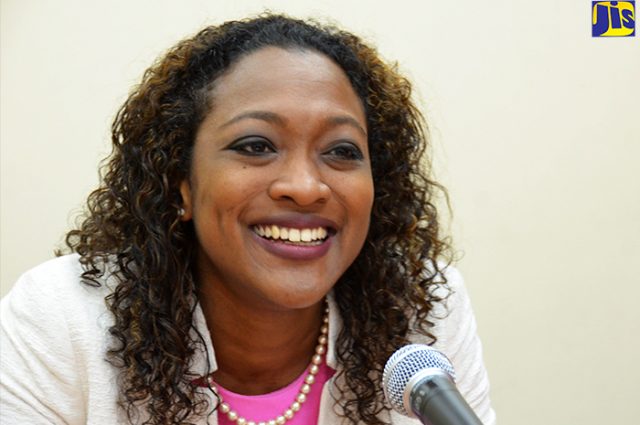 Film Commissioner at JAMPRO, Renee Robinson, has been selected to be part of the International Women's Forum Global Leaders Fellows Program for the year 2022-23. The year-long, intensive leadership development experience prepares Fellows to be leaders for tomorrow through multidisciplinary training that develops the participants' leadership and management capabilities.
"This opportunity will allow me to fluently speak the language of international deal-making, advance the focal shift of business towards the creative economy, and solidify access to financing for our creative practitioners."
Robinson's selection was based on her career as an orange economy expert, content strategist, and thought-leader. She has served as Jamaica's Film Commissioner since 2016, with responsibility for national economic growth and economic impact of the screen-based industries, advancing employment, film production expenditure, and contribution to GDP (Gross Domestic Product).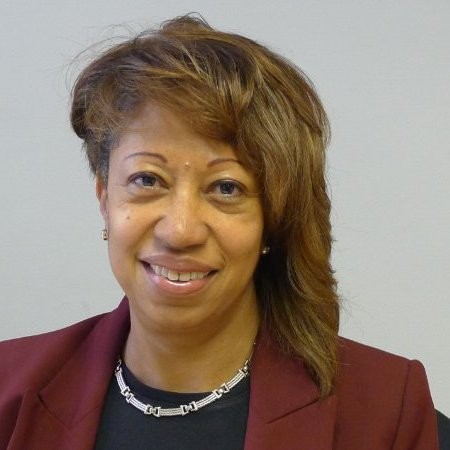 JAMPRO's President, Diane Edwards, said that "we congratulate Renee for being selected to join this prestigious Fellows Programme. We look forward to seeing her advancement in the next year, and her continued excellent work to develop Jamaica's creative economy".
Reacting to her selection for the Fellows Program, Ms. Robinson said it demonstrates the rising shift towards business-focused entertainment industry as a valid economic driver. She noted, "Investing in the creative economy is not philanthropy or corporate social responsibility; it is, in fact, lucrative and critical for socio-economic development. Through the Fellowship, I plan to groom my skills in influencing business decisions that support the creative economy."
€7-Million Grant For Women In Business And MSMEs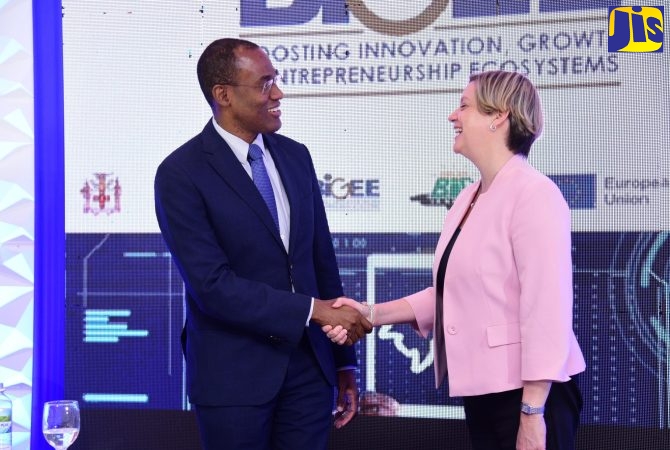 PHOTO: ADRIAN WALKER
The Government's Boosting Innovation, Growth and Entrepreneurship Ecosystems (BIGEE) Programme has been bolstered with a €7-million (over J$1.2-billion) grant from the European Union (EU).
This will provide support for female-led businesses by helping them to build their capacity to contribute to the economy; assist recovery of micro, small and medium-sized enterprises (MSMEs) from the economic fallout resulting from the COVID-19 pandemic; and support stakeholder climate change mitigation and adaptation projects that contribute to resilience and sustainability.
The funds are being facilitated through a Non-Reimbursable Financing Agreement under the EU's Caribbean Investment Facility and will complement the US$25-million loan for the BIGEE programme that was provided by the Inter-American Development Bank (IDB), which will administer the grant.
The BIGEE Programme, which is being implemented by the Development Bank of Jamaica (DBJ), aims to promote sustainable and robust growth among start-ups and MSMEs.
Minister of Finance and the Public Service, Dr. the Hon. Nigel Clarke; Head of the European Union Delegation in Jamaica, Ambassador Marianne Van Steen; General Manager (Acting), IDB Caribbean Country Department Group, Carmen Madriz; and DBJ Managing Director, Anthony Shaw, participated in a symbolic grant agreement signing on Wednesday (May 25).
This was held during a visibility ceremony at The Jamaica Pegasus hotel in New Kingston.
Dr. Clarke, who conveyed the Government's gratitude for the EU's support, said the BIGEE Programme is geared towards positioning innovation at the centre of the business ecosystem.
"For [Jamaica] to have the kind of economic growth that can support the kind of jobs [we are seeking to generate], we need value-added private-sector activity which is based on innovation," he stated.
In this regard, Dr. Clarke, who is also Chairman of the IDB's Board of Governors, said the BIGEE programme "underscores the Government's commitment to promoting financing and investing in innovation".
Mr. Shaw said the grant agreement represents "another step in the long-standing fruitful relations between Jamaica and one of our most dependable international development partners – the EU".
Ambassador Van Steen, in her remarks, said the grant was indicative of the EU's renewed commitment to fostering entrepreneurship in Jamaica, in a sustainable way.
"The development of micro, small and medium enterprises is critical, not only to the Jamaican economy but to the economies in all countries. Here in Jamaica, they are playing a vital role in the Government's efforts to spur economic recovery from the COVID-19 pandemic," she stated.
Meanwhile, Mrs. Madriz said the grant represents "another important milestone in the effort of the Government of Jamaica, Development Bank of Jamaica and the Inter-American Development Bank to strengthen the country's business ecosystem".
The BIGEE Programme's specific objectives are promoting innovation and productivity among established MSMEs with high growth potential, promoting sustainable growth in scalable start-ups, and creating a sustainable pipeline of high-growth potential start-ups.