Workshop to Empower and Advance Women in Business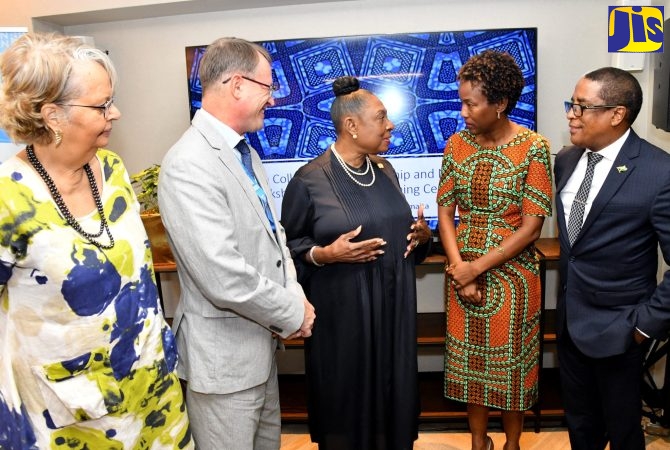 Minister of Culture, Gender, Entertainment and Sport, Hon Olivia Grange (centre), converses with Representative, UN Women Multi-Country Office, Caribbean, Tonni Brodber (second right), at the inaugural United Nations (UN) Women Yemanja Collaborative: Leadership and Networking Workshop for Woman Entrepreneurs, being held in Kingston. from December 5 to 7. The opening ceremony was held December 5 at the ROK Hotel, downtown Kingston. Others (from left) are: Looking on are (from left): Chair of the Government of Jamaica Trade Facilitation Task Force, Patricia Francis; Head of Culture Programme, UNESCO, Office for the Caribbean, Yuri Peshkov; and Minister of State in the Ministry of Industry, Investment and Commerce, Dr. the Hon. Norman Dunn. PHOTO: MICHAEL SLOLEY
The inaugural United Nations (UN) Women Yemanja Collaborative: Leadership and Networking Workshop for Woman Entrepreneurs is being held in Kingston from December 5 to 7.
The initiative targets women of Afro descent from the Caribbean, North and South America and Africa.
It aims to strengthen leadership capacity, empower and equip participants to scale their businesses and create meaningful jobs.
The workshop also facilitates network building and creates mentorship opportunities for entrepreneurs in the agro processing and cultural and creative industries.
Minister of Culture, Gender, Entertainment and Sport, Hon. Olivia Grange, in her greetings at the opening ceremony, held December 5 at the ROK Hotel, downtown Kingston, welcomed the initiative.
Ms. Grange said the workshop aims to empower and advance women in business to create a framework that supports gender equality in the society.
"This training and networking workshop presents a great opportunity for us to examine the progress made in advancing gender equality and empowerment of women and girls and explore how progress can be accelerated," the Minister said.
Representative, UN Women Multi-Country Office, Caribbean, Tonni Brodber, in her remarks said the focus on its target group is not exclusionary. Rather, it recognises the unique sociohistorical barriers that have prevented and still prevent many Afro-descendant women across the world from entrepreneurship.
"[A key] objective of the project is to contribute to enhancing the economic empowerment and resilience of women and youth in the micro, small and medium enterprises in the creative and cultural and growth industries in Latin America, the Caribbean and Africa through strengthened networks and opportunities for employability and entrepreneurship," she said.
The participants were nominated by their national business support organisations.
The three-day event will see participants engaged in leadership skills coaching and will feature breakout sessions with a focus on coaching in business pitches, diaspora and networking opportunities in Africa and the diaspora, business development coaching, and business financing facilities.
These will be facilitated by industry experts from UN Women, the Jamaica Business Development Corporation (JBDC), the University of the West Indies (UWI), and the Caribbean Development Bank (CDB), among other local and international stakeholders.
At the end of the workshop, participants will pitch their business plans/proposals and receive feedback from a panel of experts.
It is a joint programme between UN Women and the United Nations Educational, Scientific and Cultural Organisation (UNESCO), which aims to promote the recognition, justice and development of Afro-descendant women, youth, and women across marginalised groups.
Joanna A. Banks Set To Become The Youngest And Most Powerful Woman In Corporate Jamaica And The Caribbean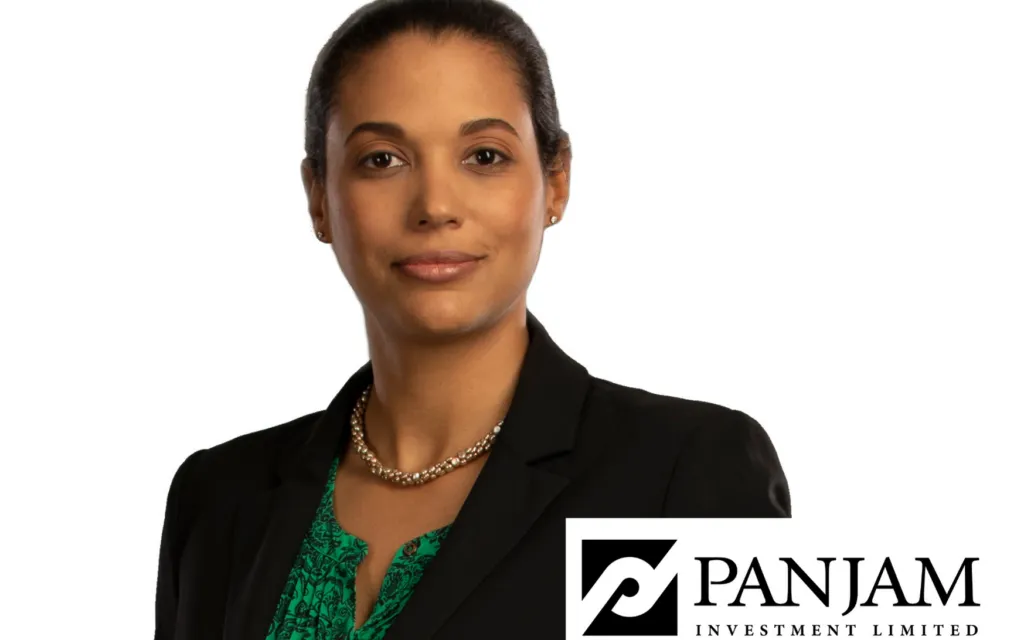 When Stephen Facey, then CEO and Chairman of PanJam Investment Limited, announced the appointment of Joanna Banks, its senior vice president of new business development and strategy, as CEO, he remarks included expressions of confidence in Banks' ability to continue PanJam's legacy of growing stakeholder value.
"Over the past five years, PanJam has benefited significantly from Joanna's knowledge base and international experience. She has led a number of our recent investments and initiatives with passion and resilience, qualities necessary for the path ahead,"
Commenting on the appointment Banks said,  "Over the last 55 years, the company has grown into one of the largest and most well-respected publicly-listed entities in the Caribbean, through the hard work of our team. I joined PanJam because of its reputation for investing in Jamaica for Jamaicans. I will lead PanJam in line with that legacy, for the benefit of our shareholders, our team, our partners and the nation,"
Banks assumed the role of head of the investment holding company effective July 1, 2021. A little over a year later she is again kicking more holes in the proverbial glass ceiling making it wider and more accessible for other female executives.
Jamaican conglomerates Jamaica Producers Group Limited (JP) led by Jeffrey Hall and PanJam Investment Limited (PanJam) led by Stephen Facey announced recently that they will merge their operations creating the Pan Jamaica Group Limited. The transaction is expected to be completed within the first quarter of 2023 with both the renamed Pan Jamaica Group and JP remain listed on the main market of the Jamaica Stock Exchange.
At a date to be determined during the period January 1, 2024 and January 2, 2025, Jeffrey Hall will be appointed as Executive Chairman and cease to serve as CEO of Pan Jamaica Group.
When this happens Joanna Banks will be appointed as CEO for Pan Jamaica Group and will become the most powerful woman in corporate Jamaica and without doubt its youngest.
Until that date PanJam's current CEO, Joanna Banks will hold the position of President of Pan Jamaica Group.
Businessuite has not yet secured an interview with Joanna Banks, but we're keeping our fingers crossed for early in the new year.
As noted in another article the big question now is what is Hall's next move, how far will he go and what's his end game. Importantly what role will Banks play in his international game of Global Gamesmanship.
As also noted in an earlier article we suspect that Hall and Banks, will have their hands full for the next couple of years with Pan Jamaica Group.
So, who is Joanna Banks?
Joanna A. Banks, BSc., MBA, CFA joined PanJam's Board of Directors in 2021. She joined the Company in 2016 and held the roles of Vice President and Senior Vice President of New Business Development and Strategy before her appointment to Chief Executive Officer in 2021.
Prior to joining the PanJam team, Ms. Banks worked at Exxon Mobil Corporation and Pan Caribbean Financial Services Limited (now Sagicor Investments Jamaica Limited) in roles focused on corporate finance, investor relations, pension fund management and strategy.
She earned a Bachelor of Science in Systems Engineering from the University of Pennsylvania and a Master of Business Administration from the University of Chicago Booth School of Business. She is also a holder of the Chartered Financial Analyst designation.
Ms. Banks is a Director of Sagicor Life Jamaica Limited, Sagicor Investments Jamaica Limited, Jamaica Property Company Limited, Agostini's Limited, Outsourcing Management Limited and Term Finance (Jamaica) Limited. She also serves as a Trustee of the C. B. Facey Foundation.
To be updated
PanJam Investment And Jamaica Producers Group Join Forces To Form Pan Jamaica Group
Where Will Pan Jamaica Group Rank On The Businessuite Caribbean Top 100?