JAMPRO Forecasting Expansion In Business And Investment Opportunities As Potential Investors Show Interest And Scouting Of Key Sectors.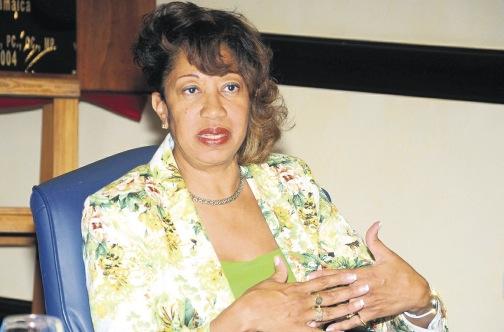 The Jamaica Promotions Corporation (JAMPRO) is forecasting expansion in business and investment opportunities for the country as a result of increased interest and scouting of key sectors by potential investors.
These include agri-business, business process outsourcing (BPO), energy, logistics, manufacturing and tourism, which were the focus areas at the recently held Jamaica Investment Forum (JIF).

President of the agency, Diane Edwards, said that Jamaica continues to attract significant interest and attention as a tourist destination, which is evident in the various projects that have been recently completed, others under way and initiatives in the pipeline.
She noted that there is heightened interest from investors in Mexico and Spain, who are looking for sites and locations for new hotels or to expand existing properties.
She said that companies from the Middle and Far East are also looking at hotel opportunities here in Jamaica, so tourism is thriving and alive and attracting new interests.
Turning to BPO, the JAMPRO president noted that the industry will see even further growth, with major expansions and initiatives in progress.
BPO has evolved into a robust sector that continues to drive growth and job creation, with some 26,000 persons currently employed.
JAMPRO is currently promoting Jamaica as a destination for outsourcing investments through partnerships with local and international organisations, international BPO conferences and targeted inward missions.
Black Castor Oil – Liquid Gold Untapped In Jamaica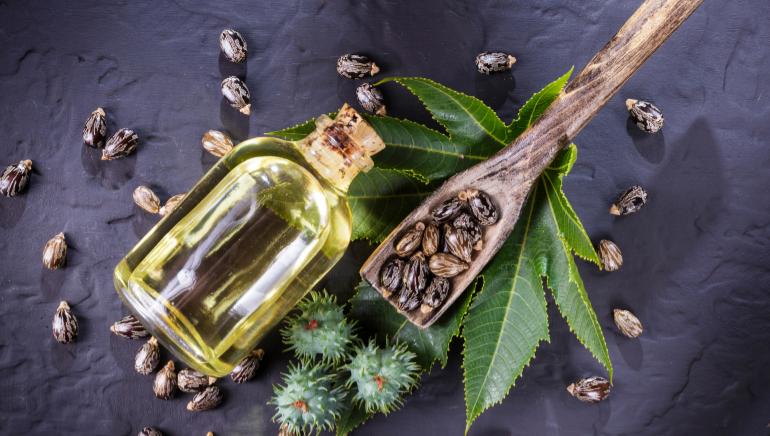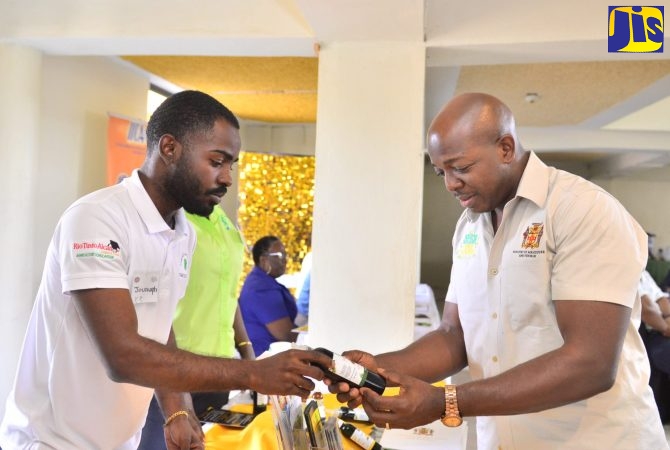 PHOTO: YHOMO HUTCHINSON
Minister of Agriculture and Fisheries, Hon. Pearnel Charles Jr. (right), is shown a bottle of black castor oil by Jovaughn Bailey of the Jamaica 4-H Clubs, during the Jamaica Bauxite Institute's (JBI) Castor Industry Forum, dubbed 'Black Castor Oil – Liquid Gold Untapped', at the Golf View Hotel in Mandeville, Manchester, on March 15.
Farmers and other stakeholders are being encouraged to collaborate to explore the full potential of the local castor bean.
Minister of State in the Ministry of Transport and Mining, Hon. J.C. Hutchinson, who made the call, said there is an opportunity to tap into the high demand for Jamaican Black Castor Oil, noting that the global market for the product is valued at up to US$100 million.
"This is a truly Jamaican product that must carry brand Jamaica in every way; and I suggest that a committee be established, comprising the Jamaica Bauxite Institute (JBI), Jamaica 4-H Clubs, the Scientific Research Council (SRC), the processors, farmers, JAMALCO, Jamaica Baptist Union (JBU), and the Inter-American Institute for Cooperation on Agriculture (IICA), under the chairmanship of the Rural Agricultural Development Authority (RADA)," Mr. Hutchinson said.
He was speaking at the JBI's Castor Industry Forum, dubbed: 'Black Castor Oil – Liquid Gold Untapped', at the Golf View Hotel in Mandeville, Manchester, on March 15.
Mr. Hutchinson said, to realise the potential of the local castor bean, Jamaica needs to have a structured programme which ensures that processors have consistency of supply.
Currently, the product, which has gained popularity worldwide, is not a major farm crop in the island.
"This is too much of an important [product] for it to be faltering by the wayside. I feel strongly about it; so, let us, together, make it work," Mr. Hutchinson said.
Minister of Agriculture and Fisheries, Hon. Pearnel Charles Jr., in his remarks, cited the need for training, organisation and planning to maximise opportunities in the industry.
"Across the world, you are looking at US$75 million to US$100 million [worth] of opportunity in this liquid gold; so, we have a massive global opportunity. There is more than enough reason to move to develop the local castor industry," he said.
"Now, more than ever, when we push for 'Grow Smart, Eat Smart', we are saying to Jamaica, it is essential to understand the sector and to utilise every inch of land, refine the processing and utilise the research and development to maintain our standards," the Minister added.
Mr. Charles urged farmers to ensure they understand and look closely at the science, the different types of seeds, and how they will fare in different parts of the island, before planting.
Currently, a study is being done on the Jamaica black castor bean at the University of the West Indies (UWI) Mona, under the leadership of Director of the Mona Institute of Applied Science, Dr. Howard Reid.
This is being undertaken through a grant facilitated by the JBU and the Inter-American Development Bank (IDB).
Upon conclusion, the findings will guide the process of securing the intellectual property rights of the Jamaica Black Castor Oil for the country.
For many years, several companies globally have been producing their own oil, but falsely labelling it 'Jamaican'.
President of the Jamaica Castor Industry Association (JCIA), Courtney Haughton, said most of the products being marketed as Jamaican Black Castor Oil are fake.
"The only way we can claw back what is ours is if we secure our intellectual property rights. The process includes [the] research now underway at the Mona Institute of Applied Science," he noted.
Other engagements include standardisation of the product with assistance from the Bureau of Standards Jamaica (BSJ), and producers' compliance in meeting product standard acceptance in the global market.
Registration at the Jamaica Intellectual Property Office (JIPO) will be the next step, and initial dialogue has begun.
"Our next objective is to protect market integrity, because we will need strategic alliances with people who have the capacity to seek out those in violation of our rights and protect us through legal action," Mr. Haughton said.
The association has also forged partnerships with the National Council on Technical Vocational Education and Training (NCTVET) and the JBU, to develop a curriculum for training and certification of industry participants.
Already, there is a Level One Module for planting, reaping and storage of castor beans, which has been ratified by the NCTVET Board.