Jamaican Government Approves Exemption Of GCT On Lithium-Ion Batteries
The House of Representatives on Tuesday (June 21) approved the General Consumption Tax (Amendment of Schedule) Order, 2022, Resolution, providing for the exemption of lithium-ion batteries from General Consumption Tax (GCT).
Minister of Finance and the Public Service, Dr. the Hon. Nigel Clarke, first announced the removal of GCT on the importation of lithium-ion batteries during his closing budget presentation in March.
Dr. Clarke said as the Government seeks to achieve accelerated and aggressive increases in renewable energy penetration, lithium-ion batteries will play a pivotal role in that energy transition, adding that they are also aligned with the policy of promotion of electric vehicles.
The Minister informed that its popularity has been growing as an energy storage technology.
Dr. Clarke explained that the Ministry of Science, Energy and Technology over the years has been in constant dialogue with his Ministry about the category of items that constitute and represent appropriate technology, for which the Government's long-standing policy of promoting renewables would mean that they would be subject to a differential tax regime.
He said lithium-ion batteries were not among that list of about 14 items, "but technology has changed, and lithium-ion batteries are no longer only used in portable electronics, but now are increasingly being used in renewable technologies".
"The Ministry of Science, Energy and Technology wrote to the Ministry of Finance outlining that the use of lithium-ion batteries is an appropriate technology to mitigate intermittence that some renewable energy solutions introduced to the grid and, further, that this technology is likely to remain the solution of choice," the Minister noted.
Dr. Clarke said the Ministry of Finance, therefore, provided a 'no objection' letter for the common external tariff (CET) suspension, on 100,000 units of lithium-ion batteries, adding that this was approved by the CARICOM Council for Trade and Economic Development (COTED) for two years, which ended on April 3, 2021.
The Minister said at that time, no GCT exemption was provided on the batteries, noting that as the popularity of these batteries grew and continues to grow, there were no provisions in place for GCT relief on lithium-ion batteries for solar application, but only on photovoltaic batteries.
"Today the category is not just photovoltaic batteries that are used for renewables but also lithium-ion batteries. In order to rectify this, coupled with the recognition of the positive impact of using energy-efficient technologies to reduce the cost associated with the generation of electricity, the Ministry of Finance set out to exempt these batteries from GCT," Dr. Clarke stated.
Additionally, the Ministry provided another no-objection letter to seek approval for a further suspension of the CET on 240,000 units of lithium-ion batteries from COTED for two years to end on December 31, 2023.
The revenue implications for granting the GCT exemption on lithium-ion batteries, based on 2019 data, reveal that GCT paid was in order of $193 million in that year.
Global South Urged to Support Transition to Cleaner Forms of Energy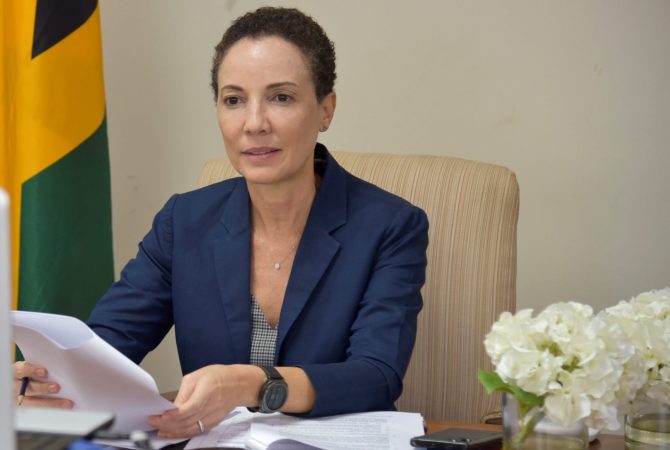 It is important for countries of the Global South to support the scaling up of the transition to cleaner and sustainable forms of energy, says Minister of Foreign Affairs and Foreign Trade, Senator the Hon. Kamina Johnson Smith.
"We encourage elevation on the G-20 agenda of similar pragmatic policies and programmes supportive of energy transition by fiscally constrained developing countries," she said.
The Minister was speaking at a recent special virtual summit, 'Voice of Global South Summit', an initiative of India, under the theme 'Unity of Voice, Unity of Purpose'.
India assumed Presidency of the Group of 20 (G-20), effective December 1. More than 120 countries participated in the two-day Summit, where they shared their perspectives and priorities.
The Minister said that Jamaica has been making strides towards loosening its dependence on imported petroleum fuels, while embracing clean, renewable energies and greater levels of energy efficiency.
"In this light, we have leveraged support derived from our membership of the International Solar Alliance," she added.
The Minister emphasised the importance of food and energy security, the fight against climate change, and recommended the sharing of models across the regions as well as technical cooperation among countries, "to promote increased food production and trade and increased availability of inputs for the Agricultural and Fisheries sectors".
She cited the food insecurity facing the world's most vulnerable and said the situation was worsened by "climate extremes, economic shocks, conflicts and disruptions to global supply chains".
"Solutions lie only in innovative action, partnerships and collaborative work at every level, to strengthen the resilience of food systems in developing countries," Senator Johnson Smith said.
The Minister congratulated the Government of India for assuming Presidency of the G-20.
"Jamaica is confident that India's G-20 Presidency will pave the way for more robust, collective action for sustainable development and stability in this fractured international landscape. We look forward to further productive engagement," she said.
India's High Commissioner to Jamaica, His Excellency Runsung Masakui, told JIS News that as India begins its Presidency, the aim is to amplify the voice of the Global South.
He said that India's ongoing Presidency of the G-20 provides a special and strong opportunity for those countries that are not part of the group to share their ideas and expectations.
The High Commissioner said that India will work to ensure that the inputs generated from partner countries in the Global South Summit deliberations receive due recognition globally.
The priority areas discussed at the Summit were Financing People-Centric Development; Balancing Growth with Environment-Friendly Lifestyle; Priorities of the Global South – Ensuring a conducive Environment, Energy Security and Development; Cooperation to Build Resilient Healthcare Systems; Human Resource Development and Capacity Building; Developing Synergies in the Global South – Trade, Technology, Tourism and Resources; and G-20 Suggestions for India's Presidency.