Grateful For The Dawning Of A New Jamaica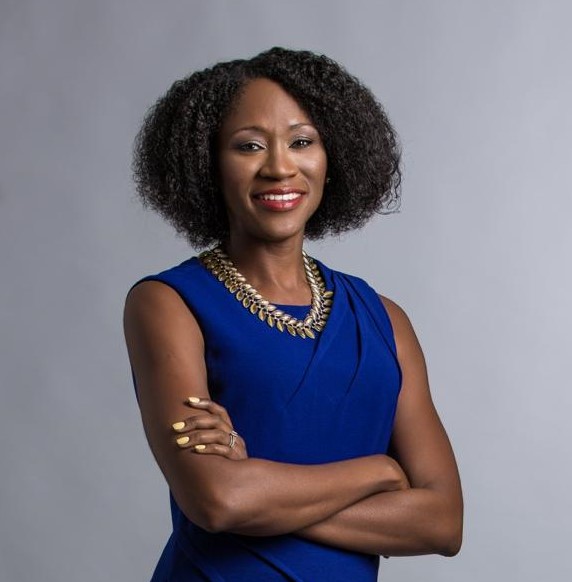 In 2009, I was contemplating leaving my job at McKinsey & Company in Atlanta. I was searching for work with more meaning, a more manageable lifestyle and possibly closer to my family in New York. I had not lived in Jamaica for twenty years, but I had always wondered what it would be like to live and work in Jamaica.
Based on that, a friend sent my résumé to four CEOs in Jamaica. I did not think anything would come of it and expected that I would likely end up working in NYC, where I would be closer to my parents. But that was not to be as Patrick Hylton called me on the very same day he received my résumé, and the rest, as they say, is history. I spoke to Patrick on an afternoon in November 2009 and I joined NCB on February 15, 2010 on a three-year contract. Never in my wildest dreams did I think I would still be in Jamaica ten years later. Many of my loved ones thought I was crazy for leaving a "good job" with my "good JPMorgan, Wharton, McKinsey credentials" and moving back to the "third-world". Moving to Jamaica and choosing NCB has been fortuitous.
The Jamaica I moved back to in January 2010 was one of the most indebted countries in the world with low growth and productivity, high crime and poverty and poor infrastructure. Fast forward to today – Ocho Rios is less than an hour away on our new highway, and the infrastructure improvements continue.
Jamaica has completed its economic reform programme, which has put us on a path to economic growth and sustainability. Unemployment is below 8%. Annual GDP growth, while still in single digits, is multiples of what it has been for the past 20 years.
The Jamaica Stock Exchange was the world's best-performing stock exchange in 2018.  The economic reform programme is a testament to the power that can be unlocked when there is bi-partisan support and collaboration with the private and public sectors, civil society and unions on issues of importance for all citizens.
Notwithstanding all these improvements since 2010, significant challenges remain for our nation. We still have work cut out for us on crime and corruption, health care, and poverty. A team member recently asked me what keeps me here.  It was a great opportunity for a 10-year retrospective. In summary, I see how far we have come in the last ten years. I am truly grateful for what has happened and hopeful for what is to come.
Jamaica is a beautiful place – but the sun, sand and sea landscapes are only part of its beauty. The real beauty of Jamaica is in its people. I am continuously inspired by our resilience and extraordinary accomplishments in the face of daunting challenges. When we rally together to support our high schools at Boys and Girls Champs, our athletes at the Olympics, to help someone that has experienced a fire, to rescue someone from an overflown gully, or to feed someone even when we are hungry ourselves, our beauty shines through again and again. As the CEO of the N.C.B. Foundation, I get to witness this resilience and drive to be extraordinary every day and I also get to help, and for that, I am humbled and grateful.
With 1% of profits of the NCB Financial Group going toward the N.C.B. Foundation each year, the funds available to the Foundation to build our communities also continues to grow as the Group's performance improves. This Christmas, the N.C.B. Foundation will continue its annual Grant-A-Wish programme, which allows us to assist some of Jamaica's neediest organisations and people in the holiday season.  We launched our season of giving in November with a gift of $25M to the University of the West Indies to support the 2019 graduates who are struggling with student loan debt.
We will also be donating $12M to children's homes, golden age/nursing homes, organisations supporting persons with disabilities, and persons that do good in their communities during this year's programme. We are asking Jamaicans to lend a helping hand and help us to show gratitude for the work of these organisations by submitting your votes and nominations at gratitude.jncb.com. Voting concludes on December,16, 2019. Visit gratitude.jncb.com for further details.
Jamaica is on its way up, and the world is taking note. Our trajectory will continue to be positive with a combination of the big and bold strokes such as the Economic Programme Oversight Committee (EPOC) collaboration, as well as our own daily acts of kindness. Join me in gratitude for what we have achieved and in working toward continued growth for Jamaica this holiday season and for decades to come.
Nadeen Matthews Blair is CEO of the N.C.B. Foundation.
Workshop to Empower and Advance Women in Business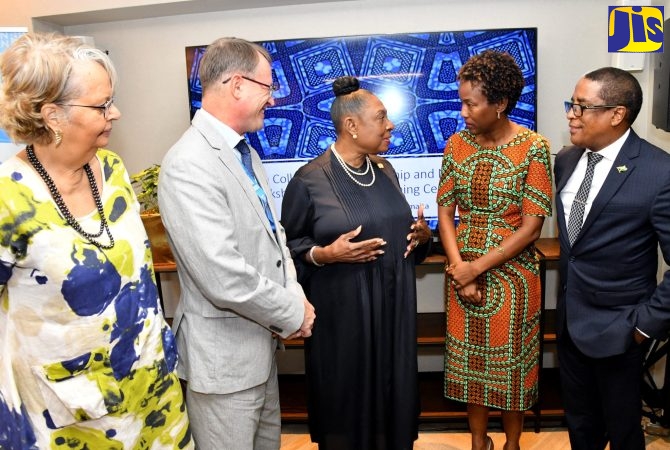 Minister of Culture, Gender, Entertainment and Sport, Hon Olivia Grange (centre), converses with Representative, UN Women Multi-Country Office, Caribbean, Tonni Brodber (second right), at the inaugural United Nations (UN) Women Yemanja Collaborative: Leadership and Networking Workshop for Woman Entrepreneurs, being held in Kingston. from December 5 to 7. The opening ceremony was held December 5 at the ROK Hotel, downtown Kingston. Others (from left) are: Looking on are (from left): Chair of the Government of Jamaica Trade Facilitation Task Force, Patricia Francis; Head of Culture Programme, UNESCO, Office for the Caribbean, Yuri Peshkov; and Minister of State in the Ministry of Industry, Investment and Commerce, Dr. the Hon. Norman Dunn. PHOTO: MICHAEL SLOLEY
The inaugural United Nations (UN) Women Yemanja Collaborative: Leadership and Networking Workshop for Woman Entrepreneurs is being held in Kingston from December 5 to 7.
The initiative targets women of Afro descent from the Caribbean, North and South America and Africa.
It aims to strengthen leadership capacity, empower and equip participants to scale their businesses and create meaningful jobs.
The workshop also facilitates network building and creates mentorship opportunities for entrepreneurs in the agro processing and cultural and creative industries.
Minister of Culture, Gender, Entertainment and Sport, Hon. Olivia Grange, in her greetings at the opening ceremony, held December 5 at the ROK Hotel, downtown Kingston, welcomed the initiative.
Ms. Grange said the workshop aims to empower and advance women in business to create a framework that supports gender equality in the society.
"This training and networking workshop presents a great opportunity for us to examine the progress made in advancing gender equality and empowerment of women and girls and explore how progress can be accelerated," the Minister said.
Representative, UN Women Multi-Country Office, Caribbean, Tonni Brodber, in her remarks said the focus on its target group is not exclusionary. Rather, it recognises the unique sociohistorical barriers that have prevented and still prevent many Afro-descendant women across the world from entrepreneurship.
"[A key] objective of the project is to contribute to enhancing the economic empowerment and resilience of women and youth in the micro, small and medium enterprises in the creative and cultural and growth industries in Latin America, the Caribbean and Africa through strengthened networks and opportunities for employability and entrepreneurship," she said.
The participants were nominated by their national business support organisations.
The three-day event will see participants engaged in leadership skills coaching and will feature breakout sessions with a focus on coaching in business pitches, diaspora and networking opportunities in Africa and the diaspora, business development coaching, and business financing facilities.
These will be facilitated by industry experts from UN Women, the Jamaica Business Development Corporation (JBDC), the University of the West Indies (UWI), and the Caribbean Development Bank (CDB), among other local and international stakeholders.
At the end of the workshop, participants will pitch their business plans/proposals and receive feedback from a panel of experts.
It is a joint programme between UN Women and the United Nations Educational, Scientific and Cultural Organisation (UNESCO), which aims to promote the recognition, justice and development of Afro-descendant women, youth, and women across marginalised groups.