GK Announces New Joint Venture With Trinidad and Tobago Unit Trust Corporation ( TTUTC)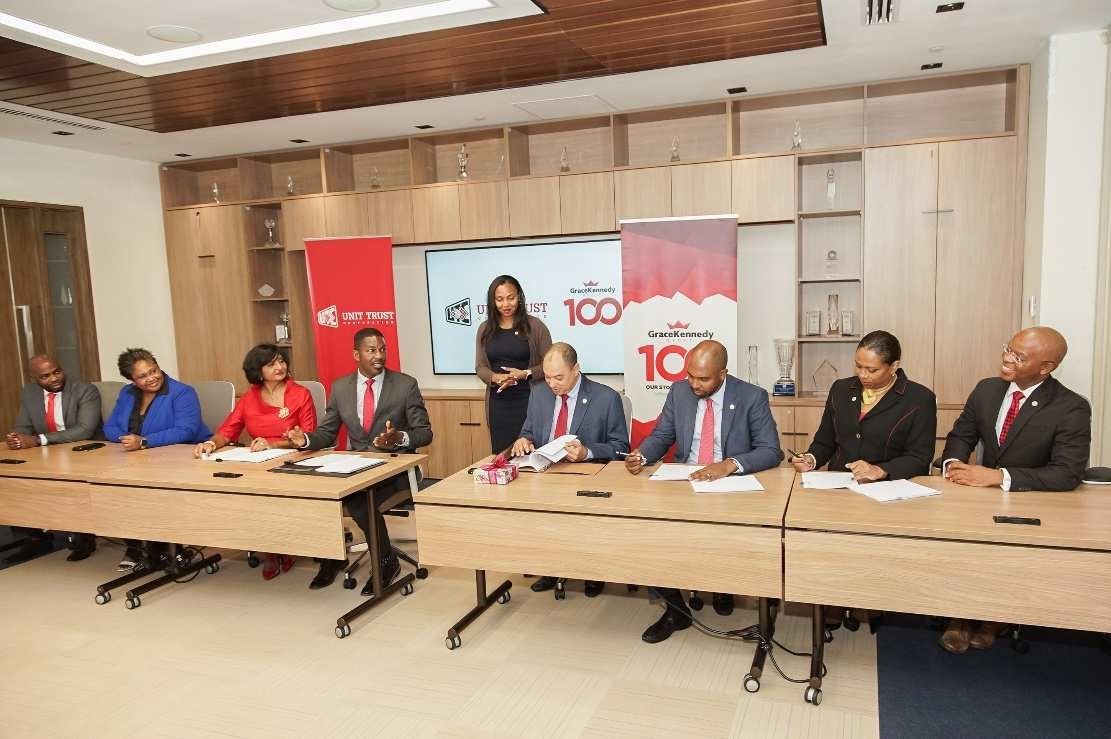 Photo caption: Kerry-Ann Heavens, Legal Counsel, GraceKennedy Financial Group (standing) looks on as the joint venture agreement between TTUTC and GK is signed last Friday, May 20, 2002 at the GK headquarters in downtown Kingston. (L-R) Deyson Scott, (Ag.) Vice President, Sales and Service, TTUTC; Hilary Reid, Partner, Myers, Fletcher & Gordon; Dawn Seepersad, General Counsel and Corporate Secretary, TTUTC; Nigel Edwards, Executive Director, TTUTC; Don Wehby, GraceKennedy Group CEO; Steven Whittingham, Deputy CEO, GKFG; Patsy Latchman-Atterbury, Managing Director, GK Capital.; and Gregory Hines, Vice President of Business Development and Principal Investments, GK Capital.
GraceKennedy (GK) has announced that the investment and advisory arm of its GraceKennedy Financial Group (GKFG), GK Capital Management Limited (GK Capital), has signed a joint venture agreement with the Trinidad and Tobago Unit Trust Corporation (TTUTC). The new venture, which remains subject to the requisite regulatory approvals, will allow GK and TTUTC to partner in the distribution of mutual funds in Jamaica.
Speaking at the signing of the agreement which took place last Friday, May 20, 2022, at GK's Headquarters in downtown Kingston, GK Group CEO Don Wehby explained, "Our vision for GraceKennedy is to grow as a global consumer group. This will include leveraging relationships with our international partners.
If you look at the list of our current international partners, there's Western Union, Proctor & Gamble, Frito Lay and others; but what is so heart-warming for me about this new partnership is that TTUTC is a Caribbean company. We look forward to reaping the rewards of this new venture with them, while fulfilling our financial inclusion strategy for Jamaicans. For over one hundred years, Jamaicans have remained confident in GK's ability to generate innovative solutions, and it's critical that we create wealth building options for all socioeconomic groups across our country. This is yet another example of how we are expanding GKFG's service offerings and broadening our reach to new market segments."
In January this year, GK Capital announced its intention to enter the mutual funds market. TTUTC is the largest operator and manager of mutual funds in the Caribbean, and currently manages US$3.7 billion for over 625,000 investors.
TTUTC's Executive Director Nigel Edwards, who attended the signing at GK headquarters on May 20, commented, "GraceKennedy touches the life of every single Jamaican, and that's really important to us because our business is built on creating wealth for every single investor. We are elated about this partnership and believe the timing is perfect. Even as uncertainty keeps sweeping global economies, financial markets, and industries, we remain focused on delivering value. UTC's business trajectory is prudently mapped, and our investment management philosophy is borne out of a customer-centric approach."
Also present at the signing of the agreement were Deputy CEO of GKFG and Head of GK's Investment and Insurance Divisions, Steven Whittingham, Managing Director of GK Capital, Patsy Latchman-Atterbury, and Vice President of Business Development and Principal Investments at GK Capital, Gregory Hines.
Discussing the new venture Whittingham explained, "The initial funds will diversify the sphere of investment opportunities for GK Capital's clients and expand our product reach. While we acknowledge that we are entering a competitive CIS market, the design of the funds and the planned novel approaches to distribution will deliver a unique customer experience, and drive client acquisition and the accumulation of assets under management."
Black Castor Oil – Liquid Gold Untapped In Jamaica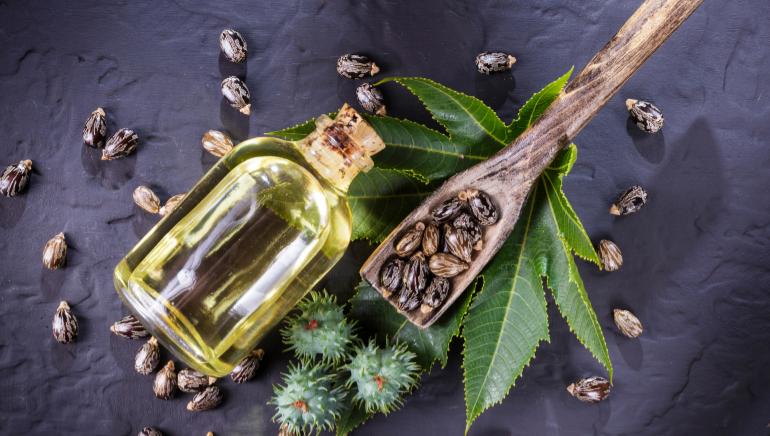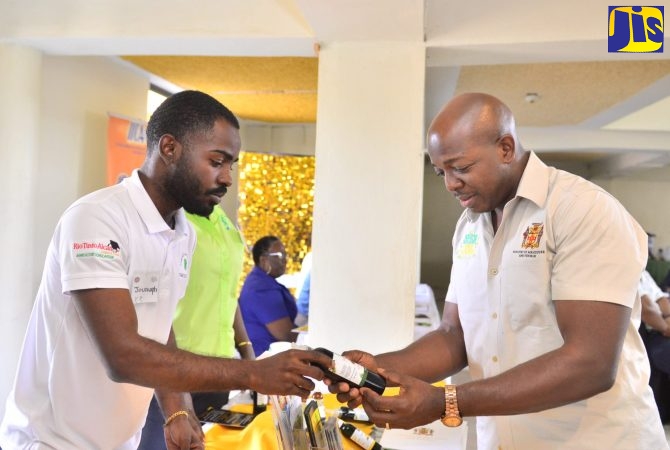 PHOTO: YHOMO HUTCHINSON
Minister of Agriculture and Fisheries, Hon. Pearnel Charles Jr. (right), is shown a bottle of black castor oil by Jovaughn Bailey of the Jamaica 4-H Clubs, during the Jamaica Bauxite Institute's (JBI) Castor Industry Forum, dubbed 'Black Castor Oil – Liquid Gold Untapped', at the Golf View Hotel in Mandeville, Manchester, on March 15.
Farmers and other stakeholders are being encouraged to collaborate to explore the full potential of the local castor bean.
Minister of State in the Ministry of Transport and Mining, Hon. J.C. Hutchinson, who made the call, said there is an opportunity to tap into the high demand for Jamaican Black Castor Oil, noting that the global market for the product is valued at up to US$100 million.
"This is a truly Jamaican product that must carry brand Jamaica in every way; and I suggest that a committee be established, comprising the Jamaica Bauxite Institute (JBI), Jamaica 4-H Clubs, the Scientific Research Council (SRC), the processors, farmers, JAMALCO, Jamaica Baptist Union (JBU), and the Inter-American Institute for Cooperation on Agriculture (IICA), under the chairmanship of the Rural Agricultural Development Authority (RADA)," Mr. Hutchinson said.
He was speaking at the JBI's Castor Industry Forum, dubbed: 'Black Castor Oil – Liquid Gold Untapped', at the Golf View Hotel in Mandeville, Manchester, on March 15.
Mr. Hutchinson said, to realise the potential of the local castor bean, Jamaica needs to have a structured programme which ensures that processors have consistency of supply.
Currently, the product, which has gained popularity worldwide, is not a major farm crop in the island.
"This is too much of an important [product] for it to be faltering by the wayside. I feel strongly about it; so, let us, together, make it work," Mr. Hutchinson said.
Minister of Agriculture and Fisheries, Hon. Pearnel Charles Jr., in his remarks, cited the need for training, organisation and planning to maximise opportunities in the industry.
"Across the world, you are looking at US$75 million to US$100 million [worth] of opportunity in this liquid gold; so, we have a massive global opportunity. There is more than enough reason to move to develop the local castor industry," he said.
"Now, more than ever, when we push for 'Grow Smart, Eat Smart', we are saying to Jamaica, it is essential to understand the sector and to utilise every inch of land, refine the processing and utilise the research and development to maintain our standards," the Minister added.
Mr. Charles urged farmers to ensure they understand and look closely at the science, the different types of seeds, and how they will fare in different parts of the island, before planting.
Currently, a study is being done on the Jamaica black castor bean at the University of the West Indies (UWI) Mona, under the leadership of Director of the Mona Institute of Applied Science, Dr. Howard Reid.
This is being undertaken through a grant facilitated by the JBU and the Inter-American Development Bank (IDB).
Upon conclusion, the findings will guide the process of securing the intellectual property rights of the Jamaica Black Castor Oil for the country.
For many years, several companies globally have been producing their own oil, but falsely labelling it 'Jamaican'.
President of the Jamaica Castor Industry Association (JCIA), Courtney Haughton, said most of the products being marketed as Jamaican Black Castor Oil are fake.
"The only way we can claw back what is ours is if we secure our intellectual property rights. The process includes [the] research now underway at the Mona Institute of Applied Science," he noted.
Other engagements include standardisation of the product with assistance from the Bureau of Standards Jamaica (BSJ), and producers' compliance in meeting product standard acceptance in the global market.
Registration at the Jamaica Intellectual Property Office (JIPO) will be the next step, and initial dialogue has begun.
"Our next objective is to protect market integrity, because we will need strategic alliances with people who have the capacity to seek out those in violation of our rights and protect us through legal action," Mr. Haughton said.
The association has also forged partnerships with the National Council on Technical Vocational Education and Training (NCTVET) and the JBU, to develop a curriculum for training and certification of industry participants.
Already, there is a Level One Module for planting, reaping and storage of castor beans, which has been ratified by the NCTVET Board.