Agent Banking We Knew Was Going To Be "Blue Ocean" Territory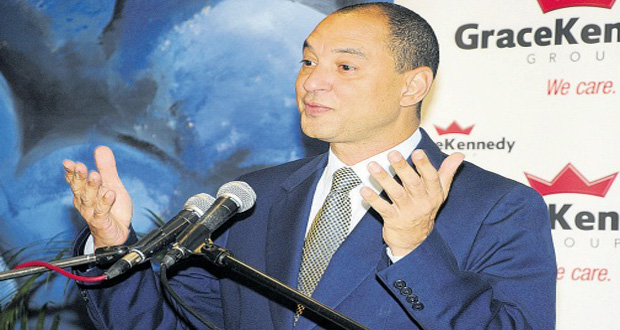 When we started the journey in 2017 to deliver Agent Banking, we knew it was going to be "blue ocean" territory, but we knew we had the right people, brand, products and services to credibly deliver this new innovation to communities across Jamaica.
FINANCIAL INCLUSION:
Agent Banking is another innovation from the GK Group as part of our business mandate of actively participating and leading the Financial Inclusion drive as challenged by the GOJ.
Financial Inclusion is about providing the right financial products and services to the wider Jamaican consumer and businesses to facilitate their natural right to financial stability, growth and protection. This resonated with us at GK.
Research has shown that:
34% of the Jamaican population is unbanked
Only 30% save through a regulated financial institution
Only 11% of Jamaicans and 27% of SMEs access formal credit (borrow from a Financial institution)
80% of Jamaicans have limited access to low-cost, efficient and user-friendly services
GK, through its GK Financial Group arm was perfectly poised to take on this challenge with very strong and well-known brands, First Global Bank, GK Insurance, GK Money Services representing Western Union, BillExpress, FX Traders and GK Proxim. This was a natural move for us.
We have sought to tackle the challenge primarily under 2 of the 4 pillars as defined by the GOJ.
Financial Access and Usage – through electronic instruments – e.g. our GK MPay Mobile Wallet Product
Financial Resilience – Savings, insurance and retirement products – e.g. our GKONE initiative
GKONE:
To answer the call, we developed GKONE. This is our one-stop-shop to provide more Jamaicans access to formal financial products & services from one of Jamaica's most credible and trusted brands…GK. Jamaicans from all walks-of-life can access banking, micro-loans, micro-insurance, remittances, bill payments and foreign exchange trading in ONE PLACE.
We started rolling out GKONE locations in August 2018 at State Mall in Cross Roads and since then have delivered 5 locations including here at Stapharm. Our objective is to deliver 30 of these locations island-wide by the end of 2019.
GK
We firmly believe that every Jamaican deserves a financial sector that is inclusive with the conditions in which they are able to save safely and build up resilience against financial shocks, and firms are able to invest, grow and generate greater levels of wealth. We want to contribute to Jamaica's transformation from a middle-income country to one which affords its citizens higher standards of living and quality of life.
"What is good for Jamaica is good for GraceKennedy"
Don Wehby
Group Chief Executive Officer
GraceKennedy Limited.
https://businessuiteonline.com/index.php/2018/09/06/walkbout-aiming-to-help-sme-tour-and-experience-operators-grow-their-business/
Global Outsourcing Moroccan Company, Intelcia, Officially Launches in Jamaica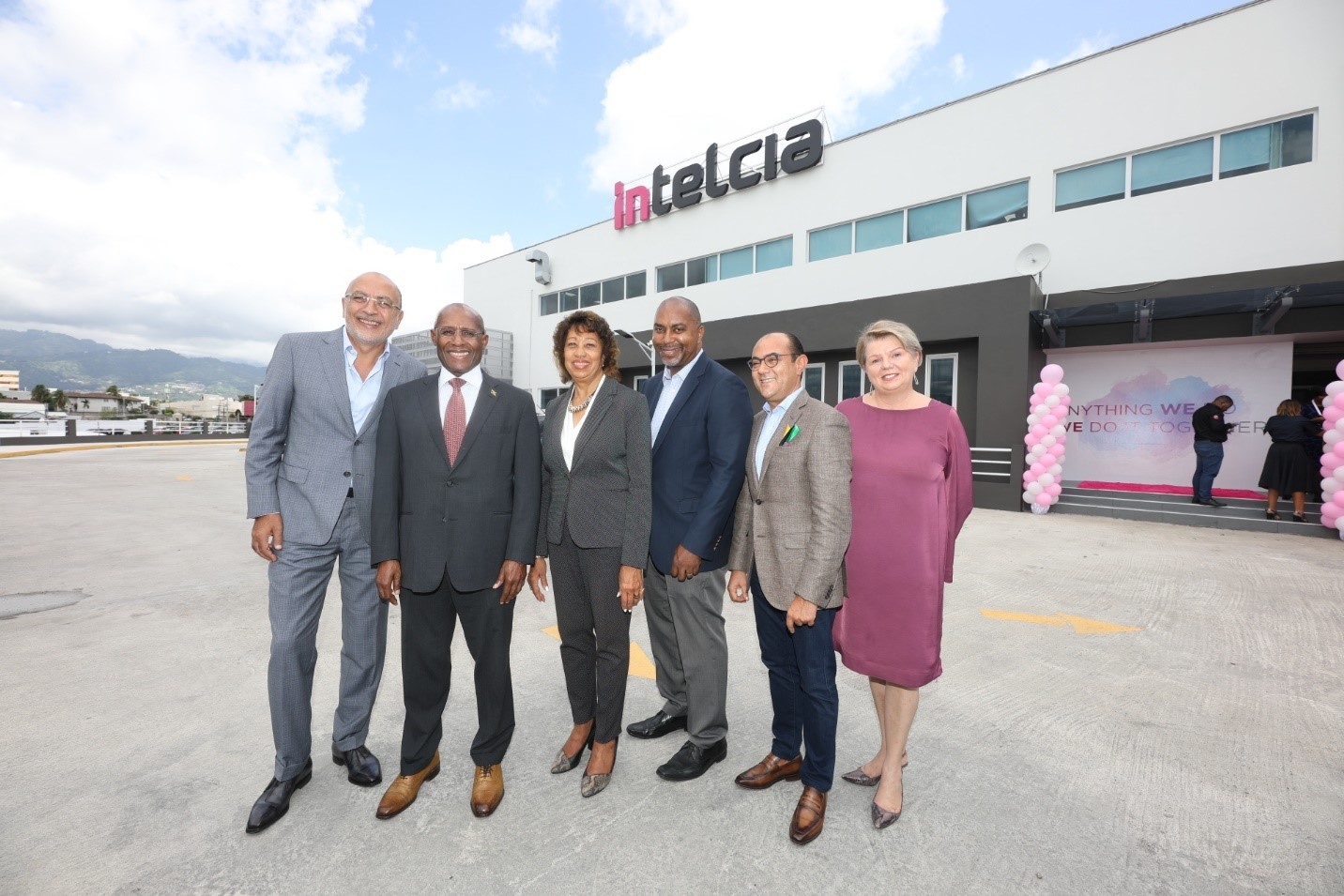 Photo: Senator the Hon. Aubyn Hill, Minister of Industry, Investment & Commerce (2nd left), poses in front of the Intelcia building following the inauguration of its first outsourcing site in Jamaica. Joining him from left to right are: Karim Bernoussi, CEO & Co-Founder of Intelcia, Diane Edwards, President of JAMPRO, Julian Robinson, Opposition Spokesperson for Finance, Mohammed Slimani, CEO – US Region, Intelcia and Mireille Debruycker, Country Manager, Intelcia.
The Jamaica Promotions Corporation (JAMPRO) has secured global outsourcing player, Intelcia, to join the country's growing Global Digital Services sector. Intelcia, is the first Northern African outsourcing company to launch in Jamaica and the Caribbean.
Intelcia inaugurated its first site in Jamaica following a ceremony on September 22 nd , 2022, which was attended by Senator the Hon. Aubyn Hill, Minister of Industry, Investment and Commerce, Diane Edwards, President, Jamaica Promotions Corporations (JAMPRO), Mr. Karim Bernoussi, CEO and Co-founder of Interlia and Mr. Mohamed Slimani, CEO for the US Region.
The inauguration further cements Jamaica's strength in attracting quality global outsourcing players as the nation expands it outsourcing partnership into the African Continent. Intelcia has an international footprint spanning 17 countries, employing approximately 40,000 people globally of 30 nationalities and
across 85 sites. The company currently provides services to over 220 clients from various industries which includes: telecommunication, banking and insurance, IT, retail, media, public sector, e-commerce and services and utilities.
In his remarks, Senator the Hon. Aubyn Hill, Minister of Industry, Investment and Commerce, stated "It is a pleasure to be at Intelcia's inauguration in Kingston, Jamaica, and as the Minister of Industry, Investment and Commerce, I consider the opening of this new establishment a significant event, as it confirms that the strategies of this Andrew Holness Administration to create the right economic conditions for investment are bearing fruit. It sends a clear message to potential investors that Jamaica is, indeed, an attractive and welcoming investment destination that they all should choose."
With estimated earnings of over US$1billion per year and currently employing over 55,000 individuals, Jamaica's Global Services Sector (GSS), or to use a more apt and future oriented title, the Global Digital Services Sector, is a high-performing segment of Jamaica's services industries. During 2021 the sector saw expansions of existing outsourcing companies, entrance of new global brands as well as the much- anticipated progression towards higher-value outsourcing services due to ongoing initiatives by the government, such as the Global Service Sector Project, that has enhanced the labour pool.
Diane Edwards, President of JAMPRO commented "I was particularly impressed with the core values of Intelcia, "We Dream, We Care, We Do", which aligns with the Jamaican spirit and will resonate with local outsourcing stakeholders who are very active and passionate about the growth and potential of the sector towards nation building and Jamaica's future." The JAMPRO President further expressed appreciation to the JAMPRO team for their provision of high quality business facilitation services to Intelcia.
Intelcia's CEO for the US Region, Mohamed Slimani, stated in his address; Aligning with strategic implementations made in other regions, Intelcia's launch in Jamaica is driven by responsible investments that will create jobs and add value for the entire ecosystem;. He continues, ; In this regard, more than 600 jobs are currently engaged and several recruitments for leadership and supportive roles are in the pipeline."
Despite the temporary lockdown and contraction experienced because of Covid-19 in April 2020 the sector demonstrated resilience to register more than 15% growth during the period July 2020 to March 2021. As such this continued expansion of the sector bodes well for the Jamaican economy, significantly contributing to the reduction in the unemployment rate and further to improvements in the GDP.
The Jamaica Promotions Corporation's (JAMPRO's) mission is to drive economic development through growth in investment and export. JAMPRO is an Agency of the Ministry of Industry, Investment, and Commerce.