SVL, Chukka Caribbean Adventures Sign MOU To Offer Tours At Caymanas Park
Kingston, Jamaica – Monday, June 21, 2020: Supreme Ventures Limited (SVL) and Chukka Caribbean Adventures have formally entered into a Memorandum of Understanding (MoU) that will see tours being offered at the iconic Caymanas Park, operated by Supreme Ventures Racing and Entertainment Limited (SVREL).
The signing took place on Thursday, June 18, and the announcement was made via live stream on SVL's social media pages.
It is expected that the MoU will see collaboration on marketing programmes, support in logistics, and development of the tour experience. Both parties will work together on key priority areas of the collaboration to stimulate business growth and generate foreign exchange.
John Byles, Managing Partner of Chukka Caribbean Adventures spoke to the driving force of the partnership:
"There is no question that the racetrack and the experience of Caymanas Park are known around the world. What we want to do is package this as a full-day experience for hotels and tourists in the Ocho Rios market, where they get the chance to go to the races, interact with the horses and make their bets". He continued:
"We hope that the overall experience of a Jamaican race day and the food, drink and the excitement it offers will appeal not only to tourists but also to Jamaicans, much like our annual Chukka Foundation Hanover Charity Polo Game".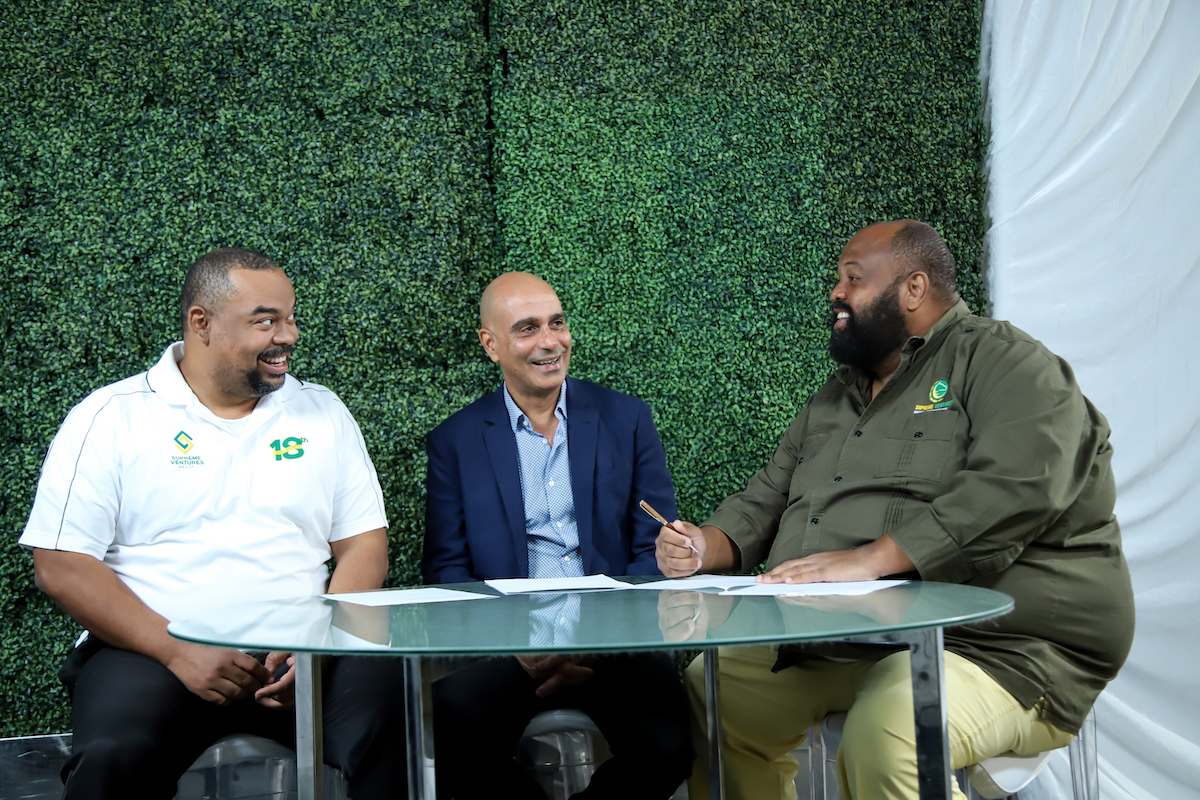 CAPTION: Gary Peart (right), Executive Chairman of Supreme Ventures Limited looks on as John Byles, Managing Partner of Chukka Caribbean Adventures and Solomon Sharpe, Chairman of Supreme Venture Racing and Entertainment Limited sign a Memorandum of Understanding (MoU) on June 18, 2020. The MoU will see the entities partner to offer tours at Caymanas Park.
Ian Levy, Deputy Chairman of SVL noted that the partnership will go a long way to improving business and generating profits to the benefit of all workers involved at the track and share-holders of all companies involved in the venture.
"I am delighted with this project. My goal is to make Caymanas Park an attractive destination for tours. I think Chukka [Caribbean Adventures] is the best partner we could have in this endeavour. The potential for this partnership is fantastic. With visitors coming to experience and watch the 'Sport of Kings' at Caymanas Park with a Jamaican flavour, there is the potential of earning foreign exchange, increasing the patronage to the track and thereby increasing the betting pool and improving the business at large".
Levy further hopes that the influx of tourists to Caymanas Park will also spur local patronage. He also expects that tourists will continue to bet using SVREL's digital platforms once they return home, thereby generating further revenue via these alternative betting channels.
"I am very confident about the future and the success it will bring for SVL, SVREL and of course for Chukka [Caribbean Adventures]", Levy concluded.
Solomon Sharpe, Chairman, SVREL, noted that the timing of the partnership bodes well for Caymanas Park and Chukka Caribbean Adventures as borders reopen and horse racing resumes on June 20:
"In the past year, we focused on improving our core product so it is now time for us to fully ex-ploit the 200 acres of Caymanas Park that we have available. We could not ask for a better partner than Chukka and I believe the possibilities and the earning potential are fantastic."
The announcement of the MoU follows SVREL's plans to provide a new infield experience for patrons, trackside live.
According to Sharpe, Caymanas Park will be hosting a sneak preview of the trackside live experience with sponsors after which the offer will be made available to patrons as of June 27.
"This is the kind of experience we will be working on with Chukka [Caribbean Adventures] and I think the possibilities are endless ", Sharpe said. "This is another step in the right for SVREL as we continue to work assiduously to improve our margins not only to the benefit of all stakeholders but also to improve the legacy of Caymanas Park".
ABOUT SUPREME VENTURES LIMITED
Supreme Ventures Limited (SVL) is a premier lottery and gaming provider, formed in Jamaica in 1995. In June of 2001, it launched its lottery operation, with its technology provider GTECH, now IGT (International Game Technology). The Company, which became publicly listed in 2006, is in the business of providing entertainment through Lottery games, Sports Betting, Horse Racing and Video Lottery Terminals. SVL currently offers some ten lottery games, in addition to the JustBet and QuickSports products. SVL also owns and operates the Acropolis Gaming Lounge and seven other regional centres island-wide. In addition, its independent retailer network comprises some 1250 locations and offers online and mobile options for Sports Betting (JustBet mobile) and Horse Racing (Mbet). SVL also comprises wholly-owned subsidiaries Prime Sports (Jamaica) Limited, Supreme Ventures Racing and Entertainment Limited (SVREL), which operates Caymanas Park, Supreme Enterprises Inc, Post to Post Limited, and Supreme Route Limited trading as Champion Gaming.
Guardian Media's Strong Final Quarter's Performance, Helping To Report Profit Before Taxation Of TT$3.9M For Year December 2022.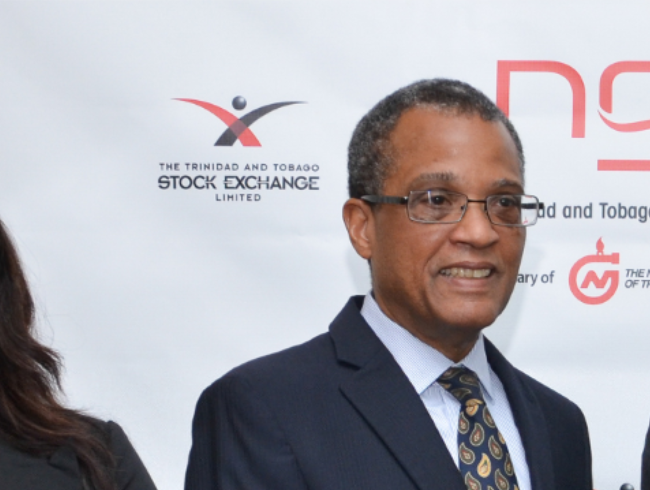 Peter Clarke Chairman of Guardian Media Limited has released the following audited results for the twelve months ended 31 December, 2022.
The steady contribution of our newspaper was re-enforced by our hugely popular special publications and increasingly popular digital presence. Combined, these campaigns stimulated increased activity and advertising spend, and drove the reversal of Guardian Media Limited's Q3 year to date loss before taxation of $6.5M, and the delivery of its full year result.
In similar fashion to 2021, the final quarter's performance was very strong. In 2022, for the quarter ended 31 December, Guardian Media Limited reported profit before taxation of $10.3M, just behind last year's fourth quarter result of $11.5M profit before taxation. These results were driven primarily by our successful 2022 FIFA World Cup Finals campaign.
For the year ending 31 December 2022, Guardian Media Limited reported profit before taxation of $3.9M compared to a $6.5M profit before taxation in the prior year.
Revenues reported for the year were $117.8M ($104.7M – 2021) reflecting an increase of $13M or 12.5% in advertising revenues.
Operating expenses increased year over year due to our efforts to stimulate commercial interest, and in order to fund growth strategies across all business segments.
The year 2022 opened without the much-anticipated levels of commercial recovery and activity. The Russia-Ukraine war, supply chain challenges and financial market pressures forced businesses to focus on survival instead of advertising campaigns.
As part of our 105th year celebrations, we at Guardian Media Limited, spared no effort to re-connect advertisers with their customers by investing heavily in irresistible content, whilst continuing to be the trusted media partner across all platforms.
During the year our branded Radio campaigns included the Caura Fest, Sangeet Premier League, bar crawls and other outside broadcasts, through which our loyal listeners were again able to connect with their favourite on-air personalities. After introducing our citizens to iconic global motivational speaker Sadhguru in August, we covered the 2022 Caribbean Premier League, and acquired the rights for the 2022 FIFA World Cup finals in Qatar, as well as the English Premier League.
In spite of the challenging commercial environment, we remain resolute in our
conviction that the business is well positioned to face the future. It has bravely weathered the pandemic, stabilized its operations and re-defined its strategic objectives to achieve delivery of enhanced shareholder value.
Your Board of Directors is pleased to announce a final ordinary dividend of 4 cents per share (2021 – 7 cents). Preference shareholders will receive a final dividend of 3%. Dividends will be paid on 15 June, 2023.
In accordance with section 110(1)(a)(i) of the Companies Act 1995, the Directors have fixed 22 May, 2023 as the Record Date for payment of this final dividend. The Register of Members will be closed on both 25 May and 26 May, 2023.
For More Information CLICK HERE