Operation Matterhorn Deploys Aircrafts To Holiday Destinations To Repatriate British Tourists Home As Thomas Cook Goes Under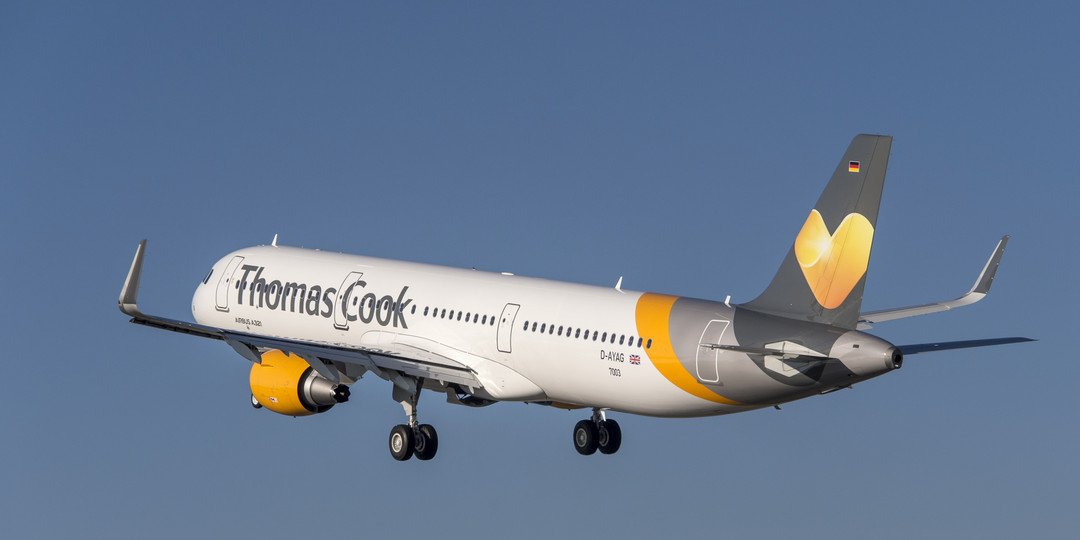 New broke late yesterday that Thomas Cook has collapsed, potentially stranding hundreds of thousands of travelers, capping a painful year, 178-year-old British tour operator.
The company said in a statement that its board concluded that it had no choice but to take steps to enter into compulsory liquidation with immediate effect.
An application was made to the High Court for a compulsory liquidation of the Company before opening of business today and an order has been granted to appoint the Official Receiver as the liquidator of the Company, it said in the statement.
Peter Fankhauser, Thomas Cook's chief executive, apologized to customers, employees, suppliers and partners, remarking that this marks a deeply sad day for the company which pioneered package holidays and made travel possible for millions of people around the world.
The UK Civil Aviation Authority tweeted Sunday that all Thomas Cook bookings have been canceled.
The move is likely to trigger the largest ever peacetime repatriation of British nationals, topping the operation the government carried out after the 2017 collapse of Monarch Airlines.
Thomas Cook had been scrambling over the weekend to avoid collapse after the Royal Bank of Scotland and a range of other banks demanded that Thomas Cook Group PLC find £200 million ($250 million) in funding by this upcoming week.
UK Foreign Secretary Dominic Raab suggested earlier Sunday while speaking to the BBC's Andrew Marr that it was unlikely the government would bail out Thomas Cook, saying ministers would not systematically step in to save businesses unless there was a good strategic national interest.
Raab did say, however, the British government has a plan to bring home the 160,000 UK travelers possibly stranded by Thomas Cook's collapse.
Thomas Cook on Friday confirmed to CNN that it currently has 600,000 customers on vacation, including those 160,000 from the United Kingdom.
The plan, nicknamed Operation Matterhorn, would cost the UK government an estimated $750 million, the country's Civil Aviation Authority confirmed to CNN.
Some aircraft are already being flown to holiday destinations as part of this operation so British tourists can be brought home Monday if Thomas Cook does go under, according to a BBC report.
The development comes after a tumultuous year for Thomas Cook. Since May 2018, shares have fallen by more than 96% amid Brexit uncertainty and intense competition in the tourism sector.
It is not yet clear how UK nationals on vacation in Jamaica will be impacted by this development or the likely impact on Jamaica visitor arrival numbers.
UPDATE Statement from Tourism Minister Edmund Bartlett

"Tourism Minister Edmund Bartlett and team have been in close touch with the British High Commission along with relevant local and international stakeholders well ahead of the collapse. All Thomas Cook tourists in Jamaica will continue to enjoy our warm hospitality until it's time for them to return home. Additionally, Minister Bartlett is scheduled to meet with British High Commissioner Asif Ahmad today at Jamaica House.
Note that all customers currently abroad with Thomas Cook who are booked to return to the UK over the next two weeks will be brought home as close as possible to their booked return date according to the UK Government. Customers will be brought home to the UK on special free flights or booked onto another scheduled airline at no extra cost. Flights will start operating from Monday, with details of each flight to be posted on the dedicated website as soon as they are available. Customers on a package holiday have UK Atol protection – a fund paid for through industry levies – which will cover the cost of their holiday and repatriation".
Paid Driverless Taxis Get Green Light From California Regulators.
They're finally here. Paid driverless taxis got the green light last week from California regulators. Soon, Waymo and Cruise will start charging San Francisco passengers for rides in a car with no driver, at any time of day or night.
It's easy to forget how far-fetched this would have seemed even a few years ago, when Uber Technologies Inc. sold off its embattled self-driving unit and most autonomous cars struggled to make left turns. But gradually, General Motors Co.'s Cruise and Alphabet Inc.'s Waymo and built out their self-driving fleets in San Francisco. Previously, the companies could offer driverless rides for free across the city, but only Cruise could charge for rides and under limited circumstances.
Now, both companies will be able to offer self-driving taxis 24/7 to the paying public, clearing the way to make robotaxis a real business. Though many hurdles remain to mass adoption, the City by the Bay will soon become a test case for a new kind of transportation business model.
In an interview with Bloomberg Television, Cruise Chief Executive Officer Kyle Vogt spoke of the development in lofty terms: "It's a signal for California that we are going to prioritize progress, versus accepting the tragedy of the status quo on our roads today."
For those looking for a ride, Waymo says it will start charging for trips in the coming weeks. The company will also begin accepting more riders from its waitlist, which now stretches beyond 100,000. The pricing will be competitive with ride-hail services, it said.
Cruise plans to initially charge for rides between 9 p.m. and 5:30 a.m. across the city (it previously charged for rides only in certain areas). Cruise's waitlist also stretches into the tens of thousands.
The expansion of robotaxis will add fuel to the debate on how cities need to evolve to cope with mixed traffic. Waymo and Cruise both have hundreds of self-driving cars in operation, and each has emphasized that expansion should be incremental, slow and careful.
There's reason for both hope and caution. Analysts at BloombergNEF found that in California the vast majority of collisions involving an autonomous vehicle appear not to have been the robotaxi's fault. Rear-ended collisions were quite common. No human injuries or property damage were reported in 90% of the collisions that occurred while the AV was in self-driving mode.
Still, some people who testified at the public hearing prior to the vote raised concerns about the volume of robotaxis on streets and many labeled the little electric cars as a nuisance. The Teamsters Union, which represents drivers across industries, characterized regulators' decision as "complete disregard for public safety."
One statistic does needs to improve: The number of injuries per mile traveled by autonomous vehicles in California is four times higher than the national human average, according to BloombergNEF analysis. However, the sample size is small and the cars drive almost entirely in cities, where collisions are more likely.
For now, the California decision will be viewed as a major milestone for driverless vehicles. It's also notable that it happened in San Francisco, which has a well-worn reputation for exporting innovation to the rest of the world. As a city resident, I've been enjoying riding in Waymos and Cruises for months. One day, maybe the rest of the world will, too. —Ed Ludlow Bloomberg