Is Flow and Scotiabank pursuing a One Caribbean Community Market Strategy?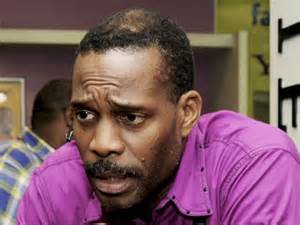 Cable and Wireless has advised that effective January 1, 2017, Mr. Garfield Sinclair, Managing Director of Cable & Wireless Jamaica Limited, will assume the role of Cable & Wireless Communications President of the Caribbean. Mr. Sinclair will have continuing responsibility for Cable and Wireless Jamaica Limited (Flow) over the next 12 months as Manager Director.
Is Flow and Scotiabank now pursuing a One Caribbean Community Market Strategy? That is the question many are now asking against the background of recent corporate movements within the two companies.
The announcement today of Garfield Sinclair's promotion to the position of President and CEO for Flow Caribbean and the announcement earlier this year of Jacqueline Sharp, President and CEO Scotia Group Jamaica, taking onboard oversight of four additional territories in her new role as Head of the Caribbean North and Central for Scotiabank, are clear signs one needs to take note of.
Garfield's new role will see him focusing on FLOW's business to consumer and business to business base with oversight of 15 Caribbean markets while still leading Flow Jamaica.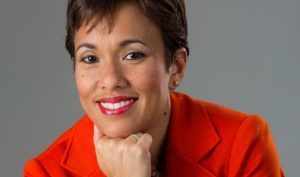 Sharp's duties expanded to include overseeing the operations of The Bahamas, Cayman, Turks & Caicos and the British Virgin Islands.  She previously had oversight responsibility for Belize and Haiti, which will remain as part of her portfolio.
With a total population of roughly 17 million people, Haiti accounting for 10 million, Jamaica 3 million and Trinidad and Tobago 1.3 million many have argued that the Caribbean Community would be more economic to treat as one market.
As to whether other Caricom companies will follow is yet to be seen.
Black Castor Oil – Liquid Gold Untapped In Jamaica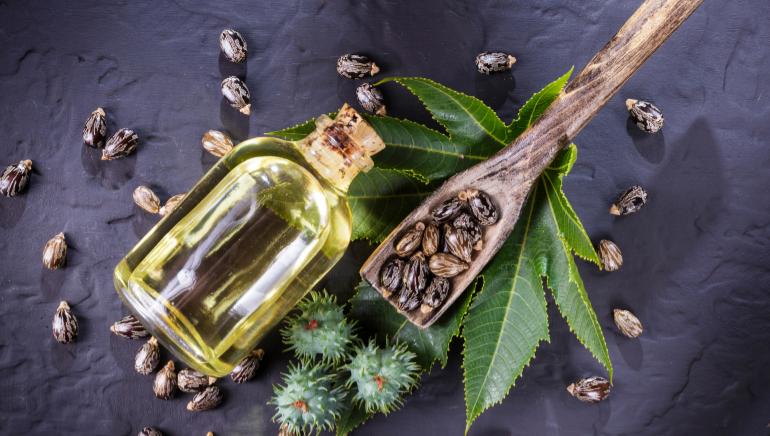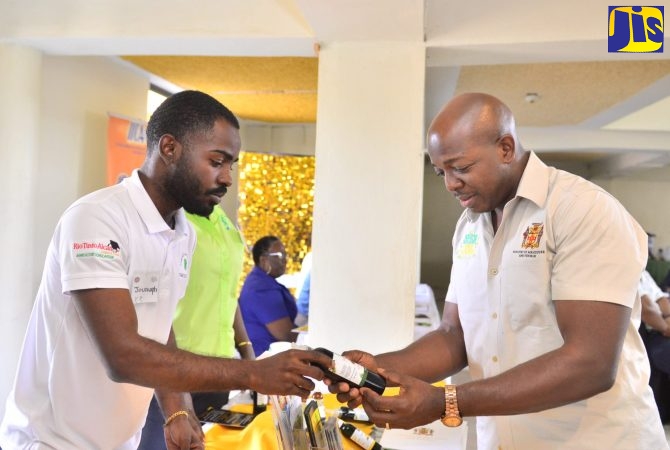 PHOTO: YHOMO HUTCHINSON
Minister of Agriculture and Fisheries, Hon. Pearnel Charles Jr. (right), is shown a bottle of black castor oil by Jovaughn Bailey of the Jamaica 4-H Clubs, during the Jamaica Bauxite Institute's (JBI) Castor Industry Forum, dubbed 'Black Castor Oil – Liquid Gold Untapped', at the Golf View Hotel in Mandeville, Manchester, on March 15.
Farmers and other stakeholders are being encouraged to collaborate to explore the full potential of the local castor bean.
Minister of State in the Ministry of Transport and Mining, Hon. J.C. Hutchinson, who made the call, said there is an opportunity to tap into the high demand for Jamaican Black Castor Oil, noting that the global market for the product is valued at up to US$100 million.
"This is a truly Jamaican product that must carry brand Jamaica in every way; and I suggest that a committee be established, comprising the Jamaica Bauxite Institute (JBI), Jamaica 4-H Clubs, the Scientific Research Council (SRC), the processors, farmers, JAMALCO, Jamaica Baptist Union (JBU), and the Inter-American Institute for Cooperation on Agriculture (IICA), under the chairmanship of the Rural Agricultural Development Authority (RADA)," Mr. Hutchinson said.
He was speaking at the JBI's Castor Industry Forum, dubbed: 'Black Castor Oil – Liquid Gold Untapped', at the Golf View Hotel in Mandeville, Manchester, on March 15.
Mr. Hutchinson said, to realise the potential of the local castor bean, Jamaica needs to have a structured programme which ensures that processors have consistency of supply.
Currently, the product, which has gained popularity worldwide, is not a major farm crop in the island.
"This is too much of an important [product] for it to be faltering by the wayside. I feel strongly about it; so, let us, together, make it work," Mr. Hutchinson said.
Minister of Agriculture and Fisheries, Hon. Pearnel Charles Jr., in his remarks, cited the need for training, organisation and planning to maximise opportunities in the industry.
"Across the world, you are looking at US$75 million to US$100 million [worth] of opportunity in this liquid gold; so, we have a massive global opportunity. There is more than enough reason to move to develop the local castor industry," he said.
"Now, more than ever, when we push for 'Grow Smart, Eat Smart', we are saying to Jamaica, it is essential to understand the sector and to utilise every inch of land, refine the processing and utilise the research and development to maintain our standards," the Minister added.
Mr. Charles urged farmers to ensure they understand and look closely at the science, the different types of seeds, and how they will fare in different parts of the island, before planting.
Currently, a study is being done on the Jamaica black castor bean at the University of the West Indies (UWI) Mona, under the leadership of Director of the Mona Institute of Applied Science, Dr. Howard Reid.
This is being undertaken through a grant facilitated by the JBU and the Inter-American Development Bank (IDB).
Upon conclusion, the findings will guide the process of securing the intellectual property rights of the Jamaica Black Castor Oil for the country.
For many years, several companies globally have been producing their own oil, but falsely labelling it 'Jamaican'.
President of the Jamaica Castor Industry Association (JCIA), Courtney Haughton, said most of the products being marketed as Jamaican Black Castor Oil are fake.
"The only way we can claw back what is ours is if we secure our intellectual property rights. The process includes [the] research now underway at the Mona Institute of Applied Science," he noted.
Other engagements include standardisation of the product with assistance from the Bureau of Standards Jamaica (BSJ), and producers' compliance in meeting product standard acceptance in the global market.
Registration at the Jamaica Intellectual Property Office (JIPO) will be the next step, and initial dialogue has begun.
"Our next objective is to protect market integrity, because we will need strategic alliances with people who have the capacity to seek out those in violation of our rights and protect us through legal action," Mr. Haughton said.
The association has also forged partnerships with the National Council on Technical Vocational Education and Training (NCTVET) and the JBU, to develop a curriculum for training and certification of industry participants.
Already, there is a Level One Module for planting, reaping and storage of castor beans, which has been ratified by the NCTVET Board.