HI-LO ENTERS E-COMMERCE WITH NEW ONLINE STORE AND MOBILE APP
Kingston, Jamaica, November 11, 2021 – GraceKennedy's supermarket chain, Hi-Lo Food Stores has entered the e-commerce arena with its new online grocery shopping platform – Hi-Lo Online. The new Hi-Lo mobile app is available on Google Play and IOS App Stores, and the web-based online shopping solution can be accessed via www.hilofoodstoresja.com .
Hi-Lo Online allows customers to purchase groceries wherever they are in the world and pay online using a debit or credit card. Shoppers can opt to collect their online order in store or curbside, or have it delivered to their doorstep in Jamaica from select Hi-Lo locations. Both the app and web platform allow customers to save grocery lists to facilitate quick reordering, and the mobile app allows shoppers to scan the barcode of a product to add it to their online cart with ease.
Commenting on the latest innovation from the Hi-Lo team, GraceKennedy (GK) Group CEO Don Wehby explained that the new platform adds a whole new dimension of convenience for consumers, "The launch of Hi-Lo Online and the Hi-Lo app is a game changer not only for Hi-Lo, but for the entire GK Group. E-commerce has been on our agenda at GK for quite some time, and in response to the COVID-19 pandemic we have accelerated that agenda. The pandemic has changed how, when, and where we shop, and digital, has become more important than ever. The Hi-Lo app is the only one of its kind from a Jamaican supermarket chain. It shows that for GK e-commerce is not just about serving web-based customers; it's also about mobile-based e-commerce, which is growing exponentially in Jamaica and around the world."
Wehby went on to say that Hi-Lo's thrust into e-commerce is in keeping with GK's accelerated digital transformation strategy as part of its focus on customer centricity. "The digital-first approach is not just about having the latest technology, it is about understanding our customers' needs and delivering solutions that meet those needs," he said.
Hi-Lo's journey to e-commerce started in 2019 with the launch of a WhatsApp curbside pick-up and home delivery service for customers of its Manor Park store who were having challenges visiting the location during roadworks in the area. COVID-19 further pushed the supermarket chain to provide additional solutions to its shoppers in the wake of curfews and no-movement days during the pandemic.
CEO of GK Foods – Domestic Business, Frank James commented, "Without a doubt, COVID-19 has served as a catalyst for Hi-Lo Online by increasing the demand for contactless shopping. Over the last few years, e-commerce has become an integral part of the global retail framework. Statistics indicate that in 2020 e-commerce made up roughly $1 out of every $5 spent on retail, up from about $1 out of every $7 spent in 2019."
Hi-Lo Online currently delivers from six locations: Negril, Fairview in Montego Bay, Portmore, Barbican, Manor Park and Liguanea.
Cathrine Kennedy, Hi-Lo's General Manager explained, "We have been providing curbside pick-up and delivery services from these locations since earlier this year. We will add more stores for fulfilment of online orders in the coming months, as demand grows."
Kennedy also pointed out that online shoppers will still benefit from Hi-Lo's longstanding in-store promotions and discounts, "Hi-Lo Online offers discounts for healthcare workers, civil servants, and senior citizens and our Farmers' Market special of 20% off on Thursdays. Customers can also enter their GK Value Rewards number when they sign up to earn points each time they shop online. The online store is fully stocked with our Hi-Lo branded line of quality products and all your other favourite brands," she added.
Acquired by GraceKennedy in 1984, Hi-Lo Food Stores is one of the largest supermarket chains in Jamaica, with 13 locations islandwide.
Jamaican Entrepreneurs Head to Guyana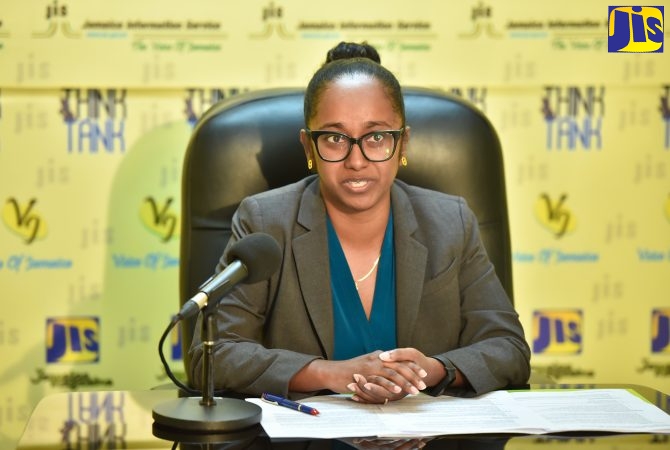 Local businesses across various sectors will be exposed to new buyers in the Guyanese market as part of the second ministerial trade mission to the country.
The mission, which will be led by the Minister of Industry, Investment and Commerce, Senator the Hon. Aubyn Hill, is scheduled to take place from January 23 to 28.
"With export being a primary focus for JAMPRO, one of the important inroads that we want to make in Guyana is to expose our exporters, both on the manufacturing and agricultural side, to new buyers and new distributors in the Guyanese market," said President (Acting) of the Jamaica Promotions Corporation (JAMPRO), Shullette Cox.
She was addressing a Think Tank held recently at the Jamaica Information Service (JIS) head office in Kingston.
Ms. Cox said that technology companies, including those involved in the Global Digital Services Sector, will be participating in the weeklong mission.
She noted that Senator Hill got Cabinet approval last year for the implementation of a new national strategy to develop the sector, which will open up new markets to technology-based companies and will provide a blueprint for the expansion of the industry.
It will also support the development and diversification of outsourcing in Jamaica, she noted.
Ms. Cox told JIS News that focus is also being placed on exposing local construction companies to the Guyanese market.
"As you can imagine, with the economic boom that is coming to Guyana, there is going to be heavy demand for construction, not only for services but also supplies, and so we have a couple of companies from the sector that will be making the trip with us," Ms. Cox said.
Other companies that will form the 60-member delegation include those involved in education, banking and finance.
The Acting President informed that members of the Jamaica Manufacturers and Exporters Association will be in attendance to represent and pinpoint areas of opportunities for those companies that are unable to participate in the mission.
Reflecting on the first trade mission to Guyana, which took place in October 2022, Ms. Cox said that "there are companies that…are busily making inroads with their partners in Guyana, having made several trips to the country since then".
She hinted that "a few of those companies have some announcements to make in the coming months".
For this second trade mission, JAMPRO hopes to establish more business relationships between the two countries as well as to secure export contracts in both goods and services.
"As a Government entity, we also reinforice the relationship between the Governments of Jamaica and Guyana, and we are looking forward to achieving and coming back to report on all of the successes coming out of those discussions," Ms. Cox shared.