Gracekennedy Heads Into A Multi-Year Transformational Journey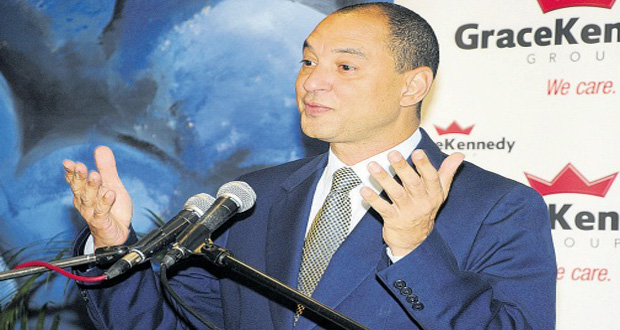 As GraceKennedy Limited heads into its 100th birthday in 2022, it has announced a round of restructuring activities starting July 2018. This restructuring is one of the strategic steps that the business will be taking, as it embarks on a multi-year transformational journey, aimed at optimizing the Group's structure for improved performance and shareholder value, delivered by a highly skilled and motivated workforce. This is in keeping with commitments made by Group CEO Don Wehby at the Company's Annual General Meeting in May of this year.
The Company is taking a close look at overall organizational design, cost structure, and business processes at all levels to achieve sustainable efficiency, greater agility and revenue growth. The restructuring exercise is an effort to not just improve key performance metrics, such as profit before tax and revenue growth rate, but also to streamline processes that will allow for a better work experience for employees and fulfill its obligation to remain profitable and sustainable for all stakeholders.
"We have the privilege of being one of the region's most well-known and respected companies and we remain very proud of our successes to date but also have an obligation to all our stakeholders — staff, investors, shareholders, pensioners, and customers to ensure that we remain relevant and achieve our goal of becoming a Global Consumer Group," says Wehby.
GraceKennedy contracted a third party consulting group to do a review of the support functions across the entire group. This included Human Resources, Information Technology, Finance, Audit, Corporate Secretariat & Legal, Risk & Compliance, Corporate Communication, and other corporate services. Similar exercises were done in the Foods and the Financial Services segments of the business. The restructuring process is being rolled out in phases which began with a review phase in early 2018 and has now entered the implementation phase of the process.
At each step of the process, the Company has involved team members in on-going dialogue and this will continue. In this stage, some positions have been rationalized, a number of roles expanded and a few new positions created as the company repositions itself for future growth.
Approximately 70 persons were separated, with a number of persons redeployed across the Group. Affected persons have been provided with support services in the areas of financial planning, career counselling and resume writing in addition to severance packages.
GraceKennedy has also engaged a change management partner, Prosci, to provide the Company with a structured process and the necessary tools, to successfully manage the people side of these major changes. "Change is never easy, but it is necessary if GraceKennedy is to remain relevant in a changing global environment which has seen shifts in consumer behavior, fluctuating economies and disruptive technologies," states Wehby. Some of the strategic priorities identified for the Company include: embedding lean management practices for increased efficiency; facilitating empowered and autonomous subsidiaries to foster entrepreneurship; maintaining strong corporate social commitments though the Foundations; consistent pursuit of innovation and new growth opportunities; and fostering a customer centric culture throughout the Group.
"GraceKennedy has been a Jamaican-owned business and community icon for the last 96 years and while we have been very successful, we realize the need to change. We are embarking on a journey that will gives us a competitive advantage for the next century. This change will keep us at the forefront in the food service and financial markets around the world. We will always be guided by our core values, as we work together in building a stronger GraceKennedy," states Wehby.
Black Castor Oil – Liquid Gold Untapped In Jamaica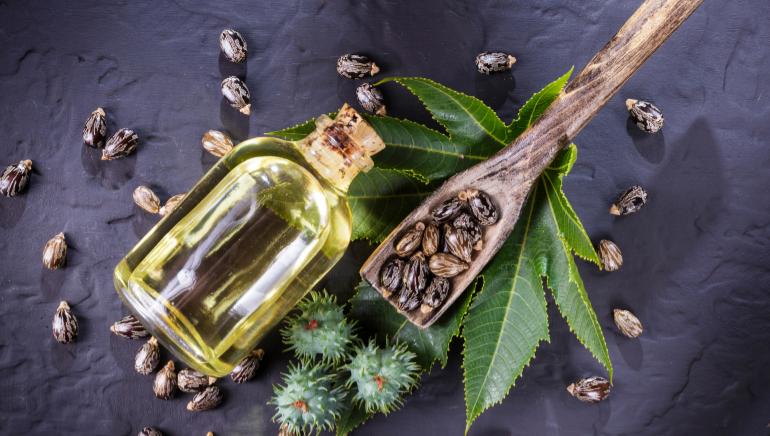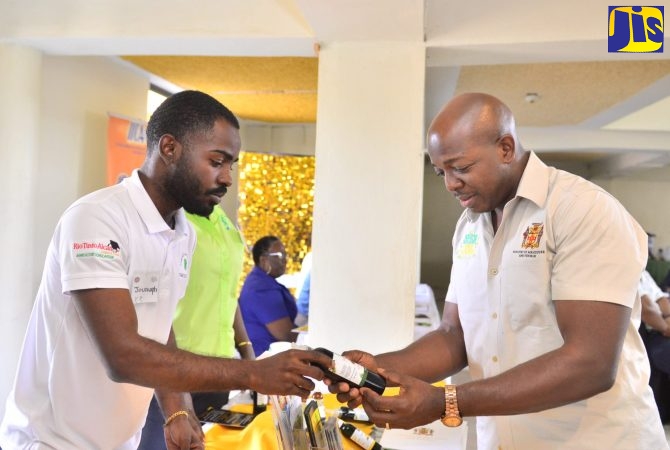 PHOTO: YHOMO HUTCHINSON
Minister of Agriculture and Fisheries, Hon. Pearnel Charles Jr. (right), is shown a bottle of black castor oil by Jovaughn Bailey of the Jamaica 4-H Clubs, during the Jamaica Bauxite Institute's (JBI) Castor Industry Forum, dubbed 'Black Castor Oil – Liquid Gold Untapped', at the Golf View Hotel in Mandeville, Manchester, on March 15.
Farmers and other stakeholders are being encouraged to collaborate to explore the full potential of the local castor bean.
Minister of State in the Ministry of Transport and Mining, Hon. J.C. Hutchinson, who made the call, said there is an opportunity to tap into the high demand for Jamaican Black Castor Oil, noting that the global market for the product is valued at up to US$100 million.
"This is a truly Jamaican product that must carry brand Jamaica in every way; and I suggest that a committee be established, comprising the Jamaica Bauxite Institute (JBI), Jamaica 4-H Clubs, the Scientific Research Council (SRC), the processors, farmers, JAMALCO, Jamaica Baptist Union (JBU), and the Inter-American Institute for Cooperation on Agriculture (IICA), under the chairmanship of the Rural Agricultural Development Authority (RADA)," Mr. Hutchinson said.
He was speaking at the JBI's Castor Industry Forum, dubbed: 'Black Castor Oil – Liquid Gold Untapped', at the Golf View Hotel in Mandeville, Manchester, on March 15.
Mr. Hutchinson said, to realise the potential of the local castor bean, Jamaica needs to have a structured programme which ensures that processors have consistency of supply.
Currently, the product, which has gained popularity worldwide, is not a major farm crop in the island.
"This is too much of an important [product] for it to be faltering by the wayside. I feel strongly about it; so, let us, together, make it work," Mr. Hutchinson said.
Minister of Agriculture and Fisheries, Hon. Pearnel Charles Jr., in his remarks, cited the need for training, organisation and planning to maximise opportunities in the industry.
"Across the world, you are looking at US$75 million to US$100 million [worth] of opportunity in this liquid gold; so, we have a massive global opportunity. There is more than enough reason to move to develop the local castor industry," he said.
"Now, more than ever, when we push for 'Grow Smart, Eat Smart', we are saying to Jamaica, it is essential to understand the sector and to utilise every inch of land, refine the processing and utilise the research and development to maintain our standards," the Minister added.
Mr. Charles urged farmers to ensure they understand and look closely at the science, the different types of seeds, and how they will fare in different parts of the island, before planting.
Currently, a study is being done on the Jamaica black castor bean at the University of the West Indies (UWI) Mona, under the leadership of Director of the Mona Institute of Applied Science, Dr. Howard Reid.
This is being undertaken through a grant facilitated by the JBU and the Inter-American Development Bank (IDB).
Upon conclusion, the findings will guide the process of securing the intellectual property rights of the Jamaica Black Castor Oil for the country.
For many years, several companies globally have been producing their own oil, but falsely labelling it 'Jamaican'.
President of the Jamaica Castor Industry Association (JCIA), Courtney Haughton, said most of the products being marketed as Jamaican Black Castor Oil are fake.
"The only way we can claw back what is ours is if we secure our intellectual property rights. The process includes [the] research now underway at the Mona Institute of Applied Science," he noted.
Other engagements include standardisation of the product with assistance from the Bureau of Standards Jamaica (BSJ), and producers' compliance in meeting product standard acceptance in the global market.
Registration at the Jamaica Intellectual Property Office (JIPO) will be the next step, and initial dialogue has begun.
"Our next objective is to protect market integrity, because we will need strategic alliances with people who have the capacity to seek out those in violation of our rights and protect us through legal action," Mr. Haughton said.
The association has also forged partnerships with the National Council on Technical Vocational Education and Training (NCTVET) and the JBU, to develop a curriculum for training and certification of industry participants.
Already, there is a Level One Module for planting, reaping and storage of castor beans, which has been ratified by the NCTVET Board.