Global South Urged to Support Transition to Cleaner Forms of Energy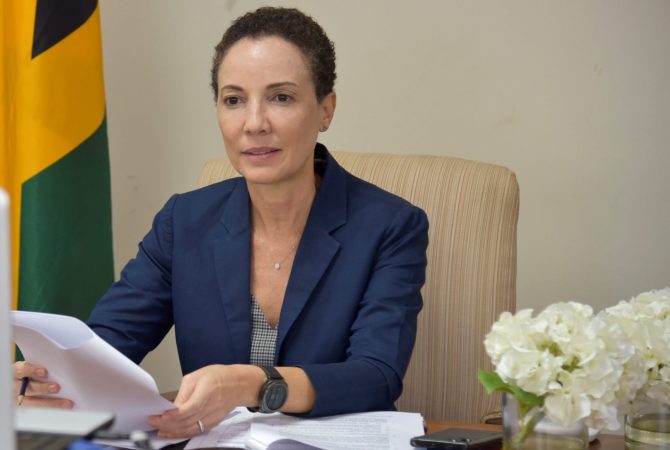 It is important for countries of the Global South to support the scaling up of the transition to cleaner and sustainable forms of energy, says Minister of Foreign Affairs and Foreign Trade, Senator the Hon. Kamina Johnson Smith.
"We encourage elevation on the G-20 agenda of similar pragmatic policies and programmes supportive of energy transition by fiscally constrained developing countries," she said.
The Minister was speaking at a recent special virtual summit, 'Voice of Global South Summit', an initiative of India, under the theme 'Unity of Voice, Unity of Purpose'.
India assumed Presidency of the Group of 20 (G-20), effective December 1. More than 120 countries participated in the two-day Summit, where they shared their perspectives and priorities.
The Minister said that Jamaica has been making strides towards loosening its dependence on imported petroleum fuels, while embracing clean, renewable energies and greater levels of energy efficiency.
"In this light, we have leveraged support derived from our membership of the International Solar Alliance," she added.
The Minister emphasised the importance of food and energy security, the fight against climate change, and recommended the sharing of models across the regions as well as technical cooperation among countries, "to promote increased food production and trade and increased availability of inputs for the Agricultural and Fisheries sectors".
She cited the food insecurity facing the world's most vulnerable and said the situation was worsened by "climate extremes, economic shocks, conflicts and disruptions to global supply chains".
"Solutions lie only in innovative action, partnerships and collaborative work at every level, to strengthen the resilience of food systems in developing countries," Senator Johnson Smith said.
The Minister congratulated the Government of India for assuming Presidency of the G-20.
"Jamaica is confident that India's G-20 Presidency will pave the way for more robust, collective action for sustainable development and stability in this fractured international landscape. We look forward to further productive engagement," she said.
India's High Commissioner to Jamaica, His Excellency Runsung Masakui, told JIS News that as India begins its Presidency, the aim is to amplify the voice of the Global South.
He said that India's ongoing Presidency of the G-20 provides a special and strong opportunity for those countries that are not part of the group to share their ideas and expectations.
The High Commissioner said that India will work to ensure that the inputs generated from partner countries in the Global South Summit deliberations receive due recognition globally.
The priority areas discussed at the Summit were Financing People-Centric Development; Balancing Growth with Environment-Friendly Lifestyle; Priorities of the Global South – Ensuring a conducive Environment, Energy Security and Development; Cooperation to Build Resilient Healthcare Systems; Human Resource Development and Capacity Building; Developing Synergies in the Global South – Trade, Technology, Tourism and Resources; and G-20 Suggestions for India's Presidency.
Tropical Battery Pushing Diversification Strategy Into Renewable Energy Products As It Reports Jump In First Nine Months EPS From $0.05 To $0.11.
Marc Melville Chairman Tropical Battery Company Limited has released the following Report and Statement of Financial Position – (Unaudited) for the period ending June 30, 2022.
We had another solid quarter; revenues were up double digits and net profit after tax was up triple digits. More importantly, for the first nine months of this fiscal year, earnings per share went from $0.05 a year ago to $0.11 per share this year.
Tropical Battery Company continues to push our diversification strategy (selling more than just conventional lead acid batteries, i.e. selling lithium ion batteries, renewable energy products, solar panels, et cetera) and this is having a positive impact on our overall business.

Financial Highlights
Income Statement
Our revenues for the quarter were up 27.0%, moving from $521 million in Q3 of 2021 to $662 million in Q3 of 2022. This was an increase of $141 million over the previous quarter. This has proved to be our best Q3 in history and is driving and energizing the entire team the to surpass targets by bringing in new customers from different markets.
Gross profit came in at $207.5 million or approximately 26.0% above the same period last year. The gross profit percentage was 31.4% of total revenue, which is slightly lower than same quarter of the previous year which was 31.6%.
Tropical completed its Q3 with a net profit after taxation of $53.8 million, which is a 117.9% increase over last year's profit of $24.7 million for the same quarter.
Operating expenses came in at $132 million or 16% above last year is $113 million. We are always encouraged to see expenses at a lesser growth rate than revenue. We are pleased with our new inventory management system and how it effectively manages the increasing variety of stock efficiently. Also, our order fulfilment cycle has significantly improved, and we believe these are some of the efficiencies that are being realized through the warehouse team and the system.
Earnings before interest, taxes, depreciation, and amortization came in at $79.0 million for the quarter that's 53.5 % above the previous year's Q3 EBIDTA of $51.4 million. That accounts for almost $27.5 million dollars increase in the company's EBITDA Quarter over Quarter.
Financial Position
Total assets grew from $1.6 billion last year to $1.9 billion this year, or 18.6%. While total liabilities moved from $832 million to $970 million or 16.6%. Our net current assets moved up to $1.15 billion from $834 million in the prior year or 38.3% increase. These positive increases continue to show a strong financial position. The equity moved from $781 million last year to $944 million this year or 20.8%. A positive sign, and setting us up nicely for an increased dividend payment, as we move closer to the end of our fiscal year.
Outlook
Our team continues to be healthy, motivated, and trained. We continue to see strong demands for our product lines, especially the new renewable energy lithium ion phosphate batteries and solar panels. We are getting closer with our efforts to acquire profitable companies. We are far advanced in the due diligence process with one now, and hope to have this one closed before the end of this calendar year.
We are also in the market raising a $250 million bond, which will allow us to continue our growth plans. This bond should close before the end of our fiscal year September 30, 2022.
More Information CLICK HERE