DBJ Invests In MPC Caribbean Clean Energy Limited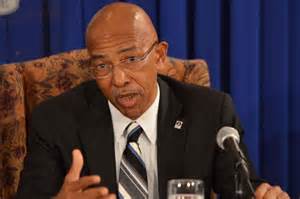 The Development Bank of Jamaica (DBJ) has announced that it has invested in the initial public offering, on the Jamaica Stock Exchange (JSE), of MPC Caribbean Clean Energy Limited (MPCCEL), which closed in December 2018.
MPCCEL, which is a Barbados registered International Business Company, raised a combined US$11.4 Million on the local capital markets in Jamaica (JSE) as well as on the Trinidad and Tobago Stock Exchange (TTSE) for investment in MPC Caribbean Clean Energy Fund LLC (CCEF), which invests into renewable energy projects in the region. MPCCEL commenced trading on both stock exchanges on January 14th 2019 and has been set up to allow local private and institutional investors to benefit from the clean energy investments in the Caribbean.
The DBJ's investment was one million United States Dollars (US$1 million) and represents a continuation of the DBJ's strategy to be an anchor investor in private equity and venture capital funds, raising capital for investment in Jamaican businesses.
In recent years, the DBJ, through the Jamaica Venture Capital Programme (JVCP), has not only sought to build the ecosystem for private equity and venture capital in Jamaica, but has acted as an anchor investor in other funds which, to date, have invested some US$55M(J$7.4 billion).
Milverton Reynolds, Managing Director of the DBJ explains: "Our decision to invest in MPCCEL was made after a due diligence process and was taken against the background of not just an attractive long-term investment but also the fact that the company's vision is aligned to both the DBJ's and the Government of Jamaica's, that is, ensuring Jamaica's energy security and the need for the economy to move away from the heavy reliance on fossil fuel.
"We were encouraged and impressed with the investment strategy of MPC Caribbean Clean Energy Fund LLC and their commitment to become the leading investor of renewable energies for the Caribbean region."
MPC Caribbean Clean Energy Fund LLC is managed by MPC Clean Energy Ltd. MPC and its team has a strong track record in the renewable energy space, with their footprint to be found throughout several regions of the world (Europe, Latin America, Sub-Saharan Africa, MENA and Asia). They bring significant emerging markets renewable energy experience to the region, and their combined experience and competencies in the industry in the areas of project management, infrastructure, asset management and private equity funding are a welcome addition, not only to the local renewable energy space, but also the local and regional capital markets, as investors now have access to new assets providing potentially long term risk-adjusted returns from our energy infrastructure.
Audrey Richards, Project Coordinator, JVCP in speaking to the team at CCEF states: "MPC was one of three fund managers which responded to our 'call for proposals' for fund managers interested in investing in Jamaican businesses.
"The team of investors (Investor Panel) that conducted the due diligence on CCEF was pleased with the company's management team, their knowledge and experience of the renewable energy space, the company's governance structure, and their strong commitment to supporting Jamaica's social infrastructure."
Martin Vogt, Managing Director of MPC Renewable Energies states: "Our goal is to become the leading investor in clean energy in the Caribbean region by offering attractive investment opportunities which combine the reduction of carbon emissions, adhere to strict environmental, social and governance (ESG) principles and provide attractive risk-adjusted returns. Our investments have a distinct positive socio-economic impact in the communities and we are delighted that the DBJ supports us in our endeavor to bring clean energy to the region."
MPC Caribbean Clean Energy Fund LLC is currently building out Paradise Park, a 50 MW solar park located in Westmoreland, Jamaica, an investment of US$64 million. They are also investors in Costa Rica through a project – Tilawind – an onshore wind farm with a 21 MW capacity, with a total investment value of US$50 million.
Jamaican Tea's Group Experienced Mixed Fortunes In Third Quarter To June 2022
John Mahfood – Chief Executive Officer and Director Jamaican Teas Limited has released the following statement on the company's Third Quarter Results to June 2022
Export Manufacturing sales rose a strong 40 percent in the quarter as the division overcame the shortage of raw materials required to fulfil orders of finished products experienced earlier in the year. Local sales improved by 10 percent in the quarter over 2021.
The Retail Division put in a solid performance with a 28 percent sales increase in the quarter reflecting in part the absence of the COVID restrictions seen in 2021 and the return to our regular operating hours.
QWI 's investment share portfolio outperformed its overseas benchmarks but was still adversely affected by the strong retracement of share prices in the USA as well as in many main market stocks in Jamaica.
The third quarter and year to date attributable profits were lower than the prior year periods mainly as a result of the reversals at QWI.
Manufacturing Division – The highlight for the quarter was the strong gain in our export sales which rose 40%. Local sales improved by 10 percent in the quarter to bring total manufacturing sales for the nine months to $1,363 million, an increase of 12 percent over 2021 that delivered sales of $1,215 million.
Retail Division – For the third quarter revenues amounted to $161 million versus $126 million a year ago. The store has returned to its former hours of operation and has continued to see improved sales, customer count and profits following the quarter end.
Real Estate Division – This division booked several studio sales during the year ago quarter. That project is now completely sold. The Division's latest project at Belvedere in Kingston is proceeding apace with physical completion anticipated later in calendar 2022.Sales activity for Belvedere has already commenced with the displaying of model units that have been well received by potential purchasers.
During the quarter there was a poor performance of stocks on the Jamaican and USA Stock Exchanges with significant share price retracements overseas but a stronger performance mainly in Jamaica's Junior Market.
Investment Division – During the quarter there was a poor performance of stocks on the Jamaican and USA Stock Exchanges with significant share price retracements overseas but a stronger performance mainly in Jamaica's Junior Market. This resulted in unrealised investment losses for QWI of $132 million in the quarter versus gains of $162 million in the year ago quarter.
Group Revenues – Total revenues for the quarter increased by 22 percent from $530.7 million to $649 million despite the absence of any real estate sales this quarter versus 2021 which included real estate sales from Manor Park. For the year-to-date sales increased 4 per cent.
The decrease in Investment Income this quarter mainly reflects the impact of unrealized fair value losses in QWI's investment portfolio in the quarter.
Expenses – While revenues have been increasing, increases in our Cost of Sales for both the quarter and the year to date have outstripped the revenue growth resulting in the loss of two percentage points of gross profit margin. This adverse trend resulted from sharp increases in ocean freight costs as well as increases in raw materials costs not yet fully reflected in prices to our customers.
Price increases were effected in all our markets in January 2022 and again on July 1 2022.
Administrative costs rose and mainly reflects increased insurance and investment management expenses at QWI in the period as well as salary and wage increases at the Manufacturing division.
The increase in interest expense resulted from higher borrowings at QWI and the Manufacturing division, the latter due to the need to fund higher levels of inventory.
Net Profit– Profit before tax moved from $278 million a year ago to a loss of $70 million this quarter mainly resulting from the reversals in QWI's investment portfolio referred to earlier. For the year to date, profit before tax moved from $661 million to $231 million.
Taxation moved from a charge of $68 million last year to a credit this quarter of $23 million Net profit for the quarter attributable to the members of Jamaican Teas was $24 million compared with $115 million in the previous year quarter. For the year to date, attributable net profit moved from $313 million to $186 million.
Basic attributable comprehensive income per share was 1 cent (2020/21– earnings of 5.0 cents) for the quarter and 9 cents (2020/21 – 15.0 cents) for the year to date.
Significant Balance Sheet Movements – The increases in inventory since Sept 2021 reflect the build-up of raw materials to offset ongoing delays in the delivery of some items imported from overseas.
The increase in Housing under Construction since September 2021 is a result of the build out of Belvedere while the increase in receivables resulted, in part from the growth in revenues reported above.
Much of this investment in inventories was funded by means of short-term borrowings which have increased by $128 million since September 2021.
Outlook – Our manufacturing business faced challenges earlier in the year but freight charges have begun to fall while the raw material shortages experienced have been overcome and sales order fulfilment has improved.
We are optimistic that our investment arm, QWI is well positioned to benefit from the ongoing recovery in tourism in Jamaica, increasing employment and the positive profit results at several listed companies on the stock market. The rising interest rates here and overseas will however prove to be a significant hindrance to the prices of all financial assets and this will temper the immediate prospects for future investment gains.
More information CLICK HERE