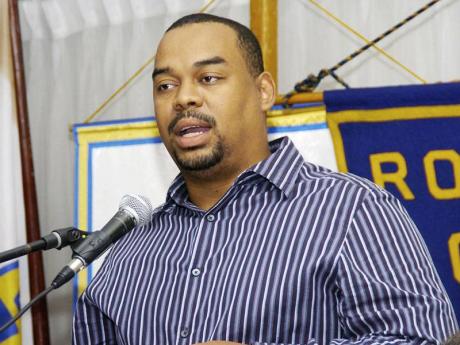 Mayberry Investments Continues To Post Impressive Results And Rack Up A Series Of Firsts – Peart
Gary Peart, Chief Executive Officer for Mayberry Investments Limited, is describing 2018 as an important one for the company, as it not only returned good financial results but they were also successful in listing their subsidiary, Mayberry Jamaican Equities Limited (MJE) on the Main Market of the Jamaica Stock Exchange (JSE).
He also reported that the company's stock price showed phenomenal improvement, growing by 52% from the beginning to the end of 2018, trading as low as $4 during the year peaking at $11.50, with a total of 22,327,189 units traded on the JSE's Main Market, closing the year at $9.00.
Mayberry Group he said recorded total comprehensive income attributable to shareholders of JA$3.5B, an increase of 45% over the prior year.
Total revenues for the Group was JA$1.84B, while Net Profit was JA$160.4M, resulting in earnings per share of 13 cents.
Total assets for the Group grew by 25% to JA$30.4B over the prior year's total of JA$24.4B, driven mainly by an increase in the value of quoted equities and increases in Loans and Other Receivables.
Funds under Management also went up by JA$1.1B to close the year at $19.7B and this resulted from growth in managed products.
The Groups capital base remained in good standing and closed the year at JA$10.9B.
A strong capital position he said will enable them to take advantage of new opportunities for growth as they strive to maintain the ability to do so.
Looking ahead he reported that investments in the local economy will continue, as they aim to develop a sustainable business environment for the long term.
Also
Brokerage firm, Mayberry Investments, continues to post impressive results and rack up a series of firsts. The company's 2018 financial results show that Net Book Value per share moved to $11.12, a 42.7% increase over the corresponding period in 2017, due to an increase in Equity Investments of $5.9 billion.
Corporate Finance had a very strong performance for yet another year, with Debt Selling Fees, Equity Selling fees and Corporate Advisory fees recording year-over-year higher growth rates of 76.2%, 143.7% and 48.6%, respectively. Total Comprehensive income for the year ended 2018 amounted to $3.7 billion, compared to $2.4 billion for the corresponding period of 2017; an increase of $1.3 billion or 55.2%.
According to Gary Peart, CEO, total comprehensive income was influenced heavily by unrealized fair value gains.
"We saw a 55% increase in comprehensive income due to unrealized fair value gains on available for sale securities of approximately $1.2 billion," Peart explained.
Total Revenues reported for the Mayberry Group ended 2018 was $1.84 billion relative to $2.2 billion for the comparative period in 2017 while after-tax profit was $105.8 million compared to $425.2 million for 2017. This resulted in Earnings per share (EPS) of $0.13 versus $0.35 for the 2017 financial period.
This was mainly due to lower unrealized gains on investment revaluation of $901.3 million.
For the year ended 31 December 2018, the Mayberry Group copped first place in volume traded on the junior market and first place in value traded.
Notably, dividend Income increased by 135.1% or $209.3 million representing dividends received from equity holdings. "This growth spurred from equity holdings mainly Supreme Ventures Limited, Caribbean Producers (Jamaica) Limited, Lasco Distributors Limited and Express Catering Limited. A $6 billion increase in our asset base can be attributed to the increased value of quoted equities and increases in Loans and Other Receivables," Peart said.
Funds under management grew by $1.1 billion to $19.7 billion, up from $18.6 billion. This portfolio was mainly driven by growth in the Mayberry Gold product of 91% and Mayberry Managed Equity Portfolio of 30%.
Mayberry Group's capital base continues its robust growth and remained in good standing, resulting from higher profitability, with Retained earnings moving from $4.5 billion to $5.7 billion and Fair value reserves of $6.0 billion, up from $3.2 billion.