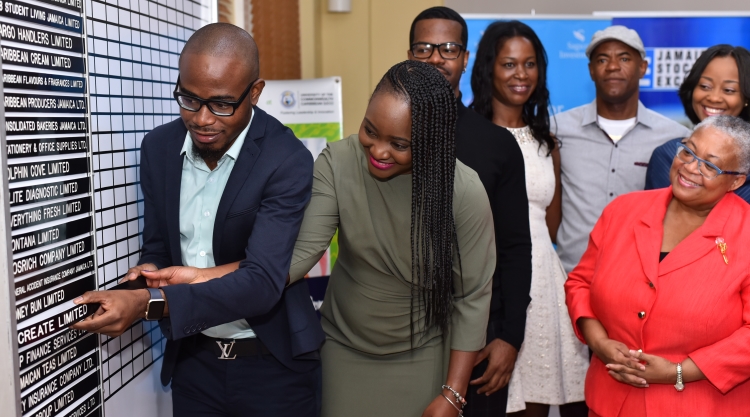 Newly Listed iCreate Stock Price Jumps 30% On First Day Of Trading
iCreate Limited (ICREATE) listed it shares on the Jamaica Stock Exchange (JSE) Junior Market on February 25, 2019. This increased the number of companies listed to 38 which represents 40 securities listed on the Junior Market.
ICREATE raised $70 million and added 819 new shareholders to their register. Also with this listing, the market capitalization of the Junior Market increased from $136.96 billion as at Friday, February 22 to $137.2 billion. This compares to the first listing where the market capitalization stood at $503 million. The combined market capitalization for all markets now stand at $1.55 trillion.
According to ICInsider.com attempts were made to trade the ICREATE stock at $2 immediately after listing, but that price was beyond the 30 percent one-day limitation imposed by the JSE.
The stock was sold to the market in the IPO and listed at $1.01 each.
The stock subsequently traded at $1.30, leaving two bids for the stock at $1.20 to buy 66,000 units and 1,000 units at 70 cents. There are 777,400 units on offer from $1.96 to $2.25. ICInsider.com is reporting.
eMedia Interactive Group Limited, which currently holds 100,000,000 units of iCreate issued shares, representing 50.61% of the company, based on yesterday's closing trading price is worth JA$130Million.
iCreate Limited is a wholly owned subsidiary of eMedia Interactive Group Limited founded and headed by Tyrone Wilson.
Mr. Tyrone Wilson, Founder, President & CEO, iCreate Limited, said in his remarks "Listing on the Jamaica Stock Exchange was always a dream of mine & now I have the capital, the team & the platform to deliver on our mission, which is to build our Creative Economy. My hope is that this listing will inspire many like myself to look to the JSE Junior Market to raise capital. We're proud of the progress we've made so far and with majority of our Creative sub sectors being mostly informal, I look forward to the impact iCreate will have in training the future leaders of this industry".
Mrs. Marlene Street Forrest, Managing Director of the JSE in her welcome stated that, "Today's listing gives to the Jamaica Stock Exchange the first educational company, further diversifying the types of companies to list on either the main market or the Junior Market. The message here is that the market can provide capital to any sector and that the benefits are not sector or industry specific. History shows that our markets respond to good companies; good investment prospects. I wish to remind ICREATE and other companies listed on the Exchange that a listing is but a journey and not the destination as there are other opportunities for fund-raising and listing via bonds, preference shares and rights issue. We recommend you to simply take advantage of the market.
Mr. Steven Davis, Assistant Manager, Corporate Finance & Derivative Products, Sagicor Investments Limited stated, "As lead arranger and lead broker for this venture, we are proud to have seen that the IPO surpassed its target and was oversubscribed less than 48 hours after opening and receiving applications in excess of 800. That is tremendous, and not only shows the confidence of our investors but also the power of investment for this country and the traction it drives in any economy. This IPO is another example of Sagicor Investments' commitment to develop the economic capacity of the country while providing its citizens with the means to create, grow and preserve their wealth".
The entire listing ceremony was filled with encouraging words to inspire businesses to raise capital for growth and development.