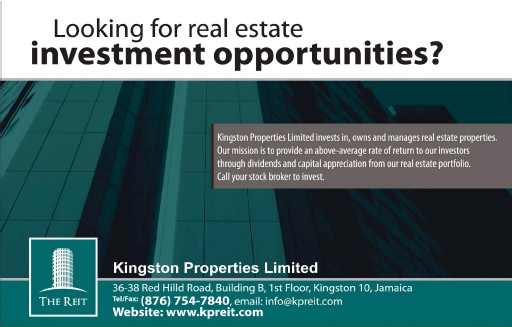 Kingston Properties Seeking To Raise J$2B By Way Of A Renounceable Rights Issue Of Ordinary Shares.
Kingston Properties Limited is now seeking to raise approximately J$2 billion by way of a renounceable rights issue of ordinary shares.
This is further to a notice published on August 5, 2019, where Kingston Properties advised the public that the Record Date for its intended renounceable rights issue will be November 8, 2019.
Kingston Properties plans to use the proceeds of this latest rights issue to purchase commercial real estate property in Jamaica and the Cayman Islands.
The company earlier indicated that the new acquisitions will focus on commercial real estate, including an undisclosed number of offices, warehouse and industrial spaces.
While looking to seek out these new real estate acquisitions, Kingston Properties is also disposing of about five condominiums in Florida, currently up for sale.
The Company is seeking to raise the J$2 billion by offering to its existing ordinary shareholders, on record, the right to participate in the Rights Issue at a rate of 1.10573 New Shares for every ordinary share already held at a subscription price of $5.62 per New Share.
The Rights Issue will be in respect of an additional 355,871,765 new ordinary shares, subject to individual shareholder holdings as at the record date in the capital of the Company.