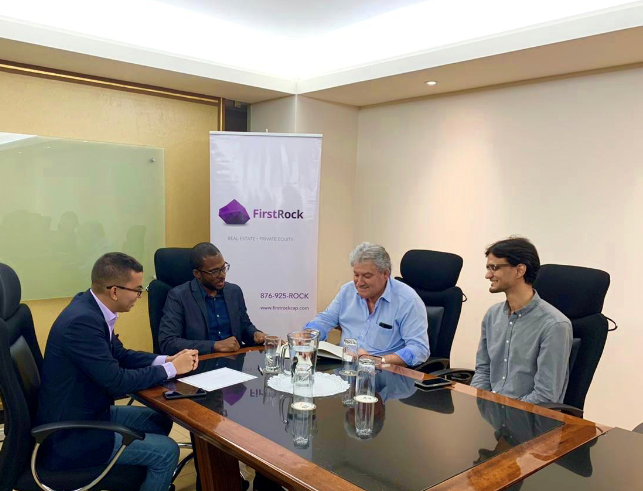 First Rock Capital Holdings Announces US$2M Real Estate Investments In Costa Rica
Photo Caption:From L-R• Jordan Chin, Chief Legal- First Rock Capital, Shaun Myers, Finance & Analysis Manager- First Rock Capital, Eric Brenes, President HBQ Desarrollos and Jose Brenes, Accountant complete the acquisition transactions at the offices of Ernst & Young Law in Costa Rica.
President and Co-Founder of First Rock Capital Holdings, Ryan Reid, has announced that the company has made two real estate investments in Costa Rica, with the transactions in excess of US$2M, marking the beginning of First Rocks' successful venture in the Costa Rican market.
These he said are two solid acquisitions with reputable and established developers, this as First Rock Capital Holdings continues to invest heavily, adding to recent purchases in Florida and Cayman.
Jordan Chin, Chief Legal and Compliance Officer at First Rock, disclosed that the first is a residential development called Torres de Heredia being undertaken by Grupo Inmobiliario del Parque (GIP), and the second, a commercial warehouse/office development called Ultima Park Two by Desarollos HBQ.
First Rock Capital LATAM, their Costa Rican subsidiary, acquired five units in Torres de Heredia and two units in Ultima Park Two and has been noted as the beneficial owner in the Costa Rican National Registry.
The transfers were finalized after a full due diligence report was conducted which showed the properties being free of any liens, fees and taxes.
Torres de Heredia is a heavily sought-after development that sits in the middle of a 6km Industrial free zone stretch and has direct access to the National Convention Centre.
The Ultima Park two units are currently under long term rental contracts with San Jose's premier event planning and execution organization, Elegante Frenesí, and with World Wide Tailored, S.A., an international tailor company.
Reid stated that the team worked hard on these transactions and thanked the LATAM due diligence partners, EY Law, explaining that multi-jurisdiction capital deployment is critical to their risk mitigation strategy.
Reid also revealed that there are several other exciting expansive plans afoot for the company.