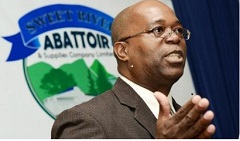 Sweet River Abattoir & Supplies Reporting Net Loss Of JA$1.6M For Three Months Ended June 30, 2019
The Board of Directors of Sweet River Abattoir & Supplies Ltd have released unaudited financial statements for the three months ended June 30, 2019. reporting a net loss of JA$1.6M.
Managing Director Valdence Gifford in his report to shareholders said that the performance for the period ending June 30, 2019 was better when compared to the similar period in 2018, when the company reported a net loss of $7.1m.
This year, though still a loss, is still an improvement over last year, where despite a reduction of 70% in sales, expenses went down by 38% and therefore gross profit went down by 2% he reported.
Commenting further he said that revenue for the quarter came from slaughtering fees and inventory sales and that the company has taken a temporary break from procuring pigs whilst they organize and recapitalize the business.
He anticipates that, in short order they will to return to the core business of procurement of pigs and the sale of fresh cuts to processors, hotels, restaurants and wholesalers, ensuring the company returns to profitability and maximizes its true potential.
The reorganization currently underway will ensure that the company is viable and sustainable and that they were expecting to complete this process to capitalize on the upcoming ham and winter tourist season.
The importance of having a local facility such as ours cannot be over emphasized when one considers the reach of the plant over the past three (3) years. The economic benefit and the foreign exchange savings are significant not just for the farmers and their family but for the country he reported.