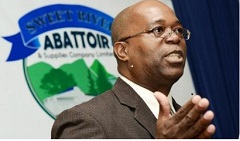 Sweet River Abattoir and Supplies Company Limited Resignations and Other Matters
RESIGNATIONS
1. Mr. Valdence Gifford resigned as the Managing Director of Sweet River Abattoir & Supplies Company Limited (SRASCL) effective May 31, 2019. He however continues to serve in that capacity on a Contractual basis until a replacement is selected. He remains a member of the Board of Directors.
2. Mrs. Audrey Deer-Williams resigned as a Director of the Board SRASCL effective June 7, 2019.
3. Mr. Robert Meghoo resigned as a Director of the Board effective July 16, 2019.
BANK DEMAND ON OUTSTANDING LOANS
With the recent challenges faced by SRASCL, First Global Bank Jamaica Limited, lenders for the debt financing component of the abattoir construction has issued a Demand to the company on July 19, 2019 through their lawyers for the repayment of the balance outstanding on these loans in the amount of J$116m, citing inter alia default in making the agreed payments. The monthly loan payment which was due on July 1, 2019 was 18 days past due as at the date of the Demand. The total loans acquired was J$180m. The new abattoir was valued in August 2018 at J$322M with a forced sale value of J$ 268m.
RESTRUCTURING PLANS
Prior to these recent developments, the Board of SRASCL has been exploring plans to restructure the company's balance sheet, and to bolster its governance structure. The recent developments have necessitated the expedition of this process which the Stock Exchange will be advised of shortly.
For and on behalf of the Board of SRASL