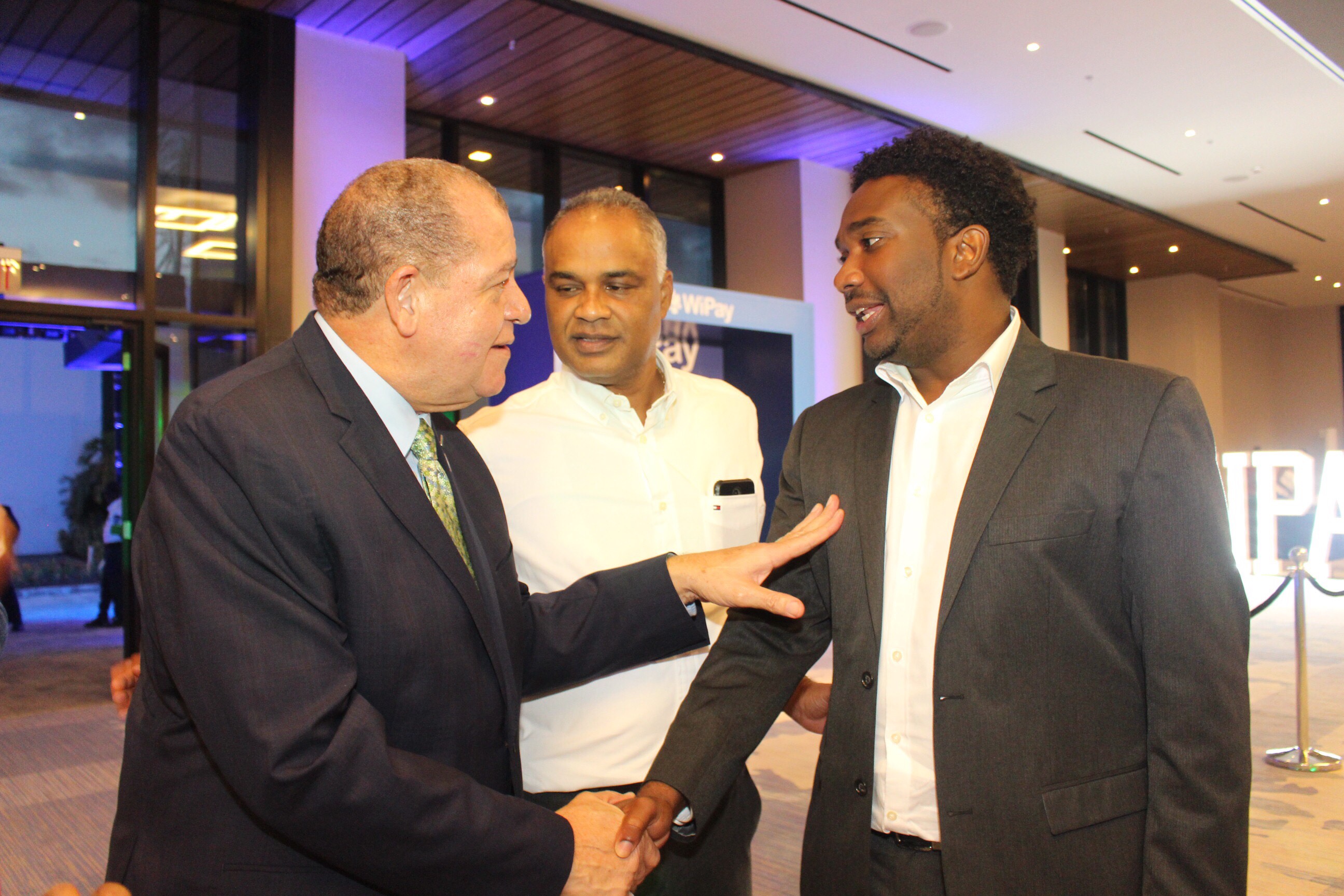 WiPay Online Payment Platform Launched Awaiting Requisite Regulatory Approval To Operate In Jamaica
Minister of Agriculture, Industry and Commerce, the Hon Audley Shaw (l) shares a light moment with WiPay Caribbean CEO Aldwyn Wayne (r) as Dr. Andre Foote looks on at the launch of WiPay at the AC Marriott hotel on Thursday.
Trinidadian Aldwyn Wayne, CEO of the recently launched WiPay Online Payment Platform, is reported as saying that, as a software company they can't just start in Jamaica, and while they have partnered with a local bank, they are not quite ready for the general public.
This as the company is yet to secure the requisite regulatory approval to operate in Jamaica as such they are now looking at a July or August go-live date.
In published reports over the weekend, Wayne indicated that from a software side, everything is ready, but it's just the paperwork from a regulatory standpoint from the financial institution, which he said is outside of their hands.
The financial institution they have partnered with, Lasco Financial, he said will talk to its regulators, tell them what they are doing. and they are just going through the process to tell them that all the things that they are doing are ready,
WiPay has partnered with Lasco Financial Services for the roll-out of the payment platform across Jamaica and Managing Director of Lasco Financial, Jacinth Hall-Tracey told the Financial Gleaner that the company entered "product development" discussions with WiPay last year.
According to Wayne they don't necessarily need to have one financial partner and will be partnering with a bunch of financial institutions to provide a range of services.
Jamaica is the third market within the Caribbean to embrace WiPay, a technology solutions company that simplifies e-commerce for Micro-Small, Medium and Large enterprises.
WiPay Jamaica Ltd, a subsidiary of WiPay Caribbean Ltd, is to provide software services to regulated financial institutions that will move the current e-commerce system into the first world, the company said in a media release.