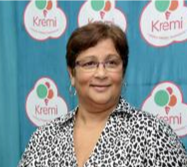 Caribbean Cream Reporting 13% Jump In Revenues To JA$1.5 Billion, For Just Concluded 2019 Financial Year
Caribbean Cream Limited is reporting, for their just concluded 2019 Financial year, revenues of JA$1.5 Billion, an improvement on the JA$1.4 Billion reported for the previous year, representing an increase of JA$180 million or 13%.
Carol Clarke-Webster, Chairman of the company, in her report to shareholders remarked that this was a remarkable milestone in the 14-year life of Caribbean Cream Limited and its Kremi brand, this as the company continued its sales and marketing thrusts enabling further expansion of market penetration and 'top of the mind' awareness.
The Sales objective for the year, she reported, was to get closer to the end consumer, and this was achieved by increasing the number of locations and size of company owned Depots and deepening their relationships with leading wholesalers in targeted areas.
There was an uptick in their Cost of Operating Revenue, moving to JA$1 Billion compared to JA$953 million in the previous year, an increase of JA$80 million or 8%.
This she said arose from increased prices on local raw materials and the fluctuations of the Jamaican dollar on the foreign exchange market.
There was also an initial 'spike' in the utilities due to the company investing in its own Novelty Line and Ammonia Compressor plant.
The company continues to upgrade its equipment with the main purpose of reducing cost of operating revenue.
The Company, being listed on the Junior Market of the Jamaica Stock Exchange, was allowed an initial 100% remission of income tax for the period May 17, 2013 – May 16, 2018.
Coming into effect for this financial year, the Company has a 50% remission of income tax, therefore giving rise to an income tax expense of $13.9 million.
Net Profit before tax was $102.6 million and Profit, being total comprehensive income for the year was $88.6 million.
Caribbean Cream Limited closed their 2019 financial year with earnings per share of 23 cents a 1 cent reduction on the 24 cents reported for 2018.