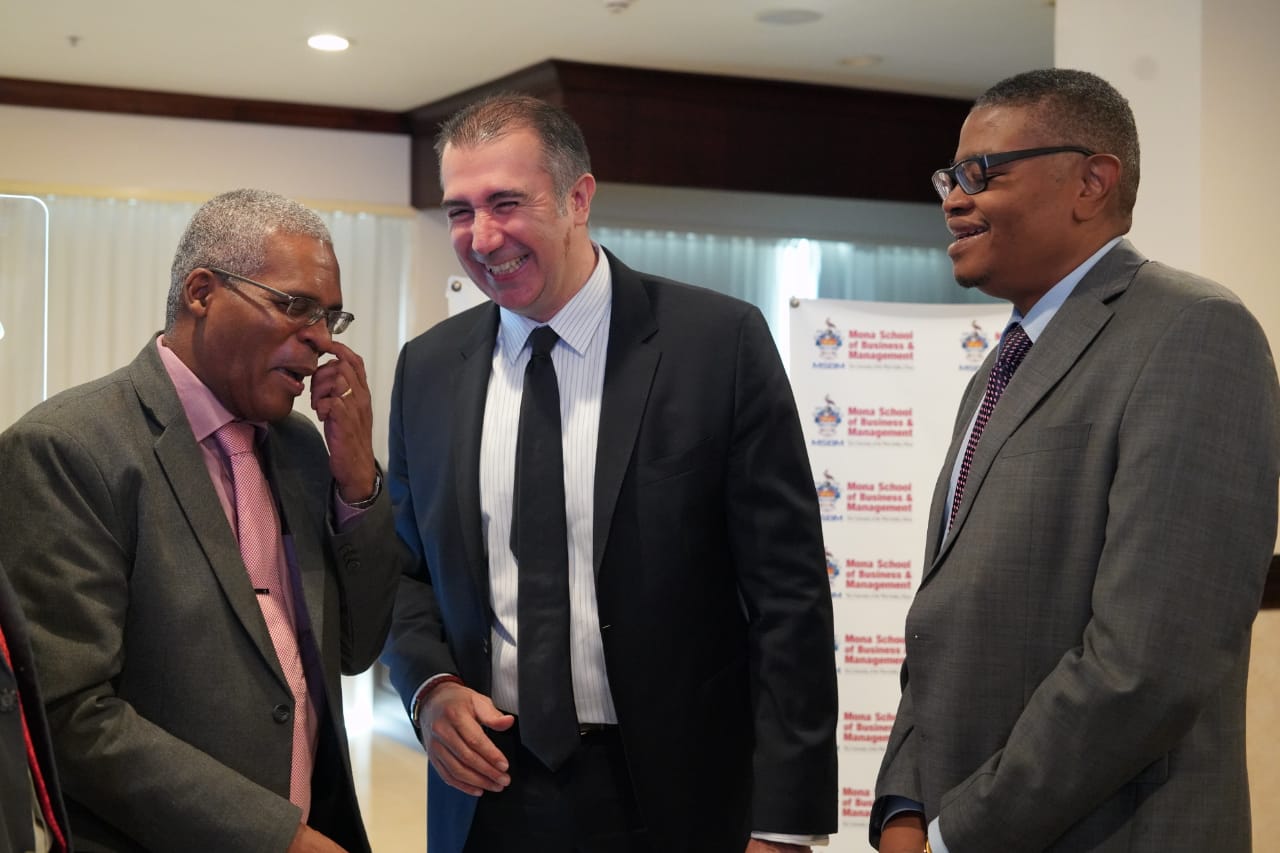 MSBM Roundtable Examines Agile Leadership For Digital Transformation
L-R Dr. William Lawrence, Convenor of the MSBM Round Table Breakfast, Mr. Murat Bicak, Senior Vice President, Strategy, Project Management Institute and Dr. David McBean, Executive Director, Mona School of Business & Management.
Kingston, Jamaica – June 20, 2019: Now in its tenth year, the MSBM Roundtable has the distinction of being, arguably, the most highly anticipated, calendar event at which senior Caribbean public and private sector leaders meet to find solutions for their most pressing problem by engaging international experts and academia in meaningful dialogue.
Scheduled for Wednesday, June 26, at the Talk of the Town, Jamaica Pegasus Hotel, New Kingston, the theme for this year's annual, by-invitation-only, breakfast forum is "Agile Leadership for Digital Transformation."
The forum will feature the MSBM research paper "Leveraging Agile Leadership for Digital Transformation" which presents the latest findings from a survey of businesses and industries and uncover solutions that empower business leaders to make evidence-based decisions critical to sustainable growth. International speaker, Murat Bicak, Senior Vice President, Stategy, Project Management Institute, will bring a global perspective on new ideas, strategies, and action plans for agile leadership and digital innovations within organisations.
Other items on the programme include a presentation from the Jamaica Stock Exchange, "Jamaica Exchange & Digital Transformation" by Mrs. Marlene Street Forrest, Managing Director; while Dr. Peter Phillips, MP, Opposition Leader will give remarks. The Open Discussion will be moderated by Dr. Marcia Forbes, Media Consultant/ Executive Chairperson Phase Three Productions.
According to the organisers, the goal this year is to target 100 business leaders, entrepreneurs, decision-makers in government and academia and digital and technology experts to improve competitiveness and shape the economic development of Jamaica and the Caribbean.
"We have only a decade to go for realizing Vision 2030, for making Jamaica the place of choice to live, work, raise families and do business. The country needs urgently to accelerate its progress by leveraging the global convergence of physical, digital, and biological technologies," states Dr. William Lawrence, Convenor of this year's Roundtable and Director, Professional Services Unit, MSBM.
He adds that these cyber-physical systems are disrupting existing goods, services, human talent, and company infrastructure while opening new opportunities for innovation and growth.
The aim is to identify strategies for seizing opportunities arising from the Fourth Industrial Revolution and provide insights and prescriptions to strengthen public and private sector leadership information and skills for corporate transformation through datadriven decisions, social interactions, organizational agility, and talent.
Last year, the deliberations at the MSBM Roundtable looked at strategic digital leadership to exploit data assets for value creation development. Prior forums, from 2010 to 2018, helped policy-makers and organizational leaders to innovate and manage risk by providing new analytical tools, informing the bankruptcy legislation for business recovery from financial distress, reinventing business models in the aftermath of the 2007-2009 global economic crisis, and strengthen firms in the construction sector.
The 10th MSBM Roundtable is organised by the Mona School of Business and Management (MSBM), in partnership with the Broadcasting Commission of Jamaica, the Jamaica Stock Exchange, the Private Sector Organisation of Jamaica and the Project Management Institute.