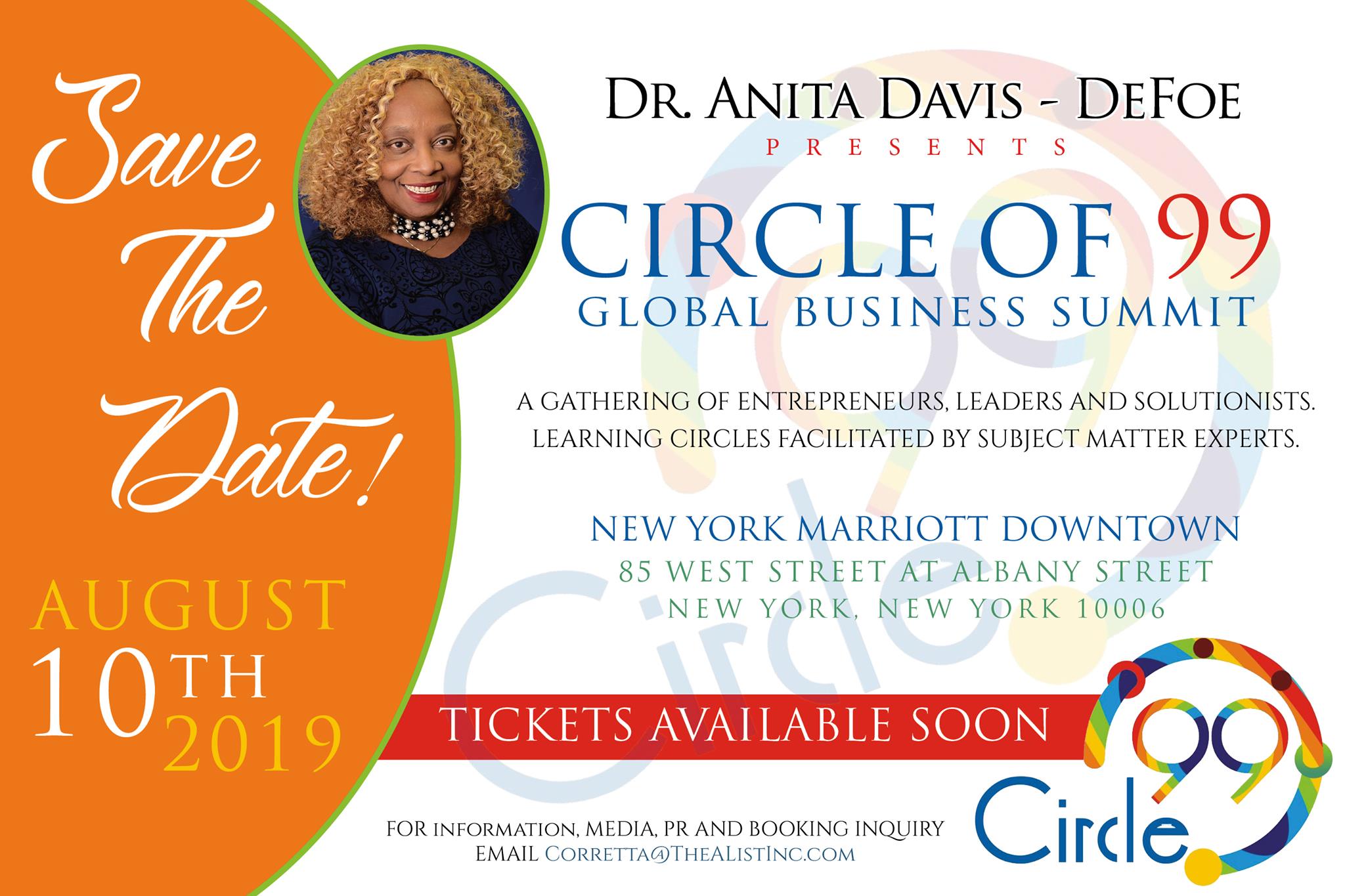 Circle of 99 Global Business Summit Coming to New York August 10, 2019
New York, New York: What happens when collaborative connectors and change champions; dreamers, doers and disruptors; influencers and inspirers, strategists and solutionists all gather? Personal Transformation? Business Reengineering? Global Impact? This is without question the intent when the Circle of 99 Global Business Summit comes to New York.
Slated for August 10, 2019, at the New York Marriott Downtown, located at 85 West Street at Albany Street, from 10am -4 pm, this summit promises to provide attendees in the room, and online viewers as well, with actionable tools and replicable strategies that can be readily executed post-summit. With knowledge circles led by some of the most innovative, brilliant business minds and thought leaders from all industries, from around the globe, the Circle of 99 Global Business Summit has been specifically designed to equip entrepreneurs, business leaders and nonprofit organizations pondering social enterprise with tactics that garner results. Knowledge Circles will focus on four themes: Wellness (tools for prevention, feeling well and thriving health-wise), Work (tools for an engaging career, aspiring entrepreneurs and for those aiming to scale in quest of entrepreneurial growth), Wealth (tools for maximizing money, for creating generational wealth and purposeful business profits), and Winning (tools for defining and maintaining a mindset that fosters the achievement of personal and business goals).
The Circle of 99 Global Business Summit is being hosted by Author and Global Solutionist, Anita Davis-DeFoe. Her Circle of 99 initiatives encompasses three arenas: Circle of 99 for Business, Circle of 99 for Youth, and Circle of 99 Media.
When asked about the upcoming event and these Circle of 99 initiatives, she shared: "Globally, a circle represents completeness and wholeness, much like Ubuntu and it meaning a mindset of total humanity, caring for others. Nine is as complete as the circle, for when you multiply the number 9 by any number and add the sum you will always keep getting the number 9. This is spiritually powerful to me, and I find myself often pondering what could be if that level of completeness could be achieved in life, work and business. So for me, if we are able to create collaborative circles fueled by compassion, shared information, and authentic purpose, I believe that solutions can be formulated, sustainable change achieved, and purposeful business profits that offer revenues and results is possible.
Smiling Davis-Defoe continued, "Yes I know this is wishful thinking, but I cannot stop believing in the greater good. Yes, silo thinking often overpowers the collaborative mindset, and yes often people get deeply hurt as they attempt to collaborate so they become hesitant, but when a resilient circle is formed, it can withstand pulls and tugs from all directions and still maintain it strength. Circle of 99 initiatives are aimed at demonstrating this power in both our personal and business journeys. All are invited to join us in the circle."
On July 1, 2019, all confirmed knowledge circle champions will be shared, each selected because of the value-added personal and business tools they will share with summit attendees. Global collaborative partners include StylesByFermena (Maryland); Elevate Entrepreneurs Founder Aubry Padmore (Global); Dr. Marcia Brandon and the Caribbean Centre of Excellence for Sustainable Livelihoods (Barbados) Dr. Lenore Coleman-Healing Our Village (Atlanta and Maryland); the Global Leadership Transformation Alliance (Minnesota and Nigeria), and others to be announced. Media partners for the Circle of 99 Global Business Summit include The A-List Inc. (Global); www.businessuiteonline.com and the Businessuite Media Group (Jamaica) and CaribVoice Media (Global).
To learn more about the event, to exhibit in the Circle of 99 Pop-Up Market, and to reserve a space in the circle, visit www.circleof99.com