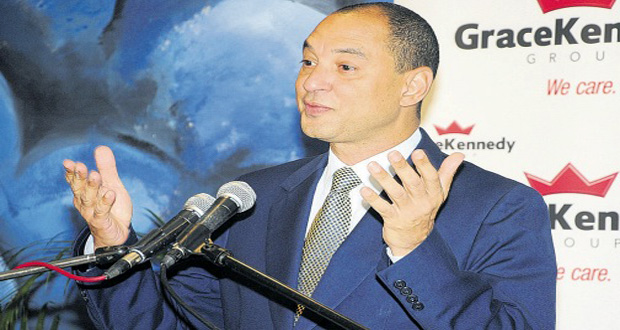 For 2018 GraceKennedy Was Focused On Investing In Growth Areas And Brands, Putting In The Infrastructure Needed For Cross Selling Between Businesses, Accelerating The Introduction Of Digital Products And Channels And Executing A Financial Inclusion Strategy.
The GraceKennedy Group is reporting that the financial year 2018 continues to be a multi-year transformational journey leading up to their 100th anniversary in 2022.
Group Revenue for 2018 was J$97.54 billion, representing an increase of J$5.07 billion or 5.5% over 2017 J$92.48 billion.

Group Chief Executive Officer Don Wehby in his shareholder's report indicated that the year saw the Group restructuring its operations, reviewing its organizational design, cost structure and business processes and reinvesting in business segments, building the company's capacity to adapt and setting a strong foundation for future growth.
Commenting further he pointed out that the operational strategy for 2018 was focused on investing in growth areas and brands, putting in the infrastructure needed for cross selling between businesses, accelerating the introduction of digital products and channels and executing a financial inclusion strategy.
Net profit for 2018 was J$5.64 billion, an 18.3% or J$871.5 million increase over 2017.
While net profit attributable to the shareholders of the company was J$5.01 billion for 2018 compared with J$4.12 billion for 2017, a J$889.8 million increase.
The Group reported improved earnings per share of J$5.05 in 2018 compared with J$4.15 in 2017, a 21.7% increase.
In 2018 the Group had non-recurring gains of J$1.06 billion from the dissolution of a non-operating subsidiary, as they continued to improve efficiency.
The Group also realised additional non-recurring gains of J$74.7million on the successful acquisition of Globe Finance Inc. by an associated company in Barbados, CSGK Finance Holdings Limited, through its subsidiary Signia Financial Group Inc.
Excluding gains in 2017 and 2018, net profit for the current period would have been higher than the corresponding period by J$192.3 million.
The Company's results were also impacted by:
1) the recognition of tax credits of J$427.7 million under Jamaica's Urban Renewal (Tax Relief) Act coming from the construction of GraceKennedy's new headquarters; and
2) separation costs of approximately J$150 million and related expenses of J$86 million associated with the Group's restructuring exercise.
Dividends totaling J$1.34 billion or J$1.35 per share were paid in 2018 compared with J$1.12 billion or J$1.13 per share in 2017, an increase of 19.5%.
At the end of 2018, the GraceKennedy stock price closed at J$63.50, representing a 44.8% increase over prior year outperforming the Jamaica Stock Exchange's (JSE) Main Index return of 31.7%.