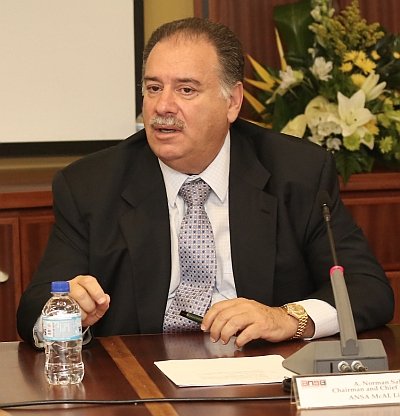 Ansa McAL Group Reporting Improved PBT and Revenues For 2018
Trinidad and Tobago based Ansa McAL Limited is reporting for the year ended December 31st 2018, Group profit before tax growth of 5% to TT$1,017 million, compared to TT$968 million for 2017, whilst revenues were up 2% to TT$6.39 billion compared to TT$6.24 billion for 2017.
Chairman, A. Norman Sabga in his comments to shareholders included in the Audited Consolidated Financial Statements, reported that these results were however impacted by the occurrence of natural disasters in Trinidad and Tobago including a 6.9 earthquake and severe flooding in October which gave rise to gross claims on their General Insurance Company of $20 million.
In addition, he said there were TT$42 million in one-time impairments related to the Barbados economy and its debt restructuring.
The Ansa McAL Group believes that the measures taken by the Barbados Government are necessary and they remain confident that this country is a good place to invest he said. Excluding these effects, Profit Before Tax grew by 11% over the prior year.
Commenting further he said that strong earnings growth came from two segments – the Manufacturing, Packaging and Beverage segment, which grew by 12%, and Automotive, Trading and Distribution which grew by 42%.
This growth offset the declines in the Financial Services Sector, which decreased by 15% mainly due to the impairments previously mentioned, while Media, Retail, Services & Parent company declined by 14% due mainly to the contraction of corporate media spending.
Overseas subsidiaries have improved over the prior year he reported.
The Ansa McAL Group closed the 2018 financial year with earnings per share improved by 12% to $3.54 up from $3.15 in 2017, with net assets growing by 3% to $8.1 billion, up from $7.9 billion in 2017.
The Directors have approved a final dividend of TT$1.50 per share an increase on the TT$1.20 paid in 2017, and will be paid on 6th June, 2019.
This together with the interim dividend of $0.30 per share ($0.30 – 2017) brings the total dividend to $1.80 per share ($1.50 per share – 2017). This represents a total dividend increase of 20% and a cash payout of over $300 million or 43% of Group after tax profits.
Businessuite 2018 Top 10 Trinidad & Tobago Companies By US$ Profit After Tax
Businessuite 2018 Top 50 Caribbean Companies By US$ Revenue – Rankings