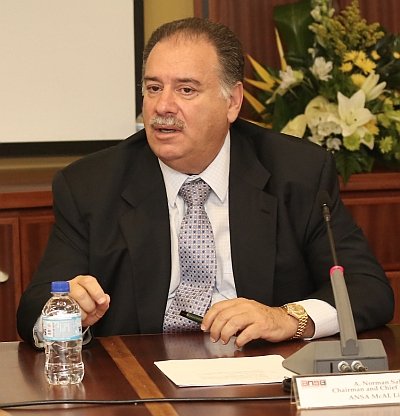 ANSA Merchant Bank Closes 2018 Financial Year With Lower Earnings Per Share
Trinidad and Tobago based ANSA Merchant Bank and its Subsidiaries, is reporting Consolidated Group Operating Income for the 2018 financial year of TT$925.4 million, 7% shy of the TT$1 Billion mark and just below 2017 Operating Income.
Commenting on the performance Chairman A. Norman Sabga, reported that Profit Before Tax in 2018 of TT$261 Million reflected a decrease of 16.9% over 2017 primarily reflecting the impact of the Barbados economy and increased domestic General Insurance claims.
Total Equity increased by TT$45 Million or 2% year over year to TT$2.367 Billion, while Total Assets ended 2018 at TT$8 Billion.
He also reported that the Banking business produced a Profit Before Tax of $174 Million compared to $214 Million in 2017, however, this was isolated to specific provisioning taken on their Barbados exposures and mitigation of associated risks to Barbadian subsidiaries.
The Investment Banking Division continues to structure and deliver competitive products tailored to the specific requirements of large corporates and sovereigns, with total transactions arranged in excess of $27 Billion he reported.
The investment portfolios delivered superior performance against their objectives of both investment income and capital growth within their active risk management framework.
Notable also was the TT Income Mutual Fund which delivered a 12 month return of 2.13% to December 31, 2018, continuing to secure the #1 position.
The Barbados subsidiary company, Consolidated Finance Co. ("CFC") maintained strong market share throughout 2018, notwithstanding the difficult economic conditions being faced in that economy and the financial impact of same on our 2018 results.
Both Banking and Insurance services in Barbados are yielding enhanced benefits to all loyal clients in Barbados, as the macro economic conditions continue to pose challenges.
ANSA Merchant Bank and its Subsidiaries closed the 2018 financial year with lower earnings per share of TT$2.41 compared to 2017 of TT$2.71.
The Directors have approved a Final Dividend of $1.00 per share which brings the total Dividend for the year-ended 31st December 2018 to $1.20.
The Final Dividend will be paid on 24th May 2019 to shareholders on the register as at 15th May 2019.