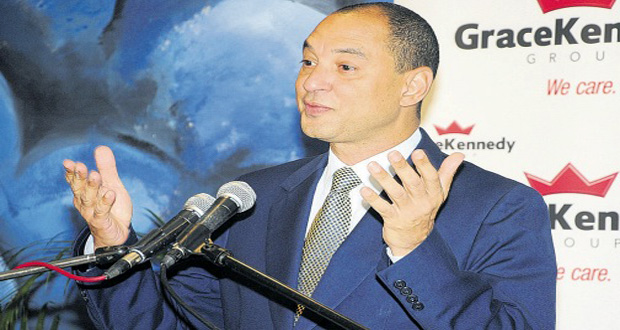 GraceKennedy Group Reports JA$5.1B Increase in Revenue, Reaching JA$97.5B, and JA$871M or 18% Increase in Profits for 2018 (over prior year)
In a year which saw the strategic restructuring of its operations and the review of its organizational design, cost structure and business processes, the GraceKennedy Group is reporting 2018 revenues of J$97.54 billion, representing a J$5.07 billion or 5.5% increase over the prior year. Net profit for 2018 was J$5.64 billion, an 18.3% or J$871.5 million increase over 2017.
According to Group CEO, Don Wehby, "We have a vision to become a Global Consumer Group by 2020 and a J$100 billion company by our 100th Anniversary in 2022. With that in mind, in 2018, we continued to execute on the overall strategy of setting a strong foundation for future growth. Our results reflect that the strategy is sound, and that we are making strong, positive strides toward the realization of our vision."
In 2017, the Group had reported non-recurring gains in the amount of J$455.0 million in relation to the acquisition of Consumer Brands and the dissolution of non-operating subsidiaries. In 2018, the Group had further non-recurring gains of J$1.06 billion from the dissolution of a non-operating subsidiary. GraceKennedy also realised additional non-recurring gains of J$74.7million on the successful acquisition of Globe Finance Inc. by its associated company in Barbados, CSGK Finance Holdings Limited, through its subsidiary Signia Financial Group Inc. Excluding these gains in 2017 and 2018, net profit for the current period would have been higher than the corresponding period by J$192.3 million.
Dividends increased by 19.5% over prior year, with the Company paying out J$1.34 billion or J$1.35 per share. GraceKennedy's stock price also grew by 44.8%, outpacing the Jamaica Stock Exchange's (JSE) Main Index return of 31.7%.
Group CFO, Frank James, advised of a change made to GraceKennedy's dividend policy, noting the Board's approval of an increase in the frequency of dividend payments from three (3), to four (4) per year. Under the new policy, the Company will also increase dividend payments to a minimum of 20% of net profit attributable to stockholders, up from 15%. The policy, he pointed out, is subject to available cash flow. GraceKennedy will make an interim dividend payment of J$0.35 cents per stock unit on April 4, 2019, a total of approximately J$347 million. Mr Wehby reiterated that focus will be given to substantially increase profitability and cash generation to improve GK's dividend yield and payout ratio.
Driven mainly by its Jamaican distribution businesses, GK's Food Trading segment grew in both revenue and profitability when compared to 2017, with the commencement of the distribution of Catherine's Peak Pure Spring Water and the continued good performance of the Procter & Gamble portfolio, contributing significantly to the segment's growth.
The launch of new products by GraceKennedy (USA) LLC paved the way for growth in the International Foods Division, through the Grace and La Fe brands. While Grace Foods UK saw a decline in revenue due to the loss of a third-party brand, the Grace brand in the UK showed double digit growth driven mainly by Grace Chips, with the Nurishment brand showing some recovery in the last half of 2018.
The GraceKennedy Financial Group reported growth in both revenue and profit, with the Insurance segment reporting strong double-digit growth in revenue and profit compared to 2017.
The Banking and Investments segment reported a decline in revenue, but growth in profit when compared to 2017. First Global Bank (FGB) experienced a decline in its loan portfolio when compared to 2017, which, combined with lower interest rates, impacted the segment's performance. The Bank is however poised for growth, as it executes strategies to increase its loan and deposit portfolios by leveraging technology, introducing innovative new products and delivering on its financial inclusion strategy. GK Capital Management and GK Investments generated strong results in 2018.
Although reporting a decline in both revenue and profit, due mainly to a reduction in transaction volumes in its remittance businesses in Jamaica and Trinidad, there has been strong growth in Guyana, which has positive implications for future growth. GKMS was awarded costs by The Privy Council in the Paymaster claim, with the company receiving those costs 2018, bringing the matter to a close.
According to Mr Wehby, "This is a positive and exciting time in GraceKennedy's history, and we continue to work hard to ensure the company is well-poised to take its operations to the next level in the years ahead, delivering improved value to you our shareholders and our other stakeholders.
We are optimistic about the future of this great company, and are confident that we have the right strategy, resources and most importantly, the people to achieve our goal of being a J$100 billion company by 2022, with significant improvement in return on equity, delivering on our profitability targets. We will do this while always remaining true to our values of honesty, integrity and trust."
The Group CEO added that the company will have an Investor Briefing on March 12, to expound on the results for the period under review.