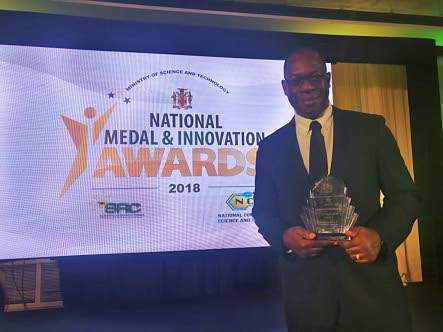 Electronics Engineer Lindon Falconer Believes His Invention Can Potentially Enhance Security In Jamaica
Security-conscious Jamaicans can now monitor movements at their homes and businesses via the 'Falcon B series remote monitoring and control device' system.
The innovation was created by Electronics Engineer, Lindon Falconer, who believes his invention can potentially enhance security in Jamaica.
The invention, which was entered in the 2018 National Medal for Science, Technology and Innovation Awards in November, won the Engineering and Manufacturing category.
Mr. Falconer says that Falcon B uses a sim card, which can be linked to any of the local mobile networks.
He notes that once the system is purchased, persons will be required to either top-up the sim card or pay a monthly fee for post-paid accounts.
Mr. Falconer explains that it has three main features- a GSM alarm system, remote monitoring and remote control.
He notes that functions are similar to a regular alarm system, and can operate in homes and businesses.
It monitors both wired and wireless alarm, and can communicate with up to 16 different zones, he says.
Mr. Falconer further points out that if the system is armed and a zone is triggered, it will enable a siren, which can be placed on silent mode if needed.
With a camera-only-system, if there is a security breach on the premises, the person might not be aware, as the camera only allows you to become aware after the fact, he explains.
The inventor also shares that despite the system not being the first of its kind, it is the first to have so many features.
The creator says the system is not fully on the market and he anticipates that the innovation, coupled with his expertise, will contribute to the development of Jamaica.