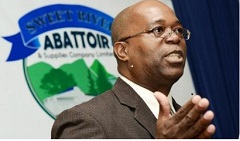 Sweet River Abattoir & Supplies Reporting Challenging Quarter As Revenues Decline Due To Continuing Shortfall In Pig Supplies
The Directors of Sweet River Abattoir & Supplies Ltd has published their unaudited financial statements for the three months ended June 30, 2018, reporting a very challenging quarter.
This resulted in the company recording revenues of JA$77m compared to JA$92m for the previous year; a decrease of $15m or 16 %.
This decrease, Managing Director Valdence Gifford reported, was due mainly to the unavailability of pigs on the market; this shortfall in supply was however partially supplemented by revenue from slaughter service to third parties.
Gross profit was $7.5m compared to the previous period of $16.3m; a decrease of $8.8m or 54%.
This decline resulted from the sourcing of pigs at increased prices and selling prices remaining constant based on pre-contracted arrangements.
The company also suffered a net loss of JA$7.1m compared to a JA$669 Thousand profit for the similar period last year.
Total operational expenses were $11.3m compared to previous period of $11.2m; an increase of $0.1m or 0.89 %, as they were able to stabilize expenses for the period.
Despite the negative results, Mr. Gifford is assuring shareholders that they were able to continue to meet the demands of major markets, which he believes will provide for a solid foundation on which to improve future performance.
During the period they were also able to deepen their relationship in the tourism sector, helping to improve inventory management, resulting in inventories being held at acceptable levels.
On another positive note, the Mr. Gifford is reporting that their slaughtering service continues to grow and has been expanded to include fabrication; packaging and short-term cold storage. Other players in the industry have expressed great interest in the added service and as the peak seasonal demand approaches they stand ready to serve that market.
The Directors concluded their report assuring shareholders that they remain confident in the quality of their products and anticipate that with the planned restructuring the future looks promising.
Sweet River Abattoir & Supplies closed the quarter with earnings per share of minus 7 cents.
Walkbout Aiming To Help SME Tour and Experience Operators Grow Their Business