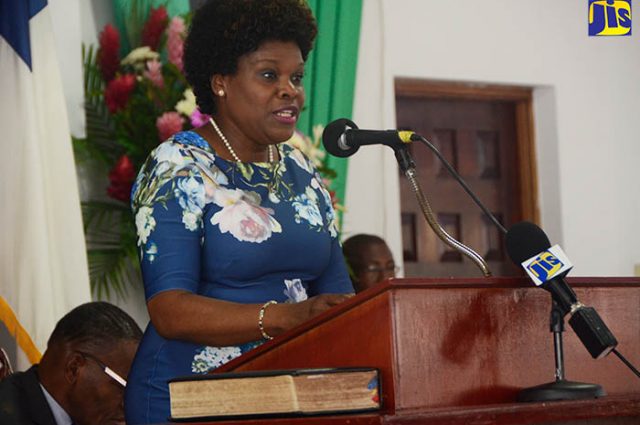 Jamaica Recording Estimated Gross Foreign Exchange Earnings of US$2.2 Billion, A 7.4 % Increase. And Three Million Arrivals Recorded, A 4.7% Increase
Jamaica's Ministry of Tourism is reporting increased tourist arrivals and earnings up to August of this year.
Permanent Secretary in the Ministry of Tourism, Jennifer Griffith, speaking at the official opening of the Puerto Seco Beach in Discovery Bay, St. Ann, on Saturday (September 22), said between January and August of this year, almost three million arrivals were recorded, a 4.7 per cent increase when compared to the similar period last year.
Deputising for Tourism Minister, Edmund Bartlett, Ms. Griffith noted that the increased tourist arrivals resulted in estimated gross foreign exchange earnings of US$2.2 billion for the period, a 7.4 per cent increase over the similar period last year.
Stopover arrivals accounted for US$2.1 billion of the earnings, while cruise tourism earned some US$120 million
She said that tourism was recognised as the most important economic activity globally, with the Caribbean region and Jamaica being no exception,
Ms. Griffith linked Jamaica's continued record growth in tourism for 2018 to the Tourism Ministry's '5x5x5' growth agenda, which aims to attract five million tourists by 2021; generate US$5 billion in earnings; increase total direct jobs to 125,000 and add 15,000 hotel rooms.
She underscored that underpinning the 5x5x5 growth strategy was the building of more experiences for visitors, especially through the tourism linkages programmes and the work that the Jamaica Tourist Board is doing. The linkages network, in particular the focus on food, gastronomy, sports and entertainment, are the critical areas that they think will boost local tourism.
Ms. Griffith added. that these networks help to further diversify the tourism offerings, while building business opportunities and generating improvement in the competitiveness of the tourist product.
Last year, Jamaica recorded total arrivals of 4.3 million, with a revenue flow of US$3 billion.